Bitcoin Flash Crashed to $51K,Triggering a $9.32B Liquidation - What's Next?
After Bitcoin fell below the previous support level of $60,103 yesterday, it plummeted from $60K to around $51K, incurring a loss of around $9,000 in just four hours and creating the largest reversal record since February.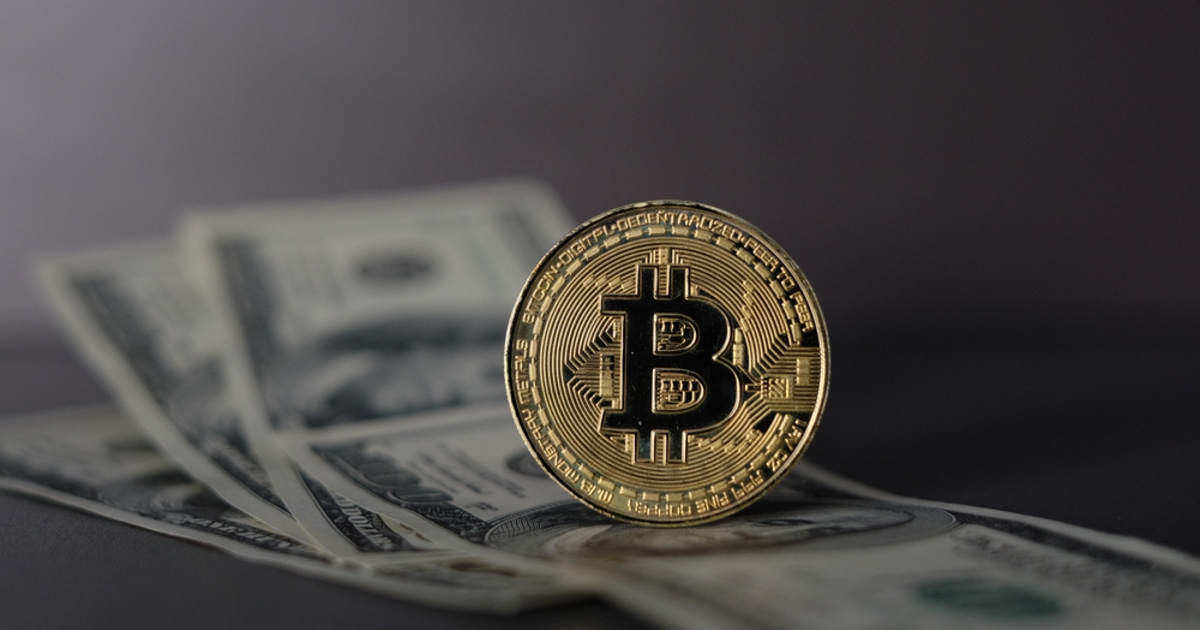 The decline in the hash rate of Chinese mining pools, the Turkish government's ban on cryptocurrency transactions, and rumours of US' FinCEN's plans to stamp out crypto-related money laundering activities triggered massive Bitcoin sell-offs.
The safety integration of power outages in Xinjiang in northwestern China led to a decline in the hash rate of mining firms. According to a study by UK-based company CoinShares, as much as 66% of global hash rates originates from Chinese entities and are controlled by them. The hash rate is used to measure the processing power of the Bitcoin network. The hash rate of various Bitcoin (BTC) mining pools decreased due to the blackout impacting Northwest China, and subsequently, it caused panic among investors.
Amid the power outage impacting Northwest China, the Central Bank of Turkey proposed a new regulation banning the use of cryptocurrencies to purchase goods and services on the grounds of possible damage and major "irreparable" risks digital assets may pose in transactions.
When Bitcoin's price plummeted yesterday, a tweet by FXHedge attracted widespread attention. It tweeted that US Treasury departments sued a number of financial institutions for the use of cryptocurrency in money laundering activities.
According to statistics, due to the plunge of Bitcoin, other cryptocurrencies suffered a similar predicament. Within an hour, Bitcoin's liquidation reached $4.287 billion on April 18 - Binance exchange liquidated a total of $1.359 billion; Huobi Global liquidated $1.359 billion and OKEx liquidated a total of $350 million.
Bybt data illustrates that 950,304 traders liquidated as much as $9.32 billion within 24 hours. Among them, the largest single order liquidation happened on Binance- an estimated $68.73 million worth of Bitcoins were liquidated.
Bitcoin (BTC) Price Analysis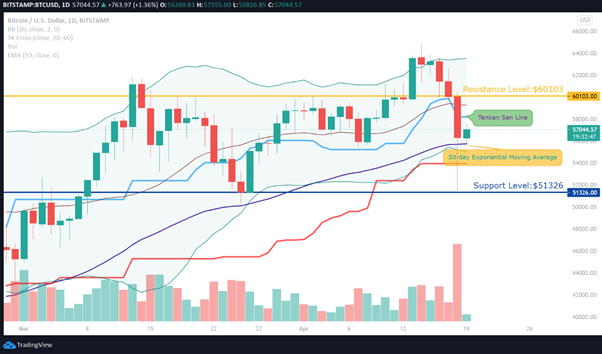 Source: BTC/USD Daily via TradingView
Bitcoin (BTC) plummeted to a minimum of $51K yesterday, and now the price has rebounded.
At press time, Bitcoin recovered about half of the loss and is changing hands near $56,00, which translates to a 5.60% drop on a 24-hour basis.
Bitcoin received strong support at the $51,326 level we drew on the chart above. Although BTC is currently lower than its Bollinger Band mid-band basis, which is the 20-period Moving Average, it currently stands on top of the 50-day Exponential Moving Average of $55,765.This indicated that BTC is still in a long-term upward trend.
BTC is below its Ichimoku Cloud Conversion line (Tenkan Sen) of $58,200.If the bulls can push the price above $58,200, the Bitcoin price will further break through the previous historical high of $64K.

Source: BTC/USD Daily via TradingView
Currently, BTC is trying to stay above the accumulation line of Chaikin Fund Flow (CMF). At the same time, the RSI indicator has also moved towards the midpoint, which is a bullish signal.
Image source: Shutterstock
Disclaimer: The views and opinions expressed in this article are solely the author's and do not necessarily reflect the views of Blockchain.News. No information in this article should be interpreted as investment advice. Blockchain.News encourages all users to do their own research before investing in cryptocurrencies.


Read More