Analyst Believes Capital Flocks to Ethereum's DeFi Sector
Following the recent market crash, Ethereum (ETH) slumped from an all-time high (ATH) of $4,350 to lows of $2,000.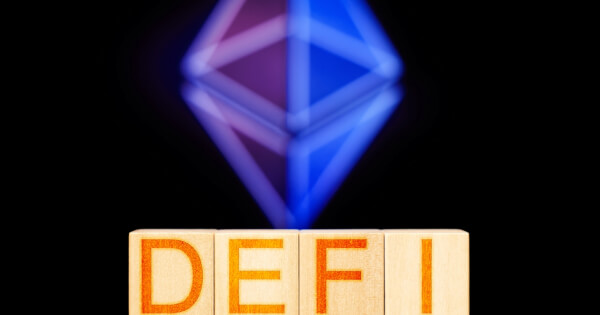 ETH, however, regained some momentum, and the edge was closer to the psychological price of $3,000. Market analyst Lark Davis noted that big money flow was piling in Ethereum's decentralized finance (DeFi) sector, and this was bullish.
DeFi has aided Ethereum's bull run since the second-largest cryptocurrency breached the previous record of $1,400 set in 2018. Some features like smart contracts in the ETH network are in high demand in the non-fungible token (NFT) and DeFi sectors.
On-chain metrics provider Santiment recently acknowledged that the amount of Ethereum whale transactions exceeding $100,000 surged to levels unexpected since January 2018 in the past week.
The market witnessed the largest ETH outflow from centralized exchanges on May 24 since January 2021. that 667,869 ETH has been withdrawn, Crypto data provider IntoTheBlock stated.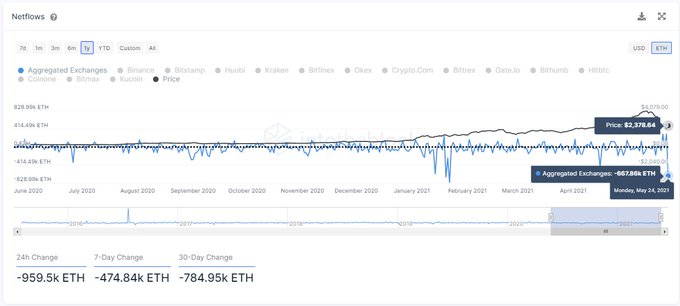 Therefore, this might signify a holding culture whenever cryptocurrencies leave exchanges; these crypto are mostly held in cold storage for speculative or future purposes.
Ethereum holders recently showed they were increasingly bullish based on a low uptick in exchange inflows.
Total value locked in ETH 2.0 keep soaring
The total value staked in Ethereum 2.0 keeps soaring since this deposit contract was launched in December 2020. Digital assets firm Glassnode disclosed that this value hit an ATH of 4,944,034 ETH. As a result, ETH 2.0 is considered a game-changer that seeks to transit the present proof-of-work consensus mechanism to a proof-of-stake platform. The proof-of-stake structure is expected to handle various challenges like high costs, scalability, and environmental pollution.
Ethereum volumes also went through the roof, as alluded to by Ryan Watkins. The Messari Crypto researcher explained:
"ETH volumes have been exploding recently and have surpassed BTC volumes for the past month. ATHs $20+ billion in daily spot volume."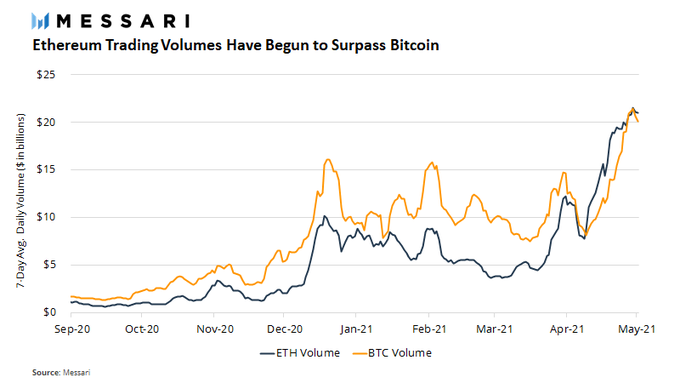 Time will tell whether more investments will continue trickling into the Ethereum network for an upward momentum to be regained.
Image source: Shutterstock
Number of Ethereum Whales on the Decline as Market Sees a Massive Correction

Read More