Bitcoin Price and Crypto Market Analysis: Opportunities or Risks Ahead?
Reasons why the overall crypto market going up
The overall crypto market has performed well over the weekend. The rise of Bitcoin's price is mainly driven by the DeFi craze.
The Sushiswap (SUSHI) founder Chef Nomi has returned $14M worth of Ether back to the project fund. This will increase confidence in decentralized exchanges and help relieve the downtrend of the SUSHI token. Now the price moves in a horizontal channel.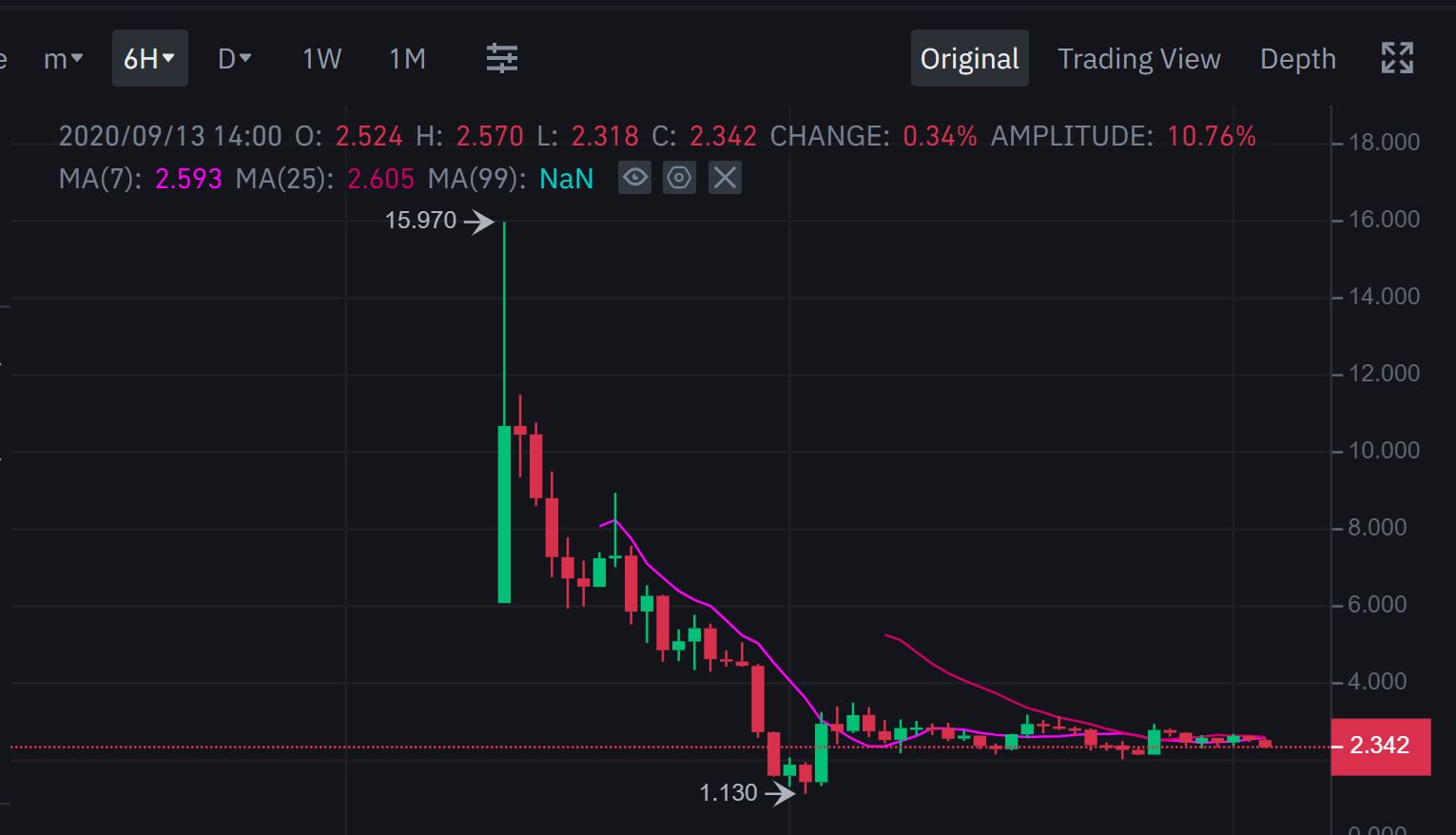 Source: Binance
Facing the threat of decentralized exchanges, Binance moved swiftly and is building a decentralized finance ecosystem around its own blockchain. Binance is establishing a $100 million seed fund to empower emerging projects built on its Binance Smart Chain. Its chain ecosystem will support the farming of mainstream tokens such as Ripple (XRP), Litecoin (LTC), and Polkadot (DOT). It was one of the reasons that ignited the crypto market.
According to CoinMarketCap, at press time, Binance token (BNB) is up 21.63% over the last 24 hours and 63.68% over the last 7 days. Polkadot is up 17.00% over the last 24 hours and 24.44% over the last 7 days. Ethereum is up 4.91% over the last 24 hours and 16.66% over the last 7 days. Another DeFi token Yearn.finance (YFI) continues its craze which is up 7.56% over the last 24 hours and 94.19% over the last 7 days.
However, earlier today, the BNB token surged but had a much higher trade volume which indicated the rise can not last long. If there are no alternative driving forces, the whole crypto market correction may occur soon.
Bitcoin price analysis
Bitcoin's price has risen slightly due to the rise of the overall crypto market. Bitcoin's price is up 1.90% over the last 24 hours and 3.53% over the last 7 days. As reported by Blockchain.News, Bitcoin has fluctuated in a horizontal channel since its crash. Bitcoin's high was at $10,627 on the following day after it plunged on Sep. 3. Bitcoin seems to have broken above the horizontal channel today. The resistance line of the horizontal channel is around $10,400. To confirm the uptrend of a small scale, it needs to meet two requirements: Bitcoin needs to exceed its highest price since the crash; the upper line of the horizontal channel becoming a support line needs to be tested.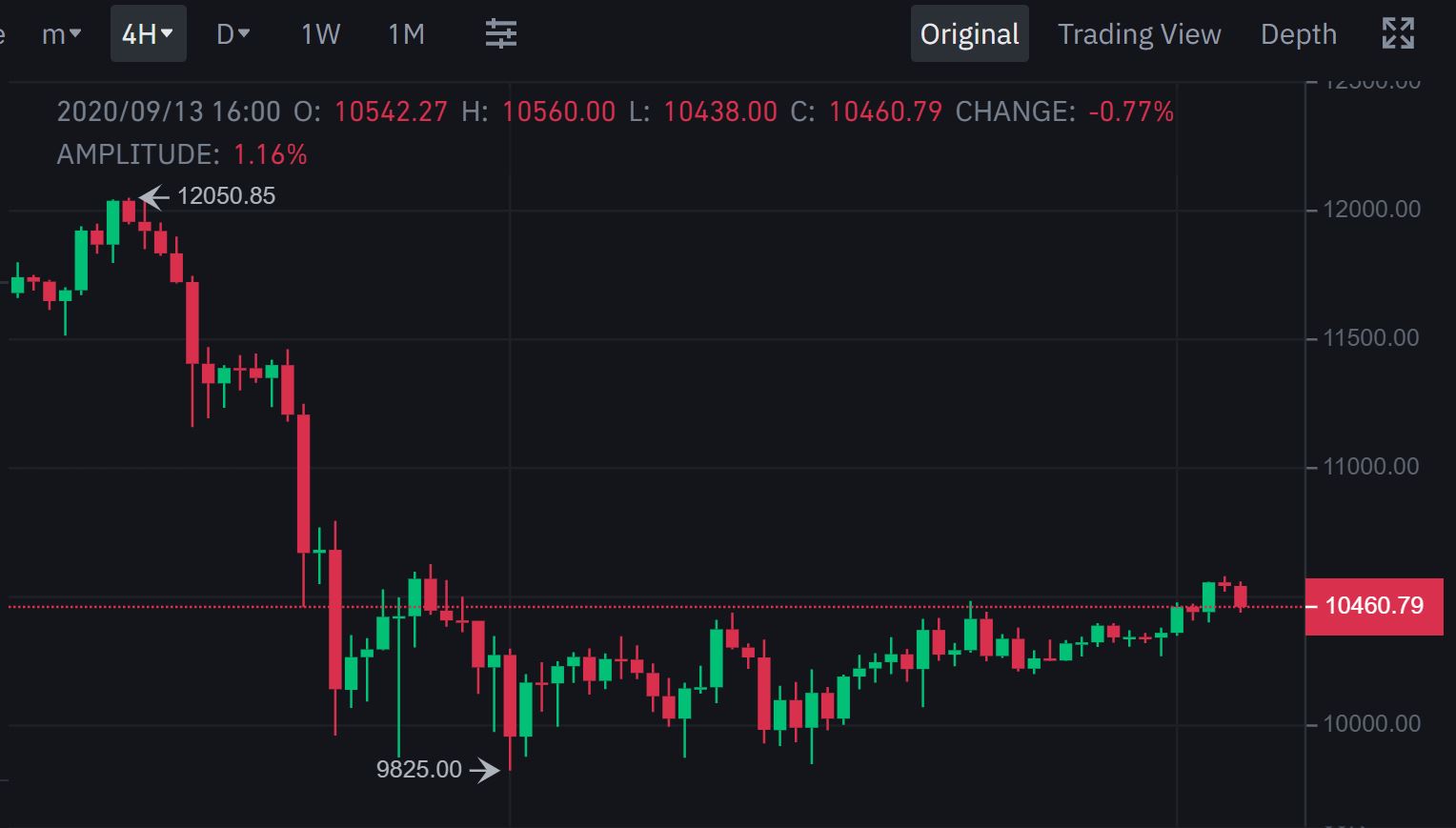 Source: Binance
We can hardly say the bull market is coming back. In contrast, the risking of correction is increasing, which would pull Bitcoin's price back in the horizontal channel.
In addition, the failed second economic stimulus bill indicated that there is a lack of money supply in the market, which has not been fully reflected in the stock and crypto market yet.
Image source: Shutterstock
Related: Bitcoin Price is Ready to Break $10,000—Here's Why
Read More