WeBank Blockchain Patents Filings Rank Third Highest Globally for 2019
China's WeBank is leading the global banking community in banking technology patents jumping ahead of US giants JP Morgan Chase and Bank of America with 632 filed patents in 2019.
The majority of patents filed by WeBank focused on ABCD technologies (AI, Blockchain, Cloud, Computing, Big Data). According to a release on 24 April, WeBank also filed the third most blockchain patents globally making it the only bank in the top 10 for 2019, just behind non-bank giants Alibaba and Tencent.


Growing FinTech in China
As China races towards blockchain dominance, the increasing number of patents filed by WeBank indicates the banking industry giant is serious about growing its fintech capabilities. WeBank is determined to empower developers with open source fintech and create a collaborative local and global ecosystem.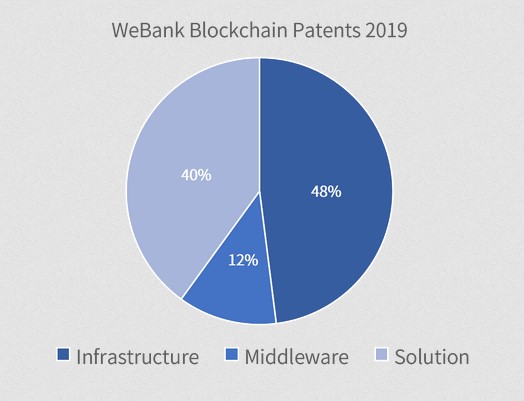 Source: WeBank Blockchain Patents 2019
One of WeBank's most interesting FinTech patents of 2019 was CN110188112, a unique device and method for tracking the changing records of blockchain smart contracts. According to the technical scheme, the method allows the change-record of a smart contract to be quickly and efficiently tracked and acquired by all parties while maintaining the authenticity of the smart contracts stored information.
China's National Blockchain
In 2019, WeBank announced the open source fintech strategy that aims to facilitate the collaboration of developers around the world. So far, it has brought out dozens of successful open source projects, such as FATE (Federated AI Technology Enabler), FISCO BCOS (consortium chain platform built together with FISCO open source taskforce team) and open-source big data platform suite WeDataSphere.
Earlier in April, WeBank's largest shareholder Tencent was invited to join the Chinese central government's national blockchain committee to work on setting industrial standards.
The "Public Notice on the Formation of a National Blockchain and Distributed Ledger Technology Standardization Technical Committee." is made up of 71 individuals from different backgrounds, including political, industrial, academic, and research organizations. The committee will be chaired by MIIT deputy minister Chen Zhaoxiong, along with five vice-chairs, all of whom are government staff, including Di Gang, the vice-head of the Chinese central bank digital currency institute.
Other committee members include executives from well-known Chinese institutions, including Tencent, Baidu, Huawei, Peking University, Tsinghua University, Fudan University, amongst others. The ministry is also asking for public feedback on the committee members until the deadline of May 12, 2020.
Image via Shutterstock
---

Read More