Warren Buffett Ditches US Dollar, Bitcoin Price Set to Soar
As the US dollar keeps plummeting, Max Keiser revealed that Warren Buffett has moved his assets out of the US market, an investment strategy that the Keiser Report host says will set the tone for Bitcoin's next surge.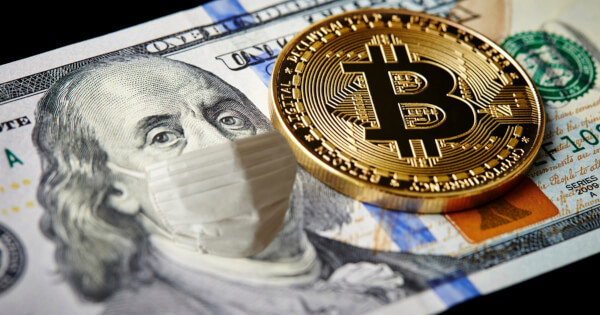 Warren Buffett exits USD
Warren Buffett has invested in the Japanese market, buying a 5% stake in each of Japan's five biggest trading houses. The investment move by the Berkshire Hathaway CEO totaled over $6 billion and comes at a time when the US dollar keeps dropping. The US Federal Reserve also recently disclosed in a meeting that the central bank is prepared to let inflation rise above the 2% target as a temporary relief measure. Since then, the US dollar has dipped and is not showing signs of recovery anytime soon, a move that Buffett has seemingly forecasted, according to Max Keiser.
Speaking about his new venture in the Japanese market, Buffet disclosed in a statement shared with Reuters and expressed his sentiment regarding the investment:
"The five major trading companies have many joint ventures throughout the world and are likely to have more. I hope that in the future there may be opportunities of mutual benefit."
Buffett's exit from the US dollar and into Japanese assets may seem as a surprise to many market bulls, as trading houses have not been much of an investor favorite. However, ditching the world's reserve currency should not come as a shock, since Warren Buffett had warned investors previously that the US stock market was on the verge of bubble territory. This has also been determined by the Buffett Indicator, which divides the Wilshire 5000 Index with the annual gross domestic product (GDP) of the US.
The Buffett Indicator is predicting that there will be another stock market crash, and market investors such as Jim Rogers have echoed the sentiment by pointing to the depreciation of the dollar as a result of mass currency printing by central banks to stimulate economies worldwide during COVID-19.
Buffett believes in gold
Buffett, who has previously called gold a "non-productive asset," had also taken investors by surprise by making investment changes and buying a stake in Barrick Gold Corp. The renowned investor has been critical of gold beforehand but has seemingly shifted his views regarding the asset, with the price of gold surging this year by almost 30%.
Buffett investing in gold may mean significant things for the traditional safe-haven asset, as institutional investors will likely follow.
What does this mean for Bitcoin?
With Buffett shifting his assets out of US markets and the US dollar greatly depreciating with the Federal Reserve mass printing stimulus money, investors have also taken to Bitcoin (BTC) as a hedge investment, a move that Warren Buffett has adamantly said he will not do. However, with the stock market predictions given by the Buffett Indicator, Bitcoin may be heating up for another price run. The digital asset, often coined "digital gold," had surged past the $12,000 point in July after breaking its resistance level at $11,800 and has been on the radar of many investors, as the US dollar keeps weakening.
Bitcoin pioneer Max Keiser has publicly declared that the US dollar is getting so weak that even Warren Buffett is getting out, and this move will only pave the way for Bitcoin's next price run. Keiser tweeted:
"Buffett's move into Japan, along with his GOLD investment, confirms he's getting out of $USD BIGLY. $USD is trending lower today, about to break key support. Bitcoin, Gold, and Silver will all make new all-time highs in the near term."
The Bitcoin price is currently hovering around the $11,600 mark, at the time of writing.
Image source: Shutterstock
Read More