Wall Street Legend Explains How Bitcoin Could Collapse
Bitcoin has wrapped up 2020 with a significant increase in price. After starting last year at lows of $4,748, while the Covid-19 pandemic took place, the cryptocurrency increased to just below $30,000 by the end of the year. Since then, Bitcoin has risen to all-time highs above $38,000, making headlines daily amid dramatic fluctuations that have served to make investors wary.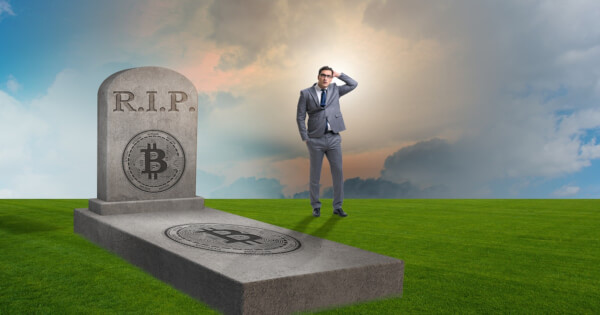 Legendary economist Burton Malkiel has issued warnings over the cryptocurrency's future. The author of the book "A Random Walk down Wall Street" has explained how Bitcoin's price surge has often accompanied a period of international tension.
According to Malkiel, Bitcoin holders "often reside in countries with weak rules of law" and "tenuous property rights". He said that Bitcoin could be perceived favourably in North Korea as the country appears to be mining the cryptocurrency to fund its regime.
In the past, many economists have associated Bitcoin's growth with an "index of money laundering." However, Malkiel seems to claim that an introduction of legislation could burst and inflate the price of the leading cryptocurrency.
Malkiel said:
"Governments can be expected to crack down on the use of Bitcoin and other cryptocurrencies for illegal transactions."
He stated that US President Franklin D Roosevelt made it illegal for American citizens to hold gold in 1933. He mentioned: "All governments have rightly been very particular about their sole right to issue and control currencies."
He said that Bitcoin mining could prove problematic as the process consumes huge amounts of electricity and that presents an opportunity and an argument for any government intending to crack down the cryptocurrency.
Malkiel said: "Since Bitcoin mining operations use considerable computer power and are energy-intensive, restrictions can be imposed on the computers that run the public distributed ledger central to the transactions network." He further added:
"Governments can shut down the exchanges on which cryptocurrencies are traded."
Calling for Bitcoin Regulation
Cryptocurrencies and in particular Bitcoin continue to attract lots of attention. Alarming cases of crypto scams and money laundering incidences have led to renewed and intensified calls for government authorities across the globe to begin regulating digital currencies. Recently, Christine Lagarde, the President of the European Central Bank, has called for global regulation of Bitcoin, saying that in some cases the crypto has been used for money laundering activities and that any loopholes should be closed. She joined a number of regulators around the world demanding for the introduction of global rules for crypto assets.
Regulation is among the most vital factors affecting the price of Bitcoin. The crypto's rise has been adversely affected every time a government has cracked the policy whip.
For instance, many observers attributed the recent crash in crypto markets to government action by China and South Korea.
Image source: Shutterstock
---

Read More