Tether Regains $1 Peg
Tether (USDT) has regained its 1-to-1 peg with the dollar after briefly dropping to 94.55 cents, its lowest since December 2020.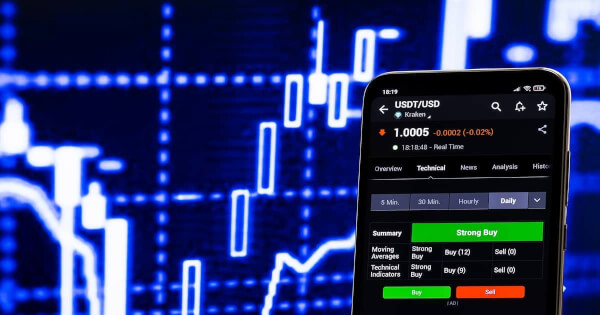 According to Bloomberg, Paolo Ardoino stepped amidst worries to reassure investors. Tether's chief technology officer asserted that the company behind the coin that plays a key role in the crypto ecosystem could redeem itself.
"Actually the peg was not broken," Ardoino said on Twitter Spaces Thursday. "It would have been broken if Tether didn't honor redemption at $1." Ardoino spoke for an hour together with crypto pioneers Samson Mow, the chief executive office of Jan3, and Adam Back, CEO of Blockstream.
The largest stablecoin was up by 4.34% in the last 24 hours to hit $0.998 during intraday trading, according to CoinMarketCap.
Market insight provider Santiment noted:
"Tether lost its $1 peg to start Thursday's trading, dropping to $0.95 for the first time since March, 2020. The world's largest stablecoin is speculated to be impacted by the LUNA and UST crashes. USDT social volume has now hit a 17-month high."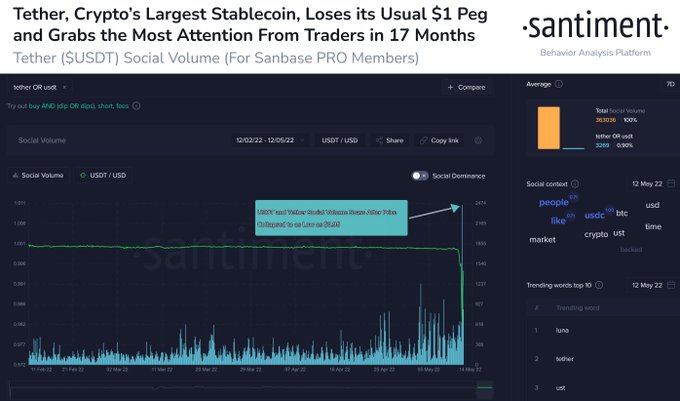 Source:Santiment
The spillover effect of the Terra crash was a primary factor in Tether's high liquidation, given that even whale addresses increased selling pressure. Santiment acknowledged:
"In case there was any doubt on the seriousness of Tether losing its $1 peg, key whale addresses have dumped a total of $710M in USDT today. This is the largest one-day dump from 100k to 10M USDT addresses in crypto's largest."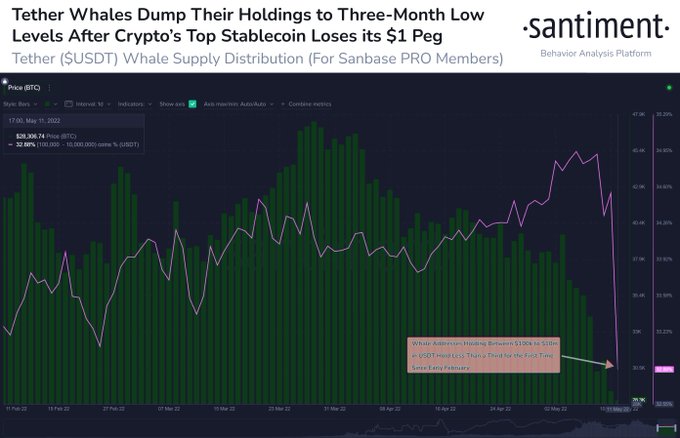 Source:Santiment
LUNA, a native token of the Terra network, sent shockwaves to the crypto market after collapsing to nearly zero overnight.
Moreover, TerraUSD (UST), the algorithmic stablecoin on the Terra network, also experienced a free fall to the extent that leading crypto exchange Binance temporarily halted withdrawals.
The UST crash brought stablecoins to the limelight, triggering Tether's liquidation.
Nevertheless, Tether is different from UST because its value is directly pegged to the US dollar.
Ransu Salovaara, the CEO of DeFi platform Likvidi, acknowledged:
"It's important now to acknowledge that Terra is a so-called algorithmic stablecoin, not directly backed by USD. The most popular stable coins like Tether (USDT) and USDC are actually backed by USD in the bank and both of those survived the market sell-off well."
Therefore, UST maintains the $1 threshold through code and not a collateral based on its algorithmic nature.
Image source: Shutterstock
$100 Million of Tether Swapped from Tron Network to Ethereum Blockchain
Read More