Mike Novogratz's Galaxy Digital Files with SEC to Launch Bitcoin Futures ETF
Galaxy Digital Holdings Ltd, an investment company, run by the former hedge fund manager and billionaire investor Mike Novogratz, is seeking regulatory approval to launch a Bitcoin futures Exchange-Traded Fund (ETF).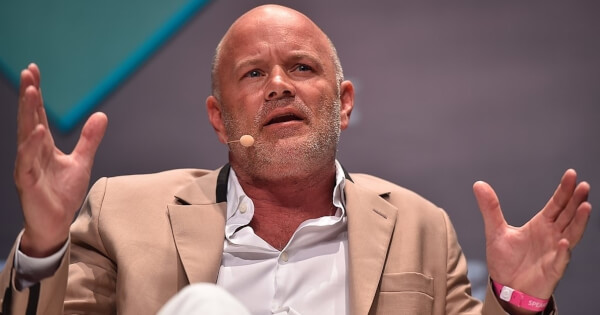 The firm filed with the U.S. Securities and Exchange Commission (SEC) on Tuesday, August 17, after the regulator chairman, Gary Gensler, recently stated that the agency might be open to approving Bitcoin futures ETFs.
Galaxy Bitcoin Strategy ETF plans to start investing in Bitcoin futures contracts and not directly in actual Bitcoin.
Galaxy Digital applied for a Bitcoin Exchange-Traded Fund (ETF) backed by the actual underlying asset four months ago. But now, the firm is making another attempt to launch an investment fund tied to Bitcoin futures (the Galaxy Bitcoin strategy EFT). This new investment product does not directly invest in actual Bitcoin but instead seeks to provide capital appreciation mainly through active Bitcoin futures contracts.
Currently, the Chicago Mercantile Exchange (CME) is the only regulated trading platform providing such contracts. If the green light is on, the Galaxy Bitcoin Strategy EFT will be listed on the Nasdaq Exchange, the filing stated.
US Regulators Favour Bitcoin Futures Products
Galaxy Digital is the latest financial services firm to file for a Bitcoin futures ETF, which currently seems to be the most viable option to launch a regulated crypto investment vehicle in the United States.
The US SEC has yet to approve any ETF tied to actual Bitcoin because of legal concerns about fraud, market manipulation, and asset volatility. But earlier this month, SEC chair Gary Gensler hinted that the regulator would instead favour ETFs tied to Bitcoin futures.
Gensler's comments brought a renewed hope as many firms, including giant investment Fidelity, ETF sponsor Wisdom Trust, investment management firm Invesco, ETF provider VanEck, Valkyrie Investment, Anthony Scaramucci's SkyBridge Capital, the New York Digital Investment Group (NYDIG), and others recently moved to file for Bitcoin ETFs. However, the regulator has not shown any sign that such a product will be approved anytime soon.
Brazil, Europe, and Canada all have functioning Bitcoin funds in circulation and argue that repeatedly putting off approval carries its risks.
The absence of a Bitcoin ETF is causing problems in the US's Bitcoin market. In connection to such a product, Grayscale's Bitcoin Trust (GBTC) – an investment fund trust backed by Bitcoin – has been embraced by the majority of institutions demanding Bitcoin investment.
However, shares of the GBTC investments can't be redeemed for their underlying coins. Such shares are now trading at negative premiums, lower than the value of the underlying Bitcoin per share. The GBTC fund is not allowed to redeem Bitcoin's shares, so the market cannot organically fix the problem.
The approval of Bitcoin ETFs would allow investors to redeem shares at any time. And this would prevent Bitcoin shares from trading at negative premiums and help keep the shares matching the value of the underlying coins.
Image source: Wikipedia
Bitcoin Plunges Despite Tesla's Bitcoin Announcement and Reports of Fidelity's ETF Filing
Read More