Islamic Development Bank to Create Blockchain Smart Credit Platform with Samsung's Blocko
It is a known fact that blockchain technology can help drive a tremendous change in the financial services sector. Central Banks are developing future-oriented economies and are devising means to align with the drastic changes that blockchain technology and digital assets are driving. While some are actively developing their state-backed digital currencies, Middle East powerhouse, Saudi Arabia is opening options for a blockchain-backed credit system.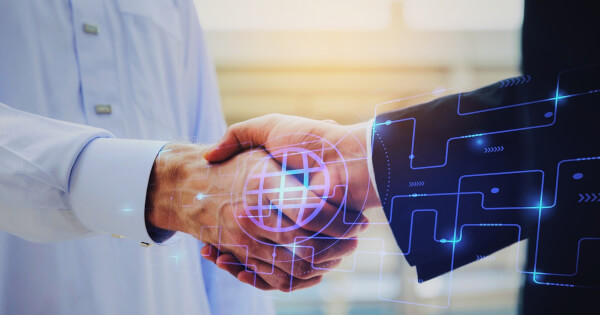 This innovative project leveraging blockchain technology was initiated by the Islamic Research and Training Institute (IRTI), the research arm of the country's Islamic Development Bank (IDB). The IRTI partnered with Samsung backed blockchain provider Blocko in an alliance that comes as part of the E24P.
The E24P is a collective of technology experts, distributed financial services providers, state-level government sponsors, and leading research institutes in the UAE and the UK working with clients in high-growth economies and sectors across the Middle East, Africa, and South East Asia.
Towards a Functional Credit System
The IRTI partnership with Blocko comes as part of the E24P regional consortium launched by Blocko in April 2020. This partnership will help create a functional blockchain-backed credit system that will help minimize the risks associated with credit financing to businesses and consumers.
With the projection of the Islamic Finance sector to expand to $3.78 trillion dollars by 2022, the IDB is eager to address any bottleneck that may impede this growth. The IDB, known as a non-interest bank, faces hurdles in the timely repayment of credit facilities by borrowers. The blockchain credit system currently under development will help put an incentive for timely repayment of loans while also helping to automatically donate late payment charges to the appropriate charities.
The smart credit management system will be built on the Aergo Hybrid Blockchain and with its many functionalities which also include insurance options for lenders will help create an efficient credit system.
Future Blockchain Engagements
Saudi Arabia is renowned for having friendly regulations with respect to blockchain technology. The Saudi Arabian Monetary Authority (SAMA) has profiled and believes blockchain and cryptocurrencies are redefining the future of finance. Through SAMA's active engagements, we can conclude that the country is well-positioned to lead the region into a blockchain empowered future.
Image source: Shutterstock
Read More