Facebook Diem Project to Launch USD Stablecoin after Dropping Swiss License Application Plan
Facebook-backed digital currency project Diem has revealed new plans to launch a US dollar stablecoin in the United States.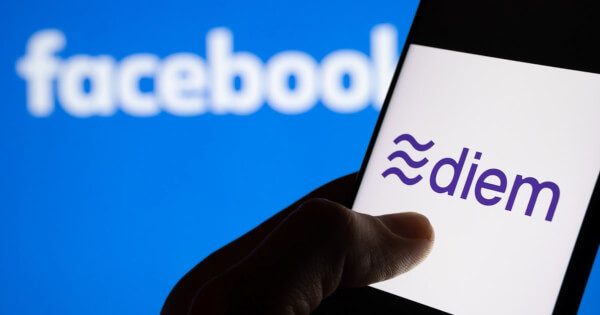 Diem Association has disclosed that it is relocating its main operations from Switzerland to the US and has withdrawn its payment system license application with the Swiss Financial Market Supervisory Authority.
The Diem Association states that it plans to shift its operational headquarters from Geneva, Switzerland to Washington, D.C where its US unit is based.
Diem Network US, a unit of the Diem Association, will register as a money services business with the US Department of The Treasury's Financial Crimes Enforcement Network and will also run a blockchain-based payment system that allows a real-time transfer of Diem stablecoins, the association stated.
The Diem Network US has partnered with Silvergate bank based in California to issue the Diem USD stablecoin and manage the Diem USD currency reserve. Silvergate bank has become a go-to for crypto businesses shunned by traditional lenders.
"While our plans take the project fully within the US regulatory perimeter and no longer require a license from FINMA, the project has benefited greatly from the intensive licensing process in Switzerland and the constructive feedback from FINMA and more than two dozen other regulatory authorities from around the world convened by FINMA to consider the project," Stuart Levy, Diem's CEO, said.
The Swiss financial regulator confirmed Diem's decision to withdraw its application for a payment license.
"Diem is planning to launch the payment system from the USA in a first phase because initially, the project will focus on the USA as its target market," the regulator said.
Currently, Diem has plans to issue a US dollar-backed stablecoin, recognized as Diem USD.
Diem is making preparations to launch a pilot with its dollar-pegged stablecoin later this year. The pilot would be small scale, focusing mainly on transactions between individual consumers.
Scaling Back Global Currency Ambitions
In June 2019, Facebook first developed plans for Libra stablecoin as part of its efforts to expand beyond social networking into global payments and e-commerce. It stated that together with its founding partners like credit card firms and payment companies, Libra would create a digital currency backed by a wide mixture of currencies and short-term government debt.
Facebook hoped that Libra would power transactions between businesses and consumers across the world, and provide more people with access to financial services.
However, the Libra project immediately faced fierce opposition from policymakers around the globe, who worried that it could harm users' privacy, enable crime, and erode their control over the money system.
In April 2020, the Libra Association pulled back from its original vision of a global digital currency, which would be backed by a basket of national currencies, an effort to appease global regulators.
As a result, the association planned to create a handful of stablecoins each representing a different fiat currency (for example, one Libra coin would be pegged to the US dollar, another one would be backed by the Euro, and so on). The Libra Association sought a license approval from the Swiss regulator.
In December 2020, the Libra project was rebranded as Diem as an effort to emphasize its independence as it sought regulatory approval for a 2021 launch, with its scope scaled back further to a single dollar-backed digital currency.
Image source: Shutterstock
Read More