Ethereum Supply on Exchanges Diminish to 12%, Signifying a Holding Culture
Despite retracing from an all-time high (ATH) price of $4,860 recorded earlier this month, Ethereum supply on exchanges continues to nosedive.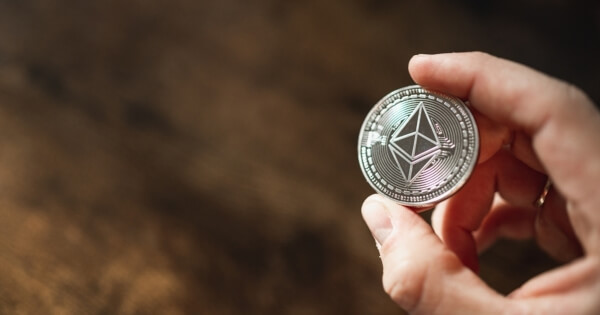 On-chain analyst Matthew Hyland confirmed:
"The amount of Ethereum supply on exchanges is crashing further down. Only 12% of the Ethereum supply is now left on exchanges."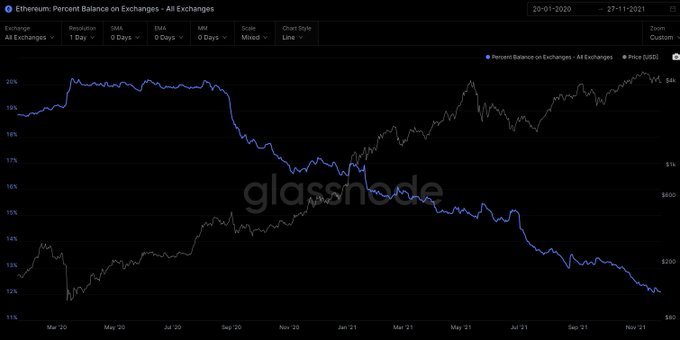 Whenever coins leave crypto exchanges, they are stored in cold storage or digital wallets for future purposes, which signifies a holding culture.
Ethereum is also being locked in booming sectors like non-fungible tokens (NFTs) and decentralized finance (DeFi) because it offers features like smart contracts. For instance, Ethereum takes the lion's share in the total value locked (TVL) in DeFi, according to ranking and metrics provider DefiLlama.
Ethereum outweighs Bitcoin in terms of Google search interest in the US
According to market analyst Evan Van Ness:
"Over the last month, ETH has flipped BTC a few times in Google search interest in the US. The flippening is a series of many little flips before the permanent one."
This shows that interest in Ethereum continues to gain steam because of various use cases. For instance, the Ethereum Name Service (ENS), a crypto domain based on the ETH blockchain, has generated revenue worth nearly 20 million since its launch in May 2017.
ENS can be regarded as the blockchain correspondent of the Domain Name System (DNS).
Furthermore, more participants are joining the ETH network, given that the number of non-zero Ethereum addresses recently reached an ATH of 68,756,137.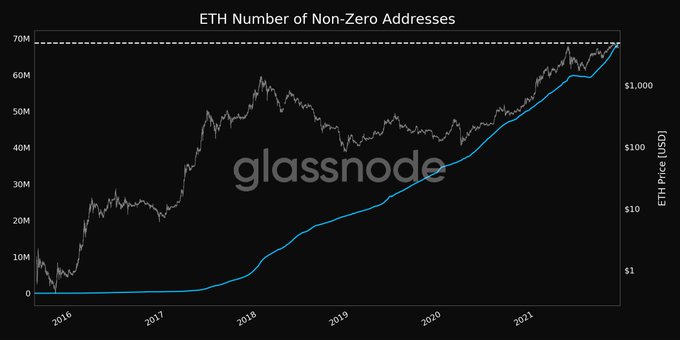 Meanwhile, the second-largest cryptocurrency ought to surge past the $4,600 level for new highs to be reached. Data analytic firm IntoTheBlock explained:
"On the resistance side, it appears that on the path to a new ATH, the most significant level of resistance is located around $4,653. Around that level, more than 489k addresses are holding 2.52m ETH. Surpassing that level might lead ETH towards new highs."
With $5,000 forecasted as the largest open interest strike price for Ethereum options in 2021, whether this will be attained before the end of the year remains to be seen.
Image source: Shutterstock
Ethereum Layer 2 Continues to Gain Steam as ETH Realized Capitalization Soars
Read More