Crypto.com Removes Data from CoinMarketCap after Prices go Haywire
Cryptocurrency data provider CoinMarketCap.com had a data failure on Tuesday night, causing many cryptocurrencies to show astronomical gains.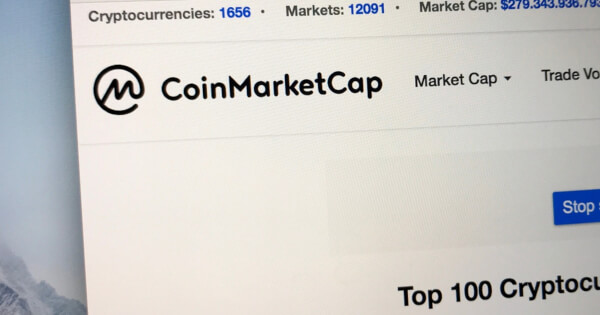 Although CoinMarketCap.com stated that the problem has been resolved, and the US-based cryptocurrency exchange Coinbase also pointed out that the transaction has not been affected by this, it is still investigating the asset price and transaction difficulties of the Coinbase wallet.
Crypto.com, a Hong Kong-based cryptocurrency exchange, removed data from CoinMarketCap.com after glitches according to Bloomberg.
Kris Marszalek, CEO of Crypto.com, expressed dissatisfaction with the price feedback on CoinMarketCap.com that was out of control and caused the excessive price displayed in the cryptocurrency exchange application.
Although trading activities were not affected by it, Kris Marszalek said that:
"The company is working on removing @CoinMarketCap's unreliable price feed"
CoinMarketCap.com stated in a statement that:
"We haven't found any evidence yet to suggest that today's glitch was caused by an external party."
Exchanges such as Coinbase use its application programming interface or API to communicate with each other and can embed Coinmarketcap data in it.
Oppenheimer & Co analyst Owen Lau said. "While people are still looking for the root cause, I won't be surprised to hear that people would blame the client-facing app like Coinbase even if the problem comes from the data supplied by the third party."
Technical issues have always been a major problem that plagued cryptocurrency exchanges. Most of the exchanges were down during the skyrocket and were unable to process transactions normally. At the same time, there are also acts of hackers and theft of cryptocurrencies from different wallet addresses.
CoinMarketCap is a company owned by Binance, the largest cryptocurrency exchange.
The price runaway of the Coinmarketcap website this time may cause some users who are concerned about cryptocurrency data to turn to other more reliable data providers to obtain data.
Image source: Shutterstock
Robinhood Acquires Cross Crypto Exchange Trading Platform Cove Markets
Read More