Chinese Government to Consider Cross-Border East-Asian Stablecoin for Hong Kong Amid Implementing Controversial National Security Law
Chinese officials are to consider a cross-border Asian stablecoin in Hong Kong, to facilitate a cross-border payment network between three Asian countries, and four currencies - China, Japan, South Korea, and Hong Kong. The world's second-largest economy is aiming to build Hong Kong into an international financial center in the digital economy era.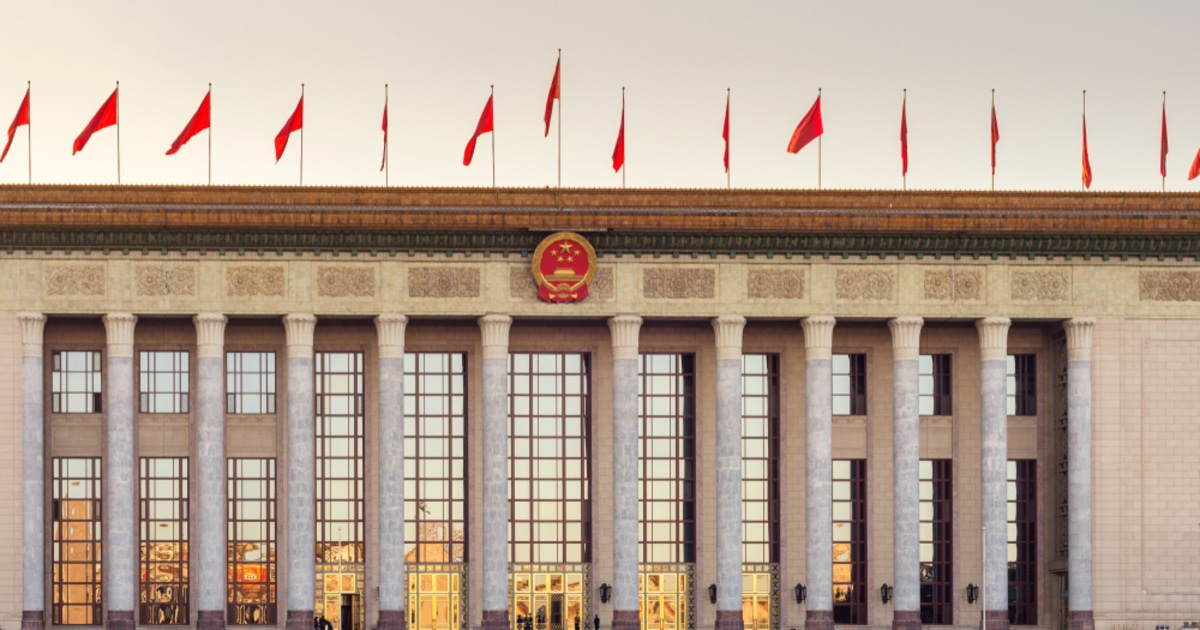 At China's annual "Two Sessions," also known as the National People's Congress, China's most important annual political event in Beijing, officials set the decision to impose a new national security law in Hong Kong.
The annual political event was postponed due to the coronavirus pandemic, as the representatives of the National People's Congress continue to advise on post-pandemic economic recovery.
Neil Shen, also known as Shen Nanpeng, member of the National Committee of the Chinese People's Political Consultative Conference and managing partner of Sequoia Capital China will submit five proposals to the two sessions this year. One of the proposals includes the innovation and technology development of the Greater Bay Area, which he has submitted consecutively in the past three years.
In Shen's proposals, he suggested a Hong Kong-based cross border stablecoin, as a foundation for a cross-border settlement network between China, Japan, and South Korea as well as the special administrative region. Shen envisions that this move would make Hong Kong as the international digital financial hub and will empower the semi-autonomous city to achieve "stable economic and social development."
The proposal was also co-signed by Kennedy Wong, solicitor of the Supreme Court in Hong Kong, former chief secretary of Hong Kong, Henry Tang, and Hong Kong-based billionaire Songqiao Zhang. The proposal is separate from China's central bank digital currency (CBDC) initiative, also known as the digital currency electronic payment (DCEP).
One stablecoin to blur the lines
In regards to the new national security law in Hong Kong, Chinese Premier Li Keqiang said: "We will comprehensively and accurately implement 'one country, two systems,' under which people of Hong Kong govern Hong Kong, and the people of Macau govern Macau, with a high degree of autonomy. We will establish sound legal systems and enforcement mechanisms for safeguarding national security in the two SARs, and see that the governments of the two regions fulfill their constitutional responsibilities."
China reported a drop in its annual growth target this year and has pledged more government spending as the COVID-19 pandemic has taken a toll on the country's economy. Premier Li's work report omitted a target for the gross domestic product (GDP) for the first time since 1990.
With Beijing announcing its plans for security legislation for Hong Kong, the United States drew warnings as the Asian stock markets fell further. Amid escalation of tensions between Washington and Beijing, Hong Kong's Hang Seng Index took a dive of about 5 percent, while the yuan also dipped as the National People's Congress highlighted uncertainties and pledged to sell bonds.
Hong Kong's 2020 budget
Financial Secretary of Hong Kong, Paul Chan has been under intense pressure from lawmakers to dip into the government's fiscal reserves to help the city get out of an economic slump. After months of anti-government protests and the emergence of the coronavirus epidemic, Hong Kong residents aged over 18 will receive a cash handout of HK$10,000. The budget also highlighted the forecast of an all-time high deficit of HK$139 billion for the coming fiscal year.
In the budget for 2020-2021 announced by Chan, innovation and technology has been mentioned as an important growth engine for future economic development. The Hong Kong government has allocated over a hundred billion dollars to support the innovation and technology sector.
"Local I&T (Innovation and Technology) companies have won awards time and again in international competitions, whereas a number of "unicorns" have emerged," Chan wrote. "While there is still some way to go to develop I&T into mature industries, I am convinced that our current investments will bear fruits in the future."
Image via Shutterstock
Read More