Bitcoin is Redefining the Concept of "Overbought" as Crypto Market Cap Surpasses $1 Trillion as New ATH
The cryptocurrency market has seen a massive rally in the past 24 hours, and the market has hit $1 trillion in market capitalization. For the first time, the cryptocurrency market capitalization surged above $1 trillion, as Bitcoin reached a new all-time high at around the same time.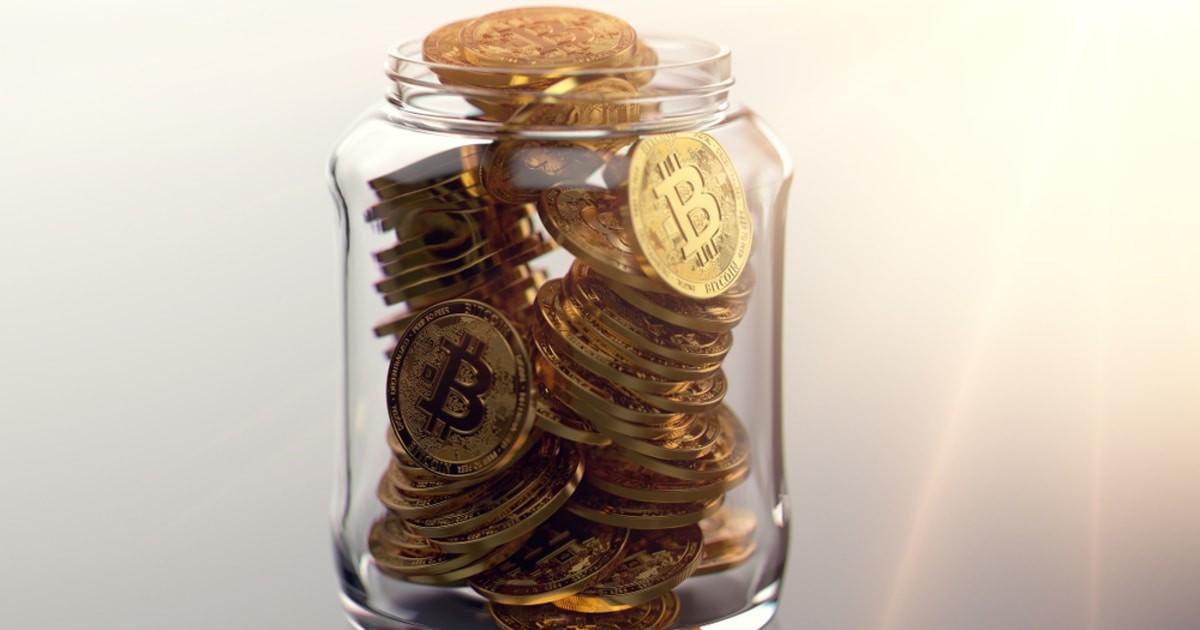 In the past month the cryptocurrency market capitalization has doubled, while Bitcoin has managed to make multiple new all-time highs, and Ethereum surged past $1,100 for the first time since 2018. Bitcoin and Ethereum's market capitalization account for around over 65 percent of the overall cryptocurrency market.
While Bitcoin has made multiple new all-time highs, Peter Brandt suggested that Bitcoin is redefining the concept of overbought in a bull market. He explained:
"Bitcoin $BTC is redefining the concept of "overbought." Bull markets become and remain overbought. Major bull markets become overbought majorly. Historic bull markets become historically overbought. Red arrows mark midpoints of parabolic advances."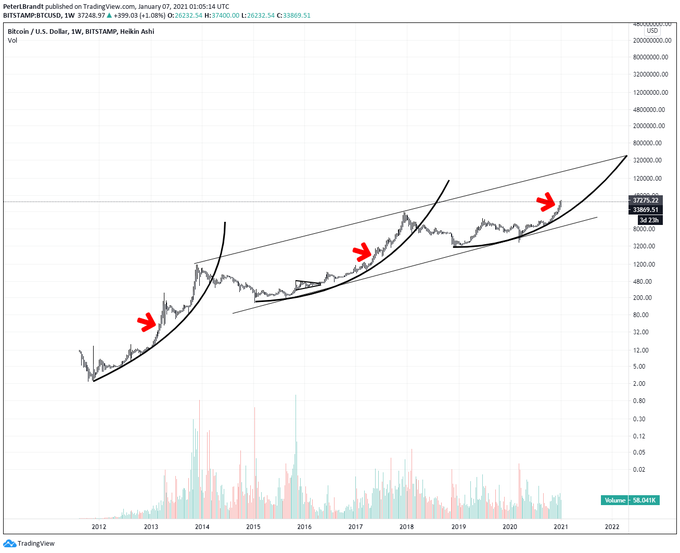 The latest buying trend has been driven by market participants who are looking to hold Bitcoin long term, known as HODLers. According to Willy Woo, this is a massive bullish indicator for the cryptocurrency. Woo said:
"Latest buying has been driven by participants who are long term holders. This is bullish, this rally is far from done. This is the change in #Bitcoin's supply moving between participants. When more coins move from liquid (active traders) to the illiquid (HODLers), it's bullish."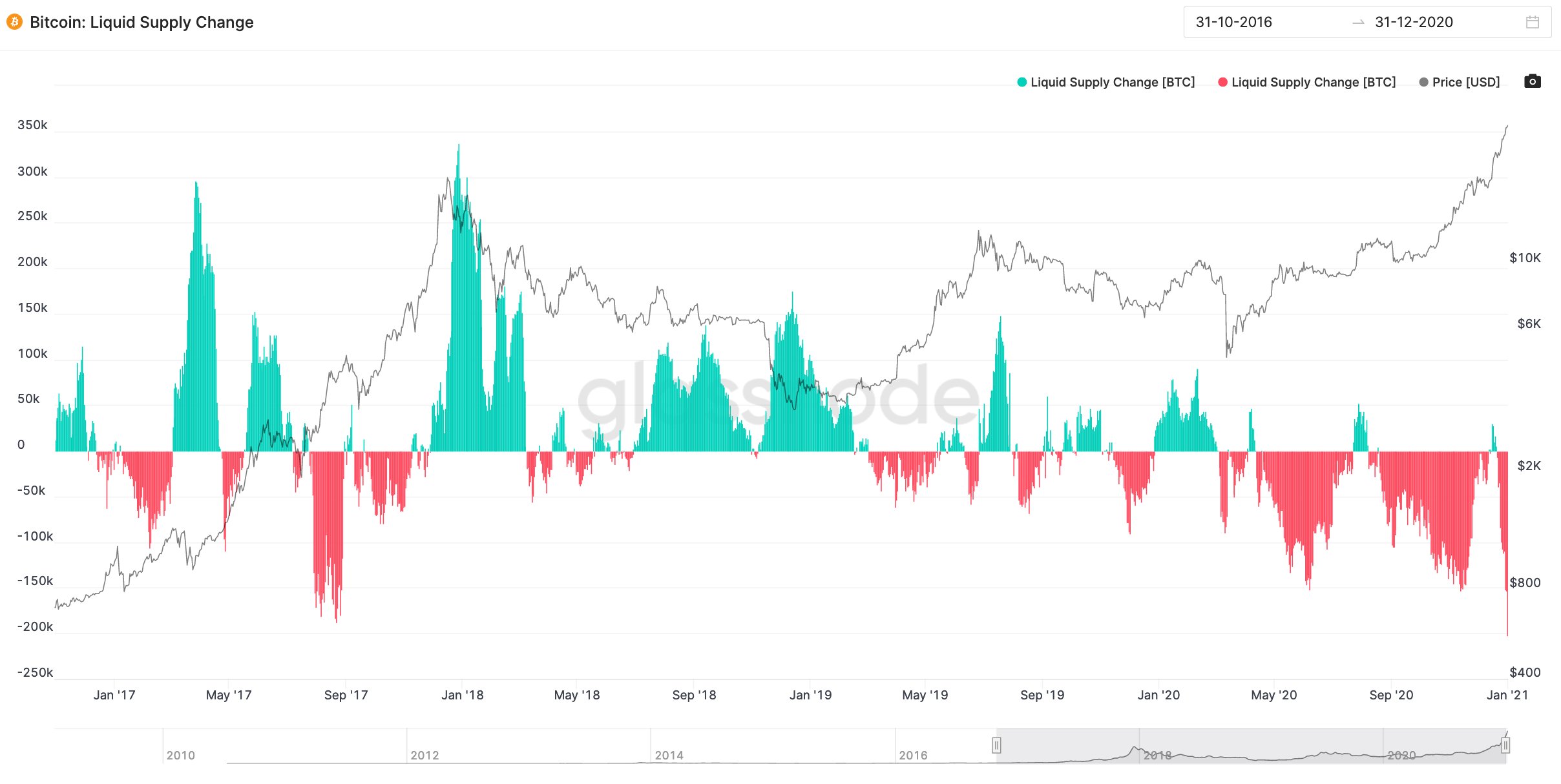 Bitcoin's market capitalization is sitting at over $688 billion, and cryptocurrency trader Michael van de Poppe commented on the recent bull run, saying:
"With all honesty. Markets are doing great and the bull cycle is starting up nicely here. That means that the market will probably continue running heavily this coming year. With the standard 20-30% corrections. Be prepared, they occur. And they are opportunities."
Crypto analytics firm Santiment further showed data that indicated that public crypto crowds have been dominating the "buy" narrative as Bitcoin hit its new all-time high. Just a day before the buy narrative kicked in, and before its new all-time high at above $37,000, Bitcoin's crowd sentiment showed fear and doubt. Santiment further elaborated:
"Our data indicates that public #crypto crowds are dominated by people pumping the #buy narrative today with a new #Bitcoin #ATH of $37k being made yet again! This comes after yesterday was all about #sell calls, as doubters were proven very wrong."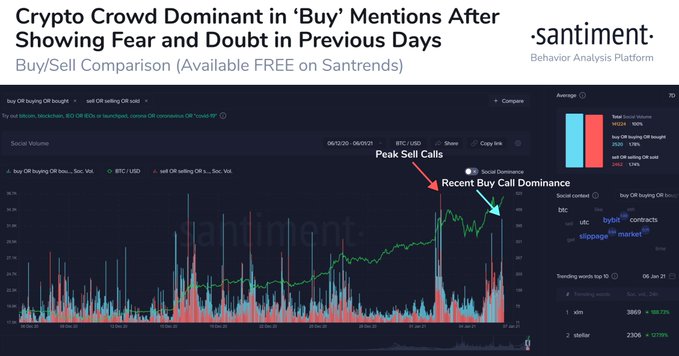 Image source: Shutterstock
Bitcoin Whale Addresses at an All Time High as Major Indicators Suggest Bullish Outlook for BTC
Read More