Bitcoin Miners Have Transformed to Holders and Buyers Since 2020
Bitcoin miners have emerged as notable holders and buyers in the crypto space, which signifies a behavioral change.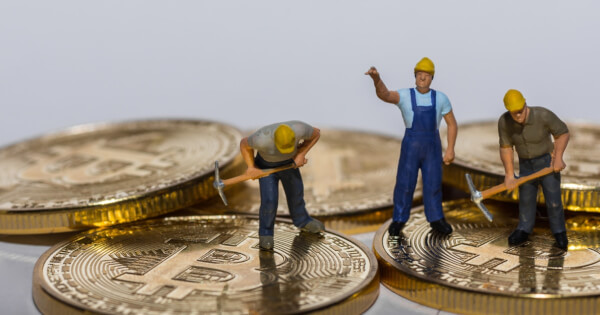 On-chain analyst Willy Woo explained:
"Since 2020, miners have been HODLers (and buyers) of BTC. This is a sea change in behavior. Miners have not been in sustained accumulation behavior since the 2009-2014 era."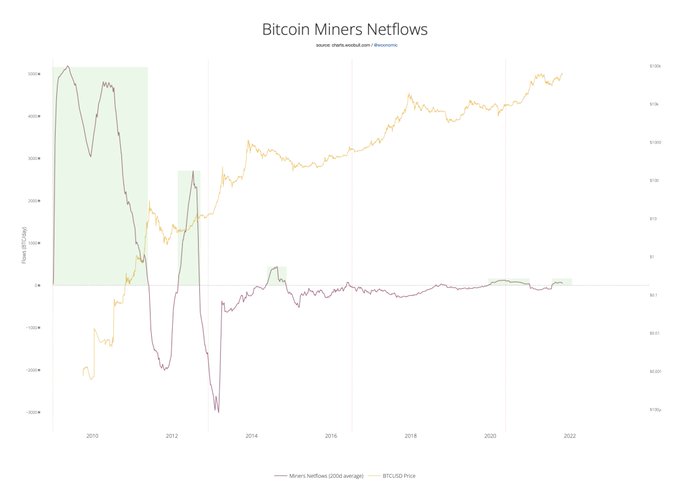 This trend change might have been prompted by unprecedented factors like Bitcoin mining being unwelcome on Chinese soil. For instance, more than 90% of China's crypto mining capacity was lost after authorities disconnected BTC mining sites in Sichuan in June.
This turn of events left Bitcoin miners with no choice but to close shop and move elsewhere. Nevertheless, this has proven to be a blessing in disguise for the United States because it has now taken the lion's share in Bitcoin mining.
According to market insight provider Arcane Research:
"Since Bitcoin miners have economic incentives to utilize renewable energy, their sustainable power mix is estimated to be 58% - almost three times higher than the world average."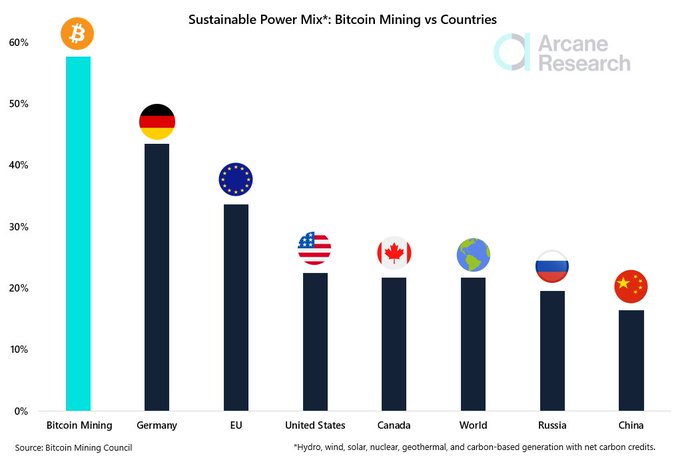 For instance, El Salvador's decision to use volcano power to mine BTC was propelling the leading cryptocurrency's quest to accelerate the development of renewable energy.
Bitcoin is being held for prolonged periods
According to crypto insight provider unfolded:
"BTC is increasingly being held for relatively long periods, and as of October 25th, over 66% of total BTC supply has been held for at least 6 months."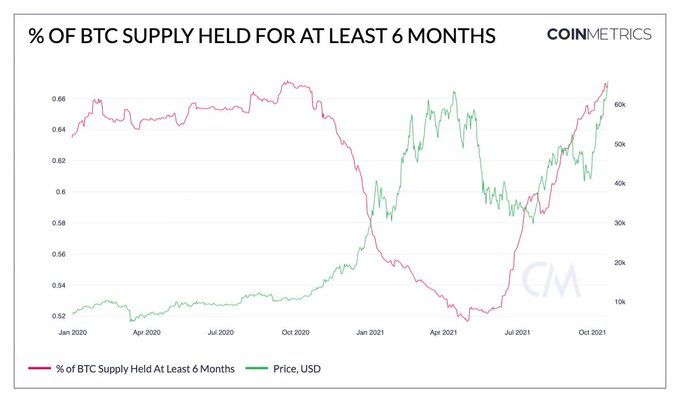 Therefore, it shows holding continues to be a favored strategy in the Bitcoin market.
Meanwhile, Glassnode believes the high number of entities transacting on the BTC network prompted the realization of a new all-time high (ATH) price of $66,900 on October 20. The crypto analytic firm explained:
"On Oct 20th, 2021, there were 27.6M entities on the Bitcoin network - a number that keeps on growing. That day, the average on-chain entity held 0.68 BTC worth $44.4k. On Sep 23rd, 2009, Bitcoin per entity topped at 1,081.38 BTC for $0."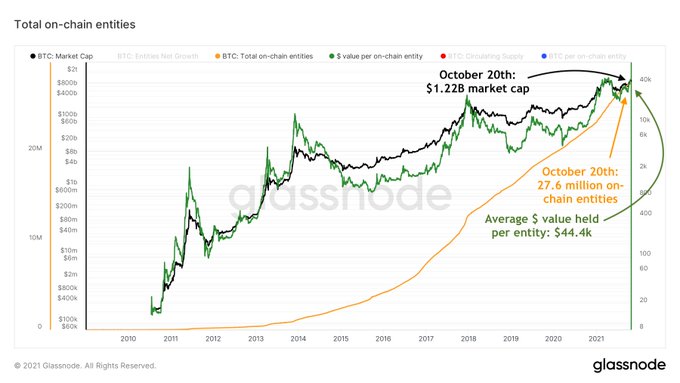 Whether Bitcoin will set a new record high price before the year closes remains to be seen.
Image source: Shutterstock
Mastercard Reveals to Develop CBDC as The Private Payment Provider
Read More