Bitcoin Millionaires at an All-Time High as Analysts Warn of a Pullback Before BTC Moves Higher
Bitcoin's price has remained stable overnight, currently circulating the $13,000 level. Other cryptocurrencies, however, have not been able to hold their strength, with Ethereum (ETH) slumping 3.4 percent, Bitcoin Cash (BCH) dropping 3.8 percent and Chainlink (LINK) dipping 4.7 percent in the past 24 hours.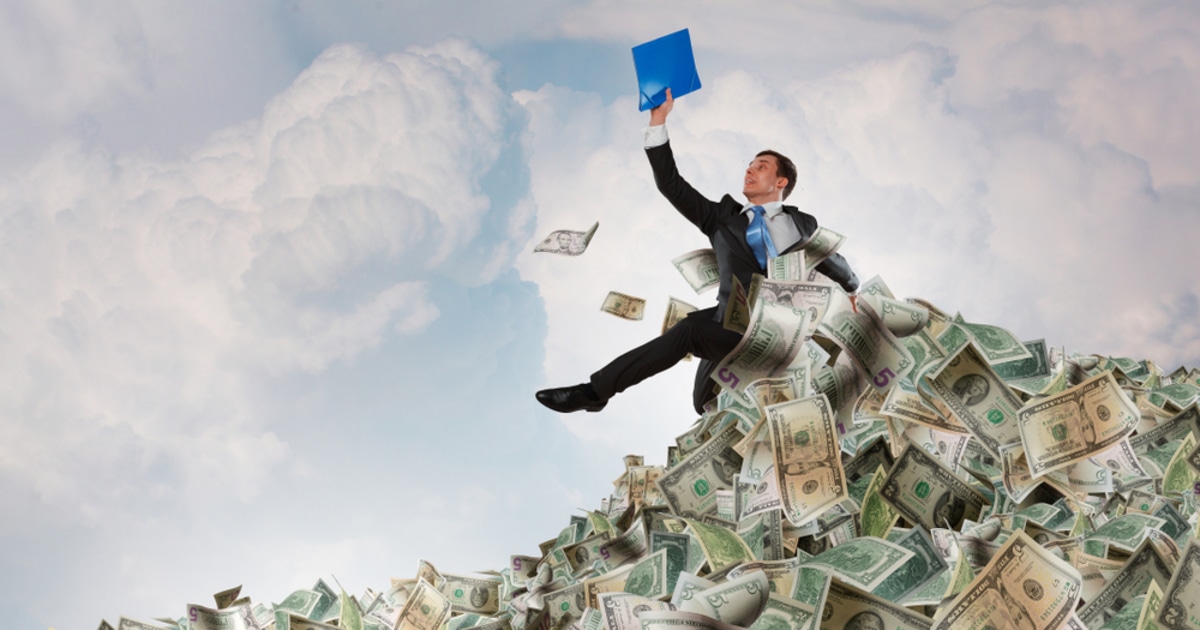 With Bitcoin's price recent surge, many believe that the BTC price will move even higher, as it recently decoupled with the stock market. Bitcoin and the S&P 500 correlation has dropped to 0, a new low not seen since May. Anthony Pompliano, co-founder of Morgan Creek Digital said that the cryptocurrency is now the ultimate safe haven, as the market has proven.
Bitcoin millionaires at an all-time high
Bitcoin millionaires have also reached an all-time high, as crypto analytics firm Glassnode's data showed that the Bitcoin addresses holding over $1 million of BTC has surpassed 20,000. Glassnode also highlighted that this is the highest value level seen since January 2018, during the massive bull run.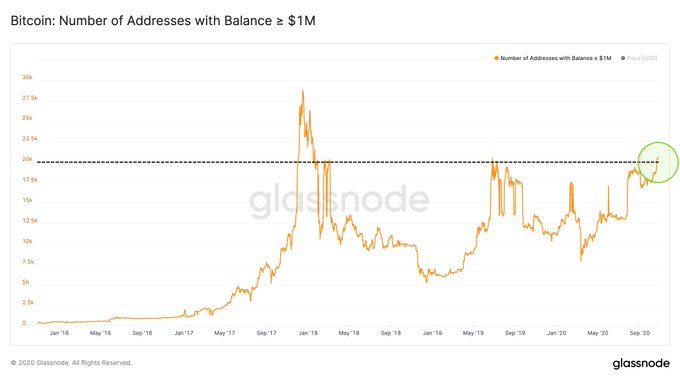 Source: Glassnode
Bitcoin's first weekly close above $11,700 since 2018
Bitcoin's recent weekly candle close has also given BTC some strength, as it was the first weekly candle that closed above $11,700 since early 2018. Crypto analyst Josh Rager explained the importance of Bitcoin's recent weekly close:
"Bitcoin with a 13%+ candle to close out the week. And ever since flipping the 2019 high daily close of $12,920... Bitcoin has closed above it multiple days straight as we work on the highest daily close since Jan 2018."
However, Rager also warned that there could be pullbacks ahead, but Bitcoin is still entering into a new bullish phase, and that there are "exciting times ahead" for the cryptocurrency.
Another crypto trader, Crypto Michael noted that he is not expecting a "clear breaker" above the $14,000 level yet, indicating that there could be a correction before entering the new resistance level. He tweeted while pointing to the graph below:
"I think this is a likely scenario, not expecting a clear breaker above $14,000 yet. A retest of previous resistance zone to build momentum towards the next rally towards $17,000 beginning next year."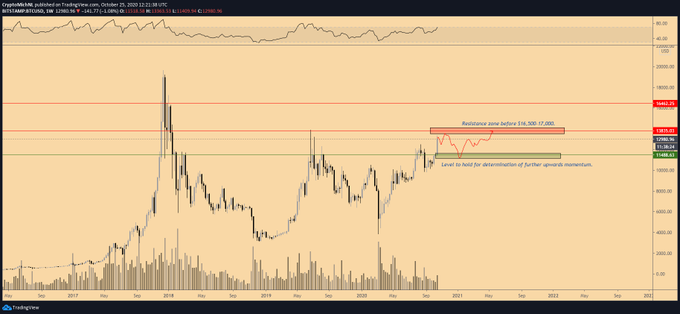 Source: Crypto Michael via Twitter
Bitcoin investor sentiment in the "belief" zone
According to the crypto analytics firm Glassnode, Bitcoin's investor sentiment has been in the "Belief" zone for the past week. The firm analyzes the net unrealized profit and loss, and currently, more than 50 percent of the Bitcoin market capitalization consists of unrealized profits, which puts the investor sentiment in the "Belief" zone.
The indicator of the net unrealized profit and loss measures the difference between unrealized profit and unrealized loss of Bitcoin investors, indicating how much investors were willing to gain or lose if all Bitcoins were sold at the market price.
The "Belief" zone indicates that Bitcoin is in the stage of a bull market where the traders believe in the rally. The next phase according to Glassnode, is the "Euphoria" stage, which was seen in the massive bull run seen during 2017. Bitcoin has broken into the "Belief" zone last on Aug. 18.
On-chain and social metrics show concerning signs
Bitcoin has managed to secure its gains made in the past week, but how long would this last? Crypto analytics firm Santiment analyzed Bitcoin's push above $13,000 for the first time in 15 months. Santiment indicated:
"On-chain and fundamental metrics show that FOMO has predictably intensified, and key on-chain metrics like daily active addresses haven't quite kept up."
According to the firm's latest on-chain and social metrics, more concerning signs have come up as Bitcoin has shifted to a positive crowd sentiment. However, the firm also highlighted that more developers are starting to believe in the longevity of Bitcoin, as more developers are increasing their innovation on Github.
Image source: Shutterstock
Read More