Binance CEO Boosting the Super Exchange Ecosystem, With the Possibility of Adding Options
Changpeng Zhao (CZ), CEO of Binance, the world's largest crypto exchange, was a keynote speaker at multiple blockchain-themed events in Singapore in mid-November. During these events, CZ made new announcements regarding the company's new partnerships and new products that will be rolling out.
Blockchain.News took this opportunity to speak with CZ, one of the most successful entrepreneurs in the crypto industry at Blockshow Asia 2019, held in Singapore to gain a more in-depth understanding of the new partnerships and products that Binance has to offer.
What has Binance been up to lately?
Binance has been adding a lot of new functions such as staking and airdrops and the support for forks. CZ mentioned that later on, there may be plans to support payments and other features. The concept of a super exchange was aimed to allow users to have access to various value-added services on the app. He mentioned: "We are in the mobile internet stage area now, so we got a lot more features on the app. We do see a majority of people using exchanges for crypto, on the go. We've got to make our app a lot better."
DeFi vs. CeFi: What does Binance have in store?
Legacy banking services have very high demand, according to CZ. "We pushed out fixed-term lending and also released variable term lending, which means you can lend and redeem at the same time. The interest rates are much better compared to traditional financial banks or financial markets," explained CZ. The focus of the release of the lending platform was to benefit users as they would be able to earn up to 15% interest on their BNB, ETC, and USDT.
"DeFi is a very hot topic in our industry, right now, we want to do that as well, but before that, with CeFi [centralized finance] we also want to provide whatever our users demand first," said CZ.
Binance Futures requested by active traders
Binance Futures launched in September, shortly after its launch, an all-time high record was recorded at 315,000 BTC being traded in 24-hour volume, which was around 2.9 billion USD. Binance Futures allows for highly leveraged trading using a sophisticated risk engine and liquidation model, as well as a built-in hedging tool to enable traders to manage risks.
When Binance first launched, only 20X leverage was available when it came to trading futures. It was a new product at the time, and CZ explained that the company did not know how deep the liquidity would be and whether the company could manage leverage and liquidations properly.
"Binance futures has grown tremendously, and right now the single contracts in BTC futures has surpassed Binance.com spot, in terms of daily volume, with about 170 different coins. We feel that the liquidity is there, and the volume is there, so we decided on the higher leverage of 125x," explained CZ. He explained that the higher leverage was frequently requested by the active traders on the platform, resulting in the decision to provide the service. CZ encouraged experienced traders to take higher leverage for lower trading costs, as less capital will be tied to trading.
Binance DEX and its ecosystem
Binance DEX is the decentralized exchange running on Binance's native chain, Binance Chain. The Binance DEX development team has encouraged projects to participate in issuing new tokens on Binance's native blockchain. CZ believes that decentralized exchanges bring hope and new possibilities as it offers a trustless and transparent financial system while providing more control over the users' own assets. According to CZ, Binance DEX is actively being worked on by a team of 50 to 70 developers. There is a hard upgrade every month, and a few new features will be announced soon by CZ.
Options in the future?
Binance acquired JEX, an options and futures platform that works differently compared to the traditional financing options. The acquisition of JEX was to boost Binance's crypto derivatives offerings for pro traders. Binance JEX has "pseudo options," which CZ refers to, for insurance types of options as well as hedging. CZ announced that in the next three to nine months, Binance is looking to offer options. CZ also mentioned that Binance has been working with several partners to launch social trading in the future.
Integration of fiat gateway with Paxos
Paxos, the regulated, New York-based exchange and stablecoin issuer has launched a new fiat gateway service, making swaps between US Dollars and stablecoins available to users. Binance became the first cryptocurrency exchange to integrate the new product, with Binance USD (BUSD). CZ elaborated: "That's a very easy on and off-ramp from BUSD, or PAX into US dollars into bank accounts." He also mentioned that the two companies would be working more closely to integrate new solutions.
'Every exchange should provide staking rewards'
The Binance CEO believes that every exchange should provide staking rewards. "I think this is a fundamental thing that we need to provide. Every exchange should provide that. We try to provide our users with all the benefits that cryptocurrency offers them, including staking rewards, with any coins that have staking mechanisms," he explained. "We don't make any money out of it, and we don't charge any fees, it's just a value-added service we provide, we believe that is a fundamental right for the users who hold cryptocurrency with us to enjoy those benefits."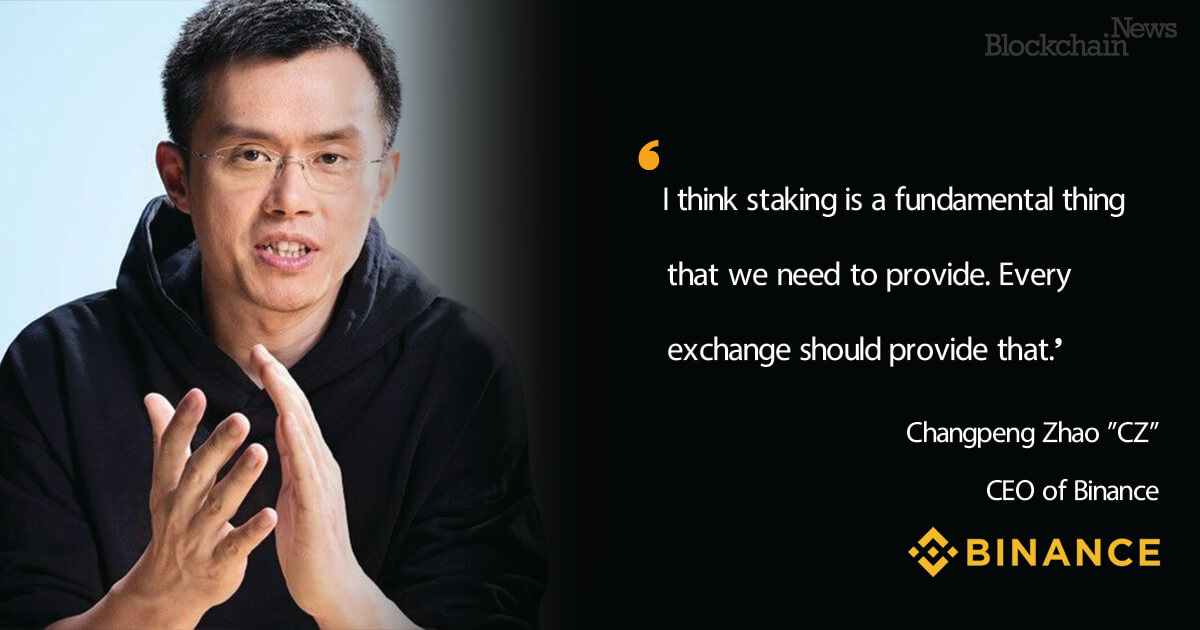 He firmly believes that this will encourage more users to hold cryptocurrencies with the company, and does not give anyone an excuse not to, which helps the company's trading business. "We are in a very strong position where we do have a strong revenue source from trading fees, and we can subsidize all these businesses, and we can support additional businesses this way."
Binance's native phone on its native blockchain
Another recent announcement that was made was regarding Binance's partnership with the Taiwanese mobile phone company HTC. The new Binance Exodus phone made in collaboration with HTC, with an embedded hardware secure wallet, the HTC phone also supports Bitcoin nodes, where 250 gigabytes of Bitcoin data will be available on the phone. "It's a native phone that is supported by the Binance Chain. It also supports BTC, BTC tokens, and Binance DEX," said CZ. "I do believe that the mobile phone is a very key device acting as a wallet, and it is a master device we carry around with us every day. I think this is very good progress for us and HTC."
Read More