Billionaire Bond Manager Jeff Gundlach Says Bitcoin Looks Like A Bubble Waiting to Burst
"Bond King" Jeffrey Gundlach, the founder and CEO of the DoubleLine Capital LP said in a recent interview with CNBC TV that Bitcoin looks like a bubble ready to burst.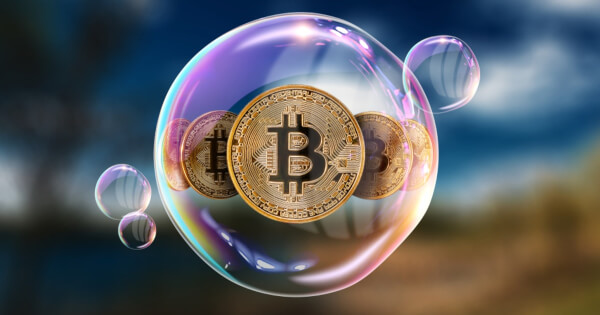 During the interview, Gundlach admitted that he became neutral on Bitcoin after the leading cryptocurrency passed the $23,000 level. The investor said that the cryptocurrency hit "bubble territory" once it surged above $23,000 and he does not feel conformable with the crypto's current levels.
Gundlach said,"I don't like Bitcoin here, I don't like things that are upon a stilt-like that," referring to the cryptocurrency crossing the $23,000 level and advancing more than 300% in 2020."
On Monday, January 11, Bitcoin dropped to $30,324. Although the cryptocurrency has lost around $10,000 in price since forging new highs of above $41,000 in the previous week, it is still up almost 89% over the previous month. Gundlach said that Bitcoin's bull run has occurred all too fast.
He said:
"People seem to be so much on one side of the boat that I just really don't really believe the boat can sail that well, and I think that's where Bitcoin is on the bullish side right now."
Besides that, Gundlach admitted that the top cryptocurrency has a "terrific supply and demand dynamic" as increased demands come from institutions. There are only 21 million Bitcoins that can be mined in total. Currently, about 18.5 million Bitcoins have been mined, thus this leaves less than 3 million that have yet to be mined. This means that Bitcoin supply remains scarce as demand rises.
In a DoubleLine webcast that took place on December 11, 2020, Gundlach stated:
"I'm not a Bitcoin pro or con person. I'm not in the cult, and I'm not in the anti-bitcoin cult. I just look at it as a fascinating representation of animal spirits and speculation."
October 1, 2020, Gundlach appeared on a RealVision interview where he said: "didn't believe in Bitcoin." He stated: "I think that it's a lie," He further added: "I think that it's very tracked, traceable. I don't think it's anonymous."
However, on Monday, January 11, told CNBN that he is definitely not a Bitcoin hater.
Bitcoin Boom or Bubble?
Professional investors are mixed in their judgment. While others think that the Bitcoin price may rise, others expect the price to crash. When the price of the cryptocurrency went past $23,000, investors like Jeffrey Gundlach feel that Bitcoin has reached bubble territory.
It is easy to predict that there would be a price bubble, or the price would pop up, but the hardest part is to figure out how and when such events would happen.
However, that would depend on external events such as a scaling-back of the monetary stimulus, an unexpected rise in inflation, or maybe a tiny increase in interest rates. Bitcoin price is uncorrelated with other traditional assets like the U.S dollar. With the weakening value of the U.S dollar, investors see Bitcoin as a safe-haven asset. Bubble territory is not what the price of Bitcoin is saying. The boom shift has already started.
Image source: Shutterstock
Bitcoin Bull Tim Draper Pushes for Better SEC Regulation and BTC as the National Currency under Biden
---

Read More