WorldCoinIndex, CoinGecko, LiveCoinWatch: Who Will Become the Biggest Threat to CoinMarketCap?
Information is power as it comes in handy in decision-making. The ability to process data into insights is essential for cryptocurrency traders to make informed decisions. As a result, crypto data sites emerged and gained popularity with their ability to assist people in tracking cryptocurrencies prices and trading data in real-time. The crypto market has proven to be a force to reckon with since Bitcoin, the leading cryptocurrency, was launched in 2009.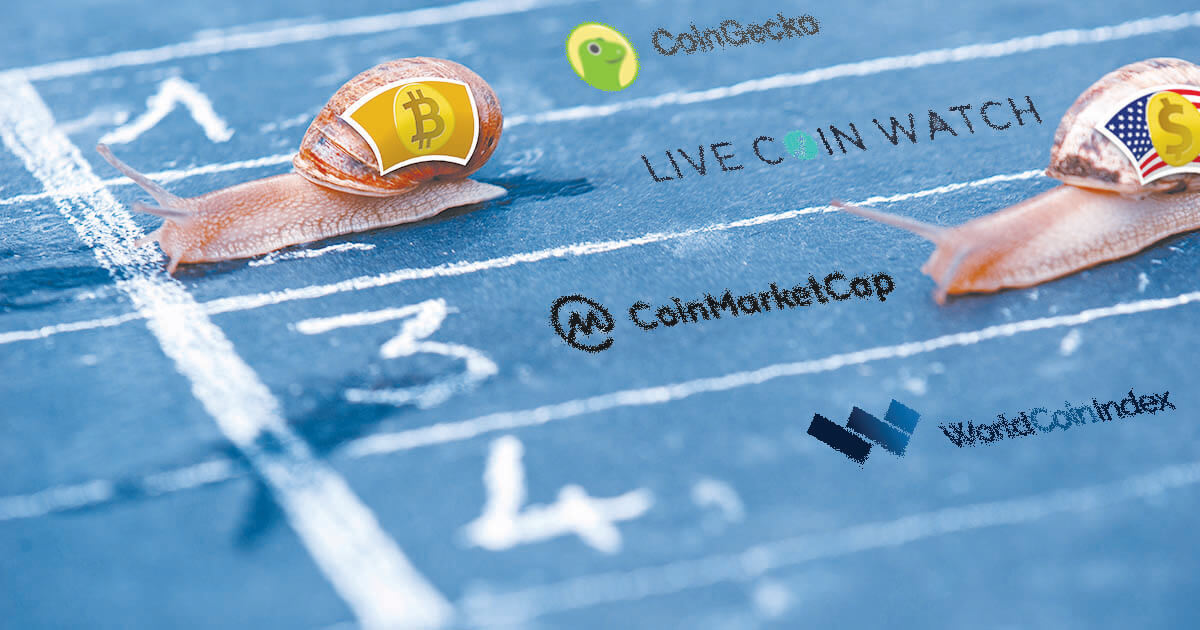 Since its inception in 2013, CoinMarketCap has been widely regarded as the leading provider in cryptocurrency pricing and trading data. However, its dominance came into question following the emergence of crypto data sites such as CoinGecko, WorldCoinIndex and LiveCoinWatch. Who is the biggest threat of CoinMarketCap?
1. CoinMarketCap
CoinMarketCap is the leading crypto data provider. This crypto data site is headquartered in the United States since May 2013 and it was developed by Brandon Chez.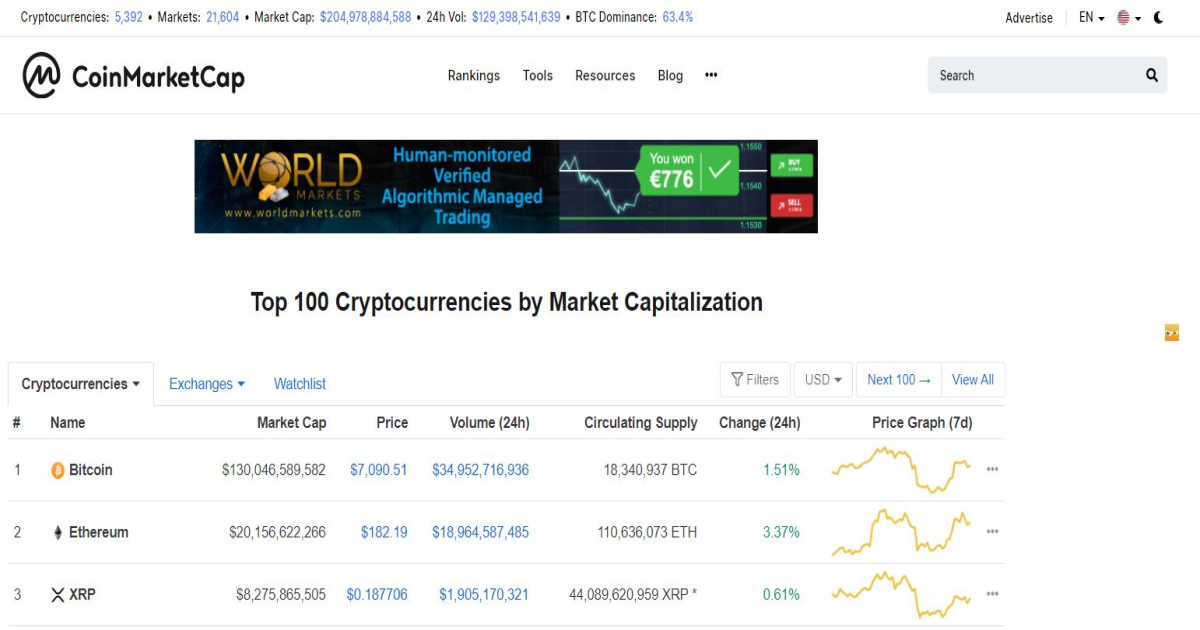 CoinMarketCap currently houses 5,392 cryptocurrencies with more than 21,000 market trades. It ranks the top 100 cryptocurrencies based on total market capitalization, which is calculated after multiplying the price by circulating supply, i.e. Market Capitalization= Price X Circulating supply. CoinMarketCap also offers other crypto ranking metrics such as perpetual swaps markets in derivatives, liquidity and trading volume of crypto exchanges, daily tracking on market capitalization, and trading volume of the entire cryptocurrency market. Apart from crypto statistics, CoinMarketCap is building a more comprehensive ecosystem such as cryptocurrency job board, and CoinMarketCap interest, a platform to compare borrowing and lending products in DeFi. CoinMarketCap also provides both iOS and Android mobile apps to assist users to look at crypto markets on the go.
Earlier this month, CoinMarketCap was acquired by leading crypto exchange Binance for an undisclosed fee, though it was previously reported to be a whopping $400 million. Carylyne Chan, who will replace Brandon Chez as the interim CEO of CoinMarketCap, addresses the "most immediate" concerns of independence to the community, "CoinMarketCap will continue to be run independently, as an independent entity, from Binance. Decisions will be made according to the best interests of CoinMarketCap, meaning that we will continue to develop products and services that benefit CoinMarketCap users, and continue working with partners and customers in a way that benefits them and brings the greatest value to them." CoinMarketCap will continue to enforce its independence in listing criteria, circulating supply calculation methods, and Liquidity Metric ranking methodology.
2. CoinGecko
CoinGecko is another site that tracks and evaluates cryptocurrencies on the foundation of different metrics. It was founded in April 2014 by TM Lee and Bobby Ong and is based in Singapore.
Apart from pricing and trading volume of crypto, CoinGecko has a unique ranking metrics called "Gecko". The "Gecko" score consists of developers and social metrics. Developer metrics refer to the development activity of the cryptoassets via public source code repositories such as Github, Gitlab, and Bitbucket. CoinGecko believes the activity of developers indicates innovation and development of the cryptocurrency, and a strong developer team serves as the backbone of the success of the coin. Social metrics refer to community activity on Facebook, Twitter, Reddit, and Telegram.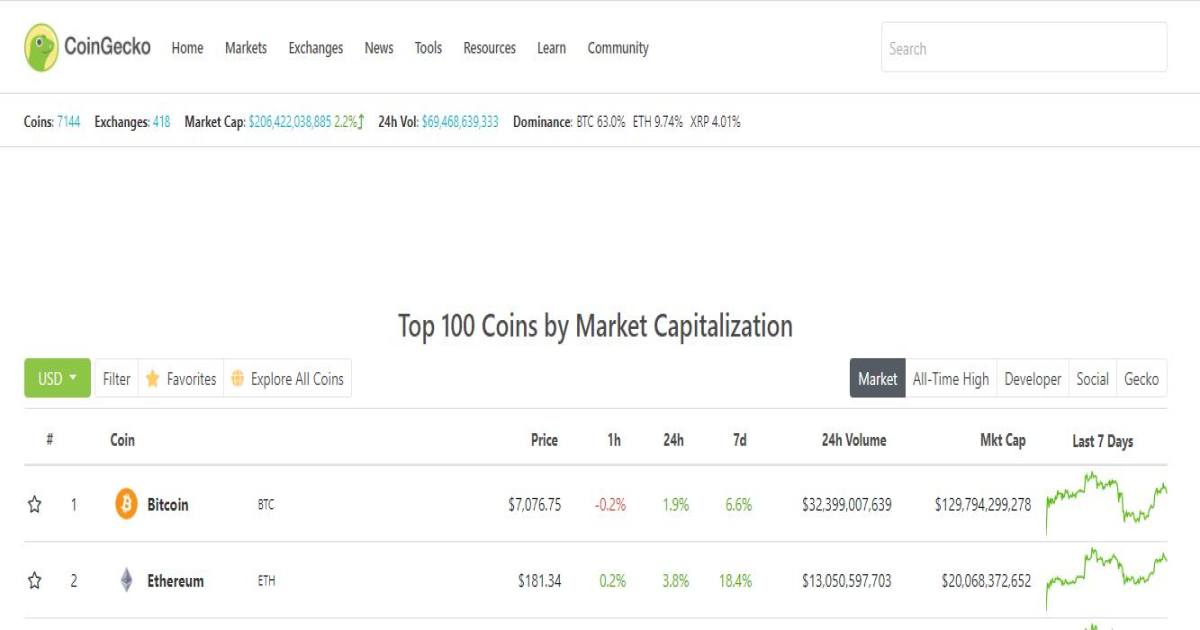 Additionally, CoinGecko covers at least 7,000 cryptocurrencies and shows price change in the last seven days. CoinGecko also avails both Android and iOS mobile apps for crypto enthusiasts. To assist traders to make informed decisions, CoinGecko publishes quarterly industry reports since Q3 2017 and they are available in different Asian languages such as Vietnamese, Japanese, Korean, and Thai.
3. WorldCoinIndex
WorldCoinIndex is another site dedicated to showing real-time price information and fluctuations pertaining to cryptocurrencies. A notable difference from both CoinMarketCap and CoinGecko is that it ranks coins based on 24-hour trading volume as compared to market capitalization. By the time of writing, Ethereum (ETH) was ranked at first position as it had a 24-hour trade volume of USD 11.08B beating Bitcoin (BTC) that recorded USD 10.91B.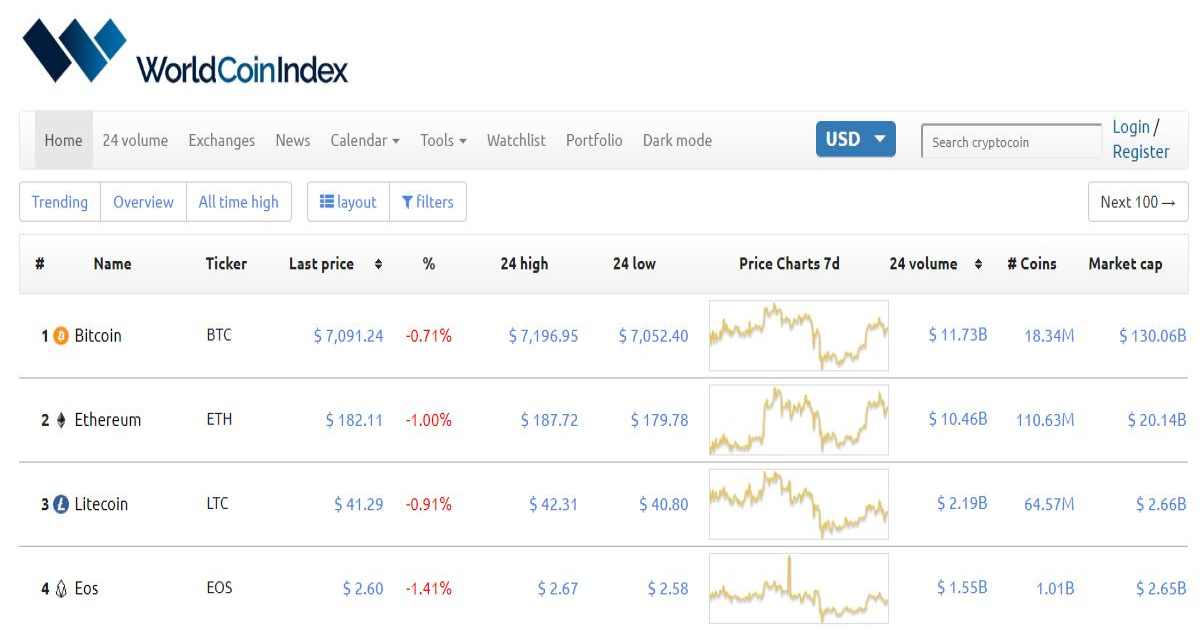 The Singapore-based site was founded by Jack Liao in 2014 and has listed at least 1,500 cryptocurrencies. It also avails metrics, such as trending, overview, and all-time high. If you are looking for a crypto data site that evaluates cryptocurrencies based on 24-hour trade volume, then WorldCoinIndex is the place to be because this is its foundation.
4. LiveCoinWatch
LiveCoinWatch is another leading crypto data site that offers crypto enthusiasts a user-friendly layout and a refreshing interface. Having been founded in 2017 by Noel Kim, it's among the new kids on the block though its elegant design offers visitors more information. For instance, it tracks trading volumes in at least 120 exchanges, such as Binance, eToro, and Currency.com.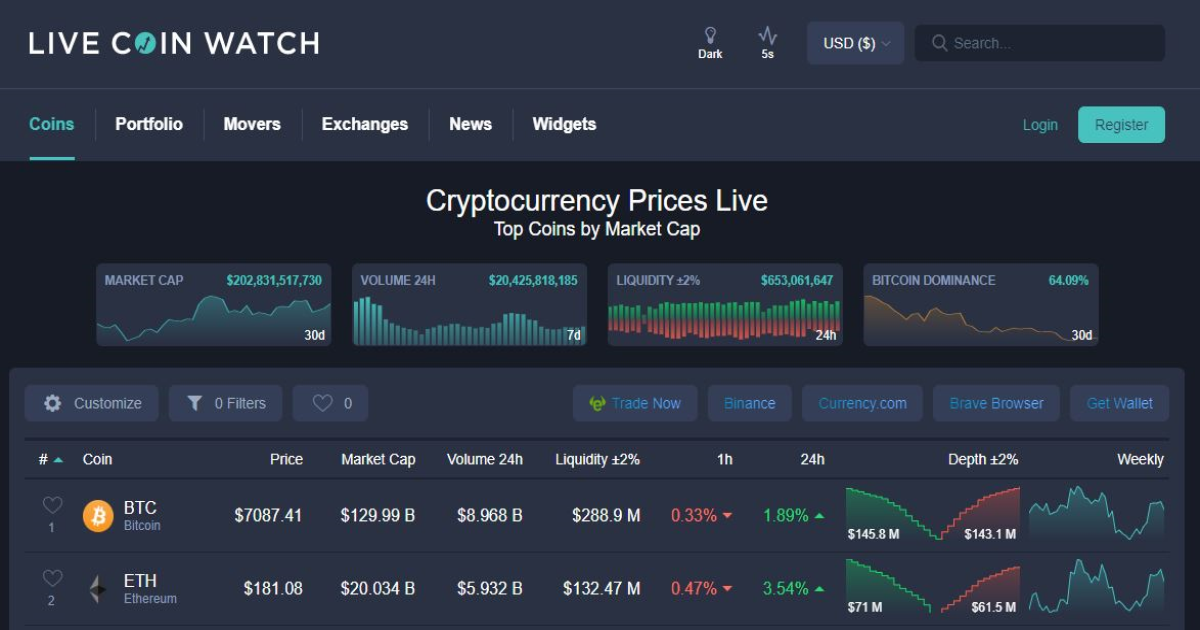 It houses at least 2,000 cryptocurrencies, and you can access information, such as circulating supply, volume monitoring, price tracking, and coin supply.
Bottom Line
It is evident that each platform is exceptional because you are offered insights about the crypto space based on your needs, tastes, and preferences. For instance, both CoinMarketCap and CoinGecko rank cryptocurrencies based on market capitalization, but this is not the case with WorldCoinIndex because positioning is based on 24-hour trading volume. If you wish to track trading volume based on crypto exchanges, then LiveCoinMarket is an ideal option. These crypto data sites are, therefore, excellent resources in the crypto space.
---

Read More