Why Bitcoin Investors Shouldn't Expect a Straight Moon Shot Over $20,000 Just Yet
Bitcoin has gained over 166% since the start of the year and while the BTC price has been continuously testing the $19,500 resistance over the last month—the pioneer cryptocurrency has not yet produced the much-anticipated moon shot over $20,000.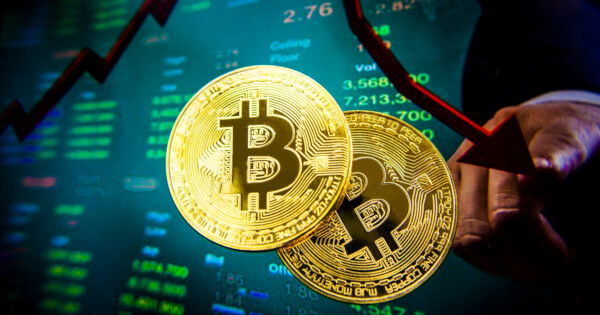 While the crypto market has been rallying on increased institutional acceptance of Bitcoin, a strong correlation to a bullish stock market and government COVID-induced money printing—recent analysis and survey results indicate we could be in for a long period of stagnation before the BTC price moons.
Where's the BTC Moon Shot?
Institutional and retail investor belief in Bitcoin has been building this year and has consequently propelled BTC prices to its all-time-high level. More impressive is that less than a year ago, BTC was worth just $4,000 per coin after taking a black swan dive with the rest of the traditional markets in March.
Paolo Ardoino, CTO of Bitfinex commented on growing institutional belief. He told Blockchain.News:
"Bitcoin has solidified its place in investment portfolios as an asset to hold as a hedge against inflation and currency devaluation. As Bitcoin continues on its path towards acceptance as an established asset class, interest from institutional investors will grow, while traditional financial institutions will develop even more crypto-related products to meet the growing interest and appetite for Bitcoin."
Following its breathtaking rally, the market appeared in full belief that once Bitcoin reached this price level, nothing would stop the cryptocurrency from launching into completely new realms of price discovery, but instead, the market has been moving sideways for the last month and consolidating.
Lark Davis, a popular YouTube crypto analyst known as the CryptoLark today tweeted an eerily similar comparison of Bitcoin at the $10,000 level and today's levels above $19,000, indicating crypto investors could be in for weeks of sideways Bitcoin price action.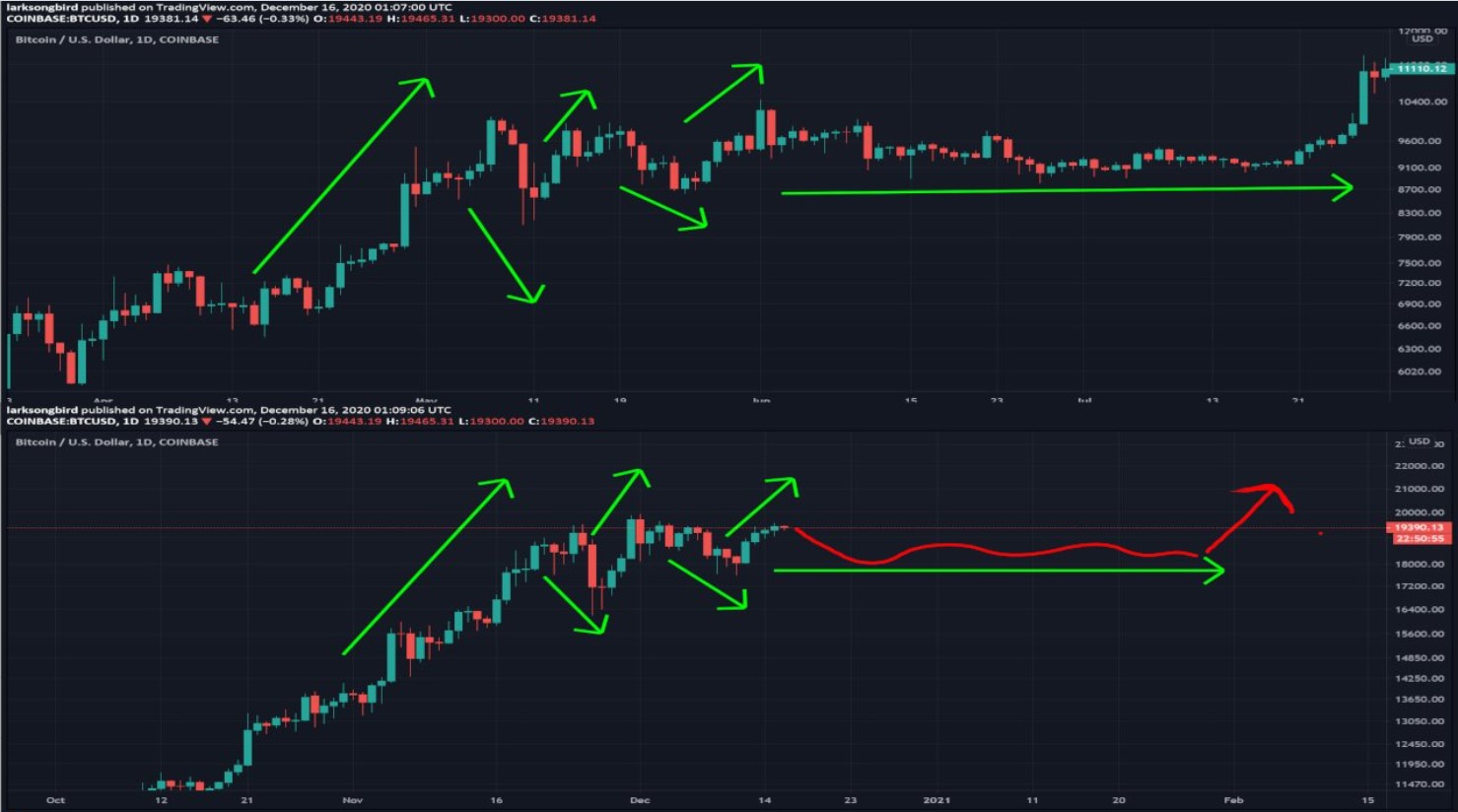 The CryptoLark shared the analysis above and wrote:
"Eerily similar chart pattern playing out now compared to the 10k range for Bitcoin. What if we don't stage an insane breakout to 20k any second but instead range sideways for weeks?"
While price consolidation is often a bullish sign that upward movement will follow, another technical analyst called ImmortalTechnique says a breakout won't arrive before a number of shakeouts, traps in either direction and extreme deviations.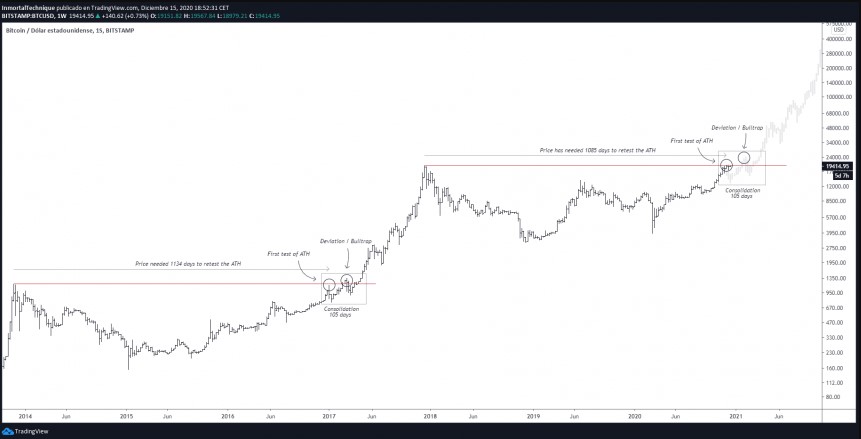 Source: BTCUSD on TradingView.com
The pseudonymous analyst argues that although Bitcoin should "consolidate" below ATH, price action will get extremely volatile.
What do Investors Think?
As Bitcoin exploded towards the end of 2020 and recorded gains over 160% for the year, news sites and Twitter feeds have reported an overwhelming bullish sentiment for the flagship cryptocurrency with projections ranging from $50,000 - $500,000 per BTC in the next few years. But a shock survey from Genesis Mining reveals that not everyone is so sure.
Institutional mining platform, Genesis Mining conducted a survey to quantify the current Bitcoin investment sentiment. 1,000 US-based investors were surveyed revealing that although the majority were sure the BTC price would continue to appreciate—only 17% are betting on $50,000 BTC and only around 3.5% of respondents believe that the Bitcoin price can reach $500,000 by 2030.
The survey, however, found strong support for Bitcoin's case as a store of value with two-thirds tipping BTC as a better long-term hold than the US dollar. Over 50% also tipped that Bitcoin will replace traditional safe-haven assets like gold and real estate within the next ten years.
Genesis survey reveals that the overall sentiment for Bitcoin remains bullish in the majority, but with only 17% predicting $50,000 by 2030 the findings indicate that that overall the respondents do not believe Bitcoin can grow another 160% in the next ten years—despite Bitcoin making an almost identical price percentage gain in just the last few months.
The results reveal that over 30% of respondents are expecting the Bitcoin price to move sideways or decrease over the next ten years due to regulatory pressure and around 20% are expecting overreaching government bans.
While the sample size is not indicative of the entire global Bitcoin investor base, the revelations in the findings may serve as a shock to most taking part in the current Bitcoin bull market.
Image source: Shutterstock
Bitcoin Whales Return To Exchanges Stifling BTC Relief Price Rally Above $19,500
Read More