May 6: You Snooze You May Not Lose
$9,000 continues to pin Bitcoin down, leaving it to trade in a narrow $300 range for the past 48 hours. Eethereum also rather lackluster, having traded poorly relative to BTC in the last few sessions as halving looms. For those who are unfamiliar with BTC halving, you can check my short write-up. In other news, Telegram withdrawed offers to pay investors with Gram tokens.
With Trump now back to igniting tensions with the Chinese, risk assets continue to trade cautiously. There's also a debate whether re-opening for the U.S. earlier is better, but reality is nobody knows. Third, covid19 has already mutated, and if it doesn't subside in the summer, it could further mutate and potentially limit the effectiveness of vaccines. Wave 2 imminent? In such a mixed global macro backdrop, I don't see the need to FOMO, I may be wrong, but I am happy with my long core BTC positions. If it does retrace with equities, decent levels to get long will be between $8,000 to $7,000 region. Another trade idea that I've been pushing is long volatility (BTC volatility has never been this cheap to equities), buy the $9,500 to $10,000 calls that expire on 15 May post halving. Gdluck.
Lower highs, and lower lows, it does not seem like a great technical picture for a breakout higher, but having traded BTC for the past few years, Bitcoin can surprise.... Some levels for you to take note... $9,500 key for upside momentum and below $8,000 is a buy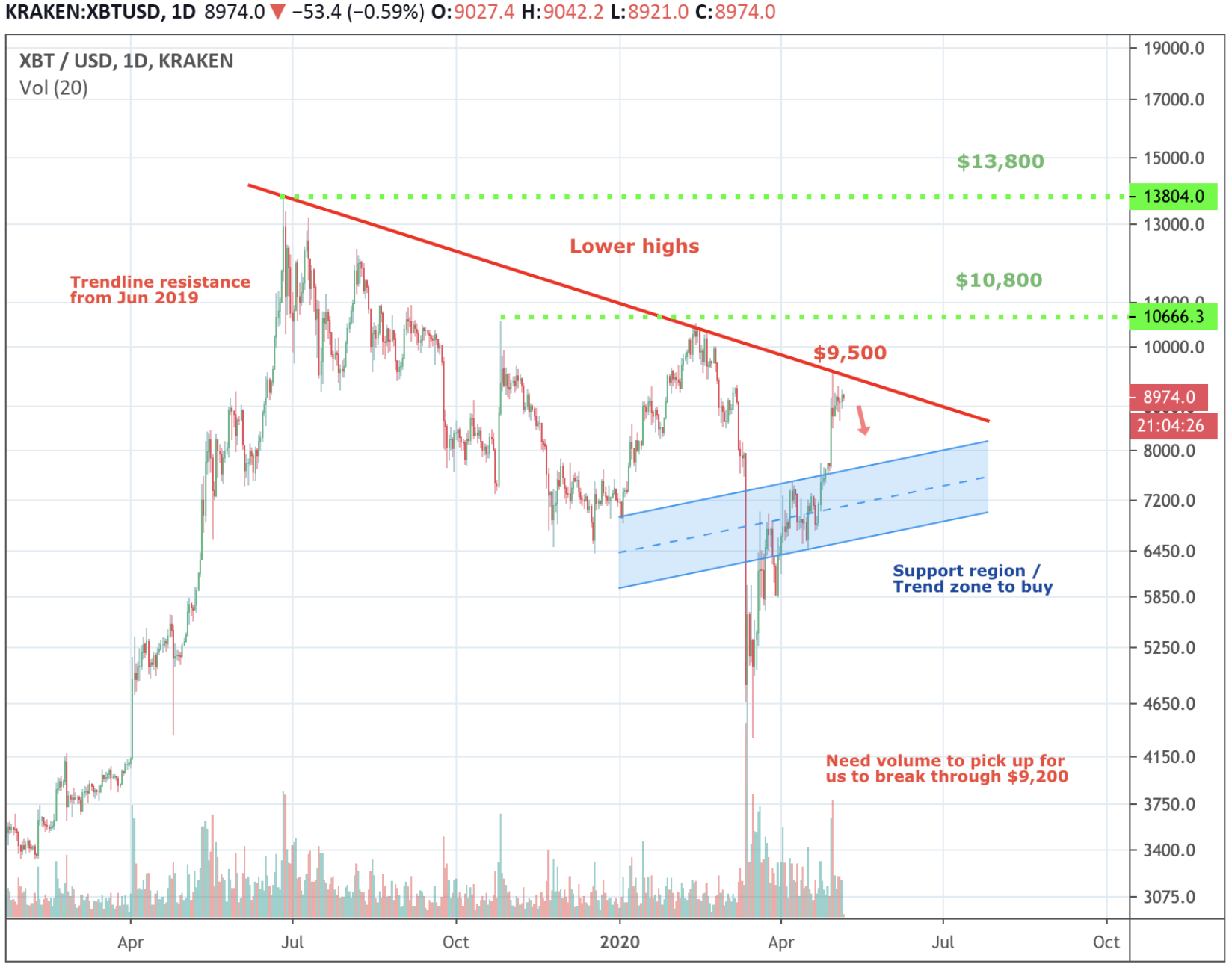 BTC's volatility has never been this cheap compared to S&P 500.. Bloomberg had a great write-up on this...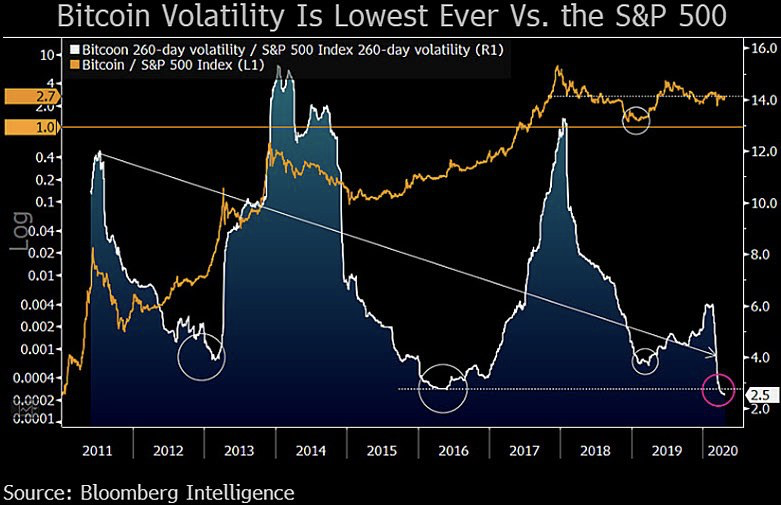 Bio of Eugene:
Eugene is currently a sales and business development director for Matrixport. He has 10 years of experience in institutional trading, financial derivatives and sales in Citibank, Barclays Capital and Deutsche bank. Eugene started investing in cryptocurrencies in 2017, and has since advised multiple projects worldwide, raising more than U.S. $50 million. Because of his active involvement in fundraising, Eugene is well-connected with the crypto ecosystem. Beyond advising projects, Eugene takes a keen interest in trading and managing his personal portfolio. He has been featured on Bloomberg, Forbes and Yahoo.
Disclaimer
Opinions expressed are solely the analyst's own and do not express the views of Matrixport the company.
The views and opinions expressed in this article are those of the contributor and do not necessarily reflect the view of Blockchain.News.
---

Read More