Ethereum Classic (ETC) Price Analysis - April 7, 2021
Ethereum Classic (ETC) is an open-source, blockchain-based distributed computing platform featuring smart contract functionality. It was officially launched in July 2016 as the hard fork of Ethereum.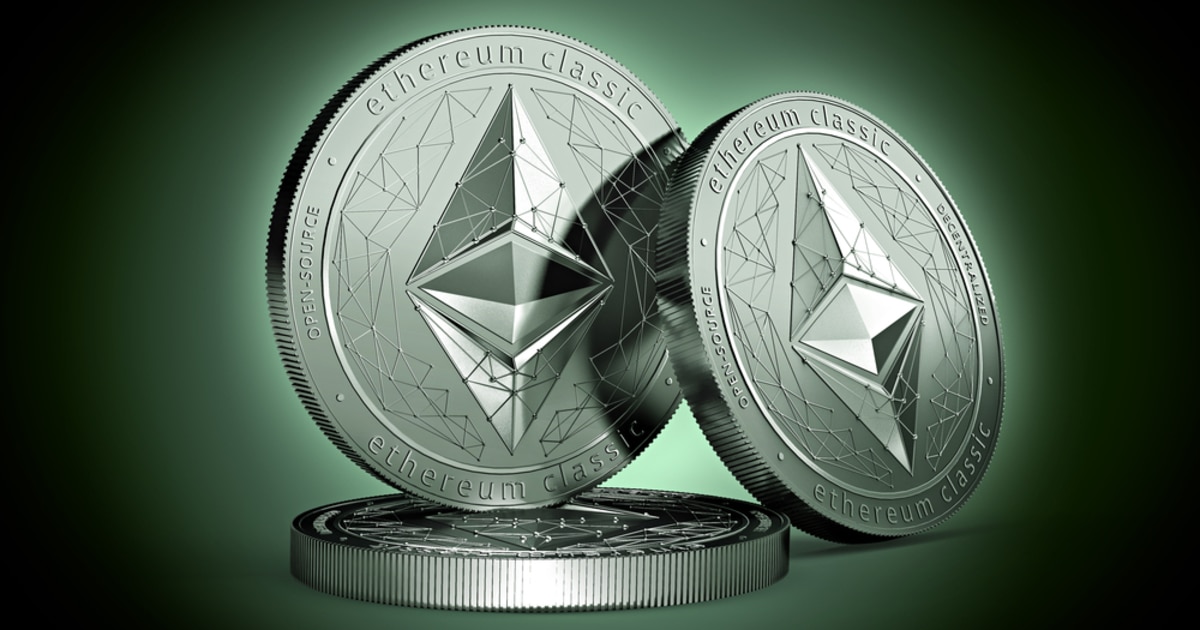 ETC has experienced a substantial price increase in the past week, with a 55.52% increase on a seven-day basis and a 20.59% increase within 24 hours.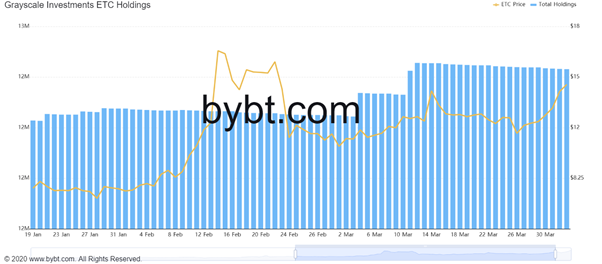 Source:Bybt
According to Bybt's data, despite ETC's strong price increase, Grayscale, one of the largest digital asset management companies in the United States, has slightly reduced its ETC holdings. Grayscale decreased its ETC holdings by 7,153 in 7 days. At press time, Grayscale holds a total of 12.43 million ETC, worth $222.7 million.
Ethereum Classic (ETC) Price Analysis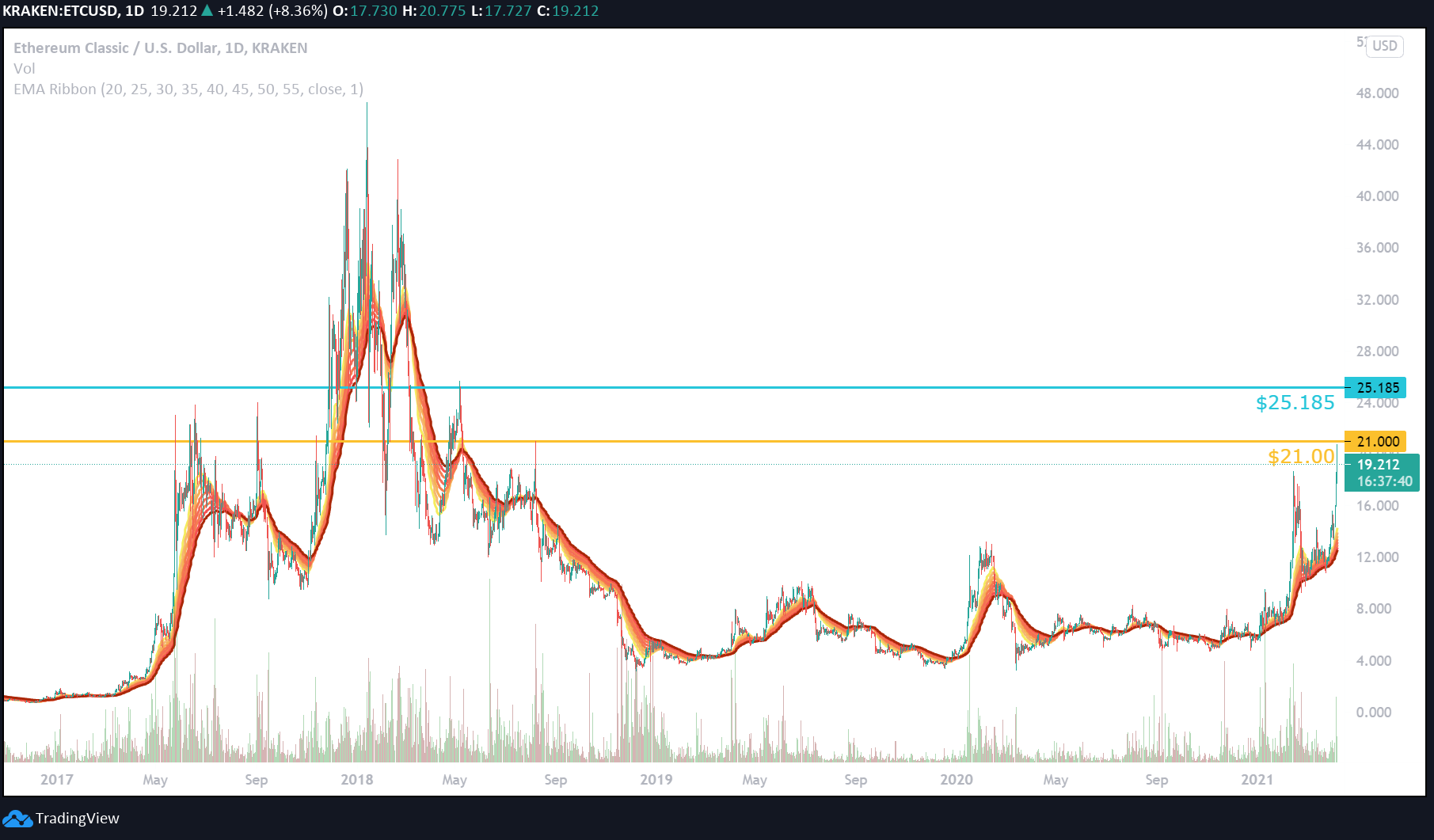 Source: ETC/USD Daily via TradingView
Judging from the daily chart, ETC has successfully broken through the resistance level of $17.00 in mid-February of this year.
As the cryptocurrency market boomed in 2018, numerous investors have accumulated their holdings in the early period. As shown in the figure above, $21.00 will be a relatively important resistance level with a huge trading volume anticipated around this level compared to the previous two-day trading volume. If this resistance level is successfully broken, the bulls will eye the next resistance level of $25.185 for ETC.
But currently, it seems that the bulls lack sufficient momentum to push ETC/USD higher than $21.00 today. If a large number of selling orders occur, the resistance level of $17.00 will be converted into a support level for ETC.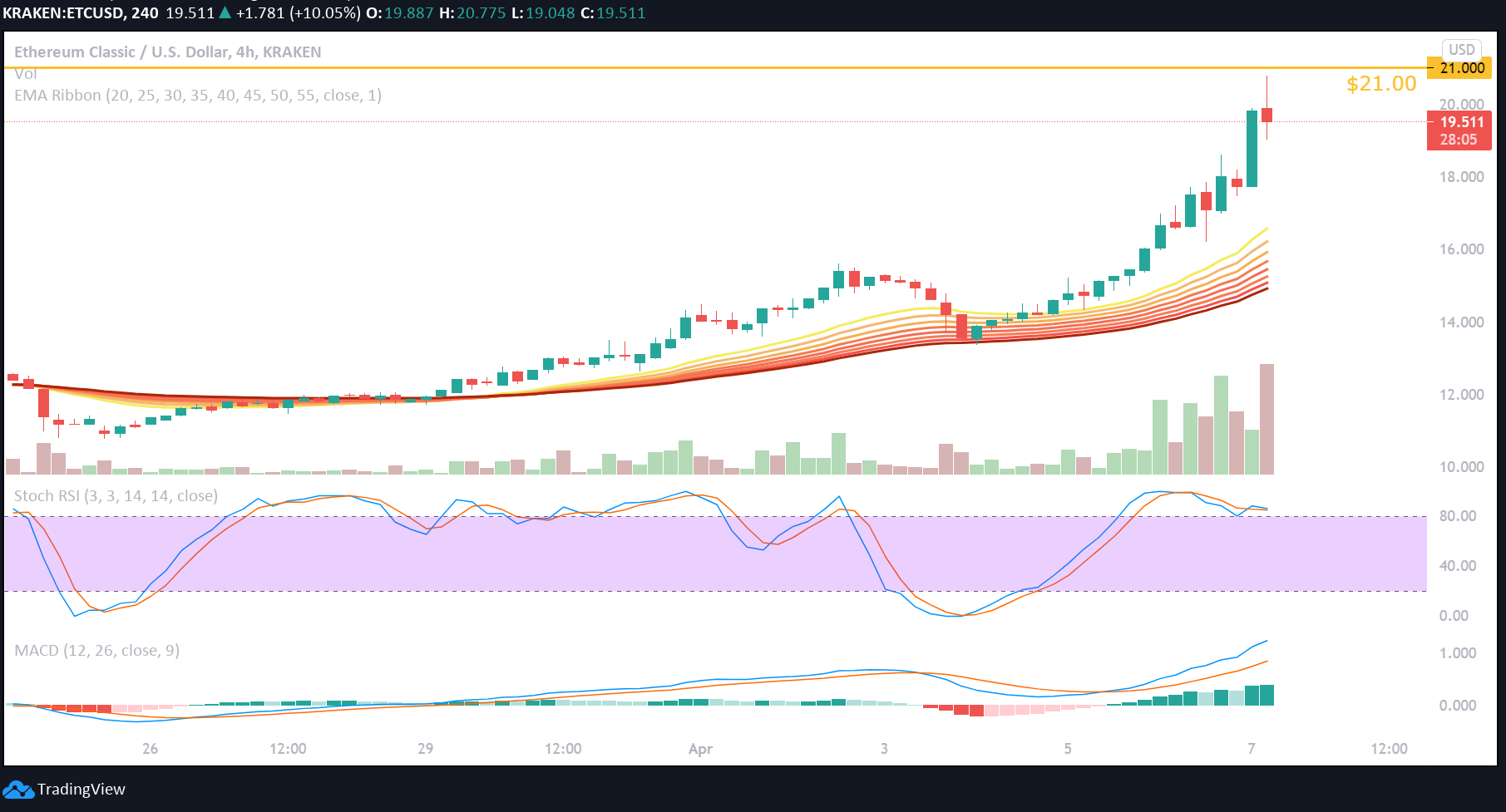 Source: 

ETC/USD 4-Hour via TradingView
From the 4-hour chart, despite some corrections, ETC quickly regained its upward trend. However, the biggest question will be whether the upward trend of ETC can be sustained in the long term.
ETC has experienced several price fluctuations since the beginning of 2021. Although the MACD indicator is bullish, the Stochastic RSI Indicator has entered the overbought zone of 80, and it is very likely that a bearish crossover will form in the short term.
However, there is also a short-term correction phase. If a long green candlestick is closed today and accompanied by a larger trading volume than yesterday, ETC is likely to break through the $21.00 resistance level soon.
On the contrary, if there is a decline in trading volume, ETC/USD will likely consolidate between $18.00-$21.00. Then the buyers will gain momentum to break through the pressure level of $21.00 and start a new round of gains for ETC. If the bears are stronger and push the price lower than the opening price, then ETC/USD will test the $17.00 support level.
Image source: Shutterstock
Disclaimer: The views and opinions expressed in this article are solely the author's and do not necessarily reflect the views of Blockchain.News. No information in this article should be interpreted as investment advice. Blockchain.News encourages all users to do their own research before investing in cryptocurrencies.


Read More