China's Central Bank Digital Currency DCEP: What We Know So Far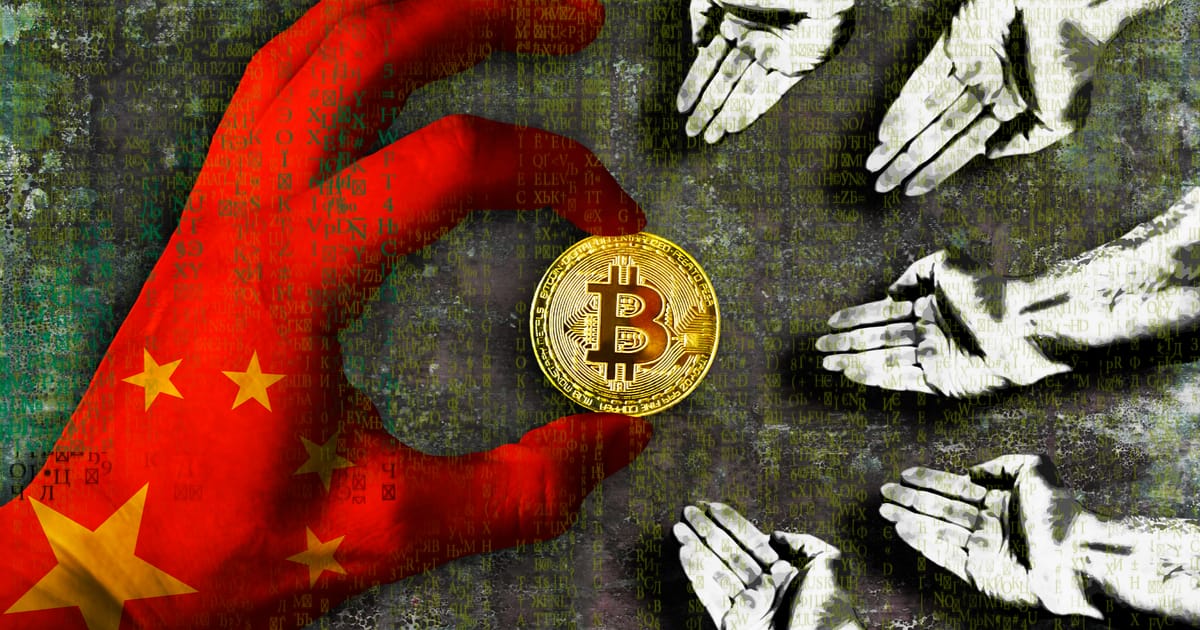 China's state-owned bank, the People's Bank of China (PBoC) has been reportedly developing their own digital currency aimed to replace cash in circulation and was said to be ready in the coming months. China has been charging full speed with its digital currency development plans in response to Facebook's Libra. China has named its central bank digital currency - digital currency electronic payment (DCEP).
Mu Changchun, previously the deputy director of the central bank's payments department – now taking the lead role at the Digital Currency Research Institute announced that "the People's Bank of China, the central bank, is almost ready to launch its DCEP after five years of research." The digital currency was also said to support the Renminbi's circulation and internationalization.
What we know so far about the digital currency
First of all, we know that the digital currency will not be running on a blockchain. After a review of the 50 patent applications submitted by the PBoC, it will be powered by a two-tier operating system and will not be fully decentralized.
According to Binance, the central bank digital currency (CBDC) will be backed 1:1 by Renminbi fiat, following a two-tiered structured system involving the central bank, commercial banks, and the retail market. The first layer consists of the PBoC issuing and redeeming China's DCEP via commercial banks. The second layer is responsible for connecting the commercial banks with the retail market. The plan is to replace notes and coins in circulation, known as the M0 supply.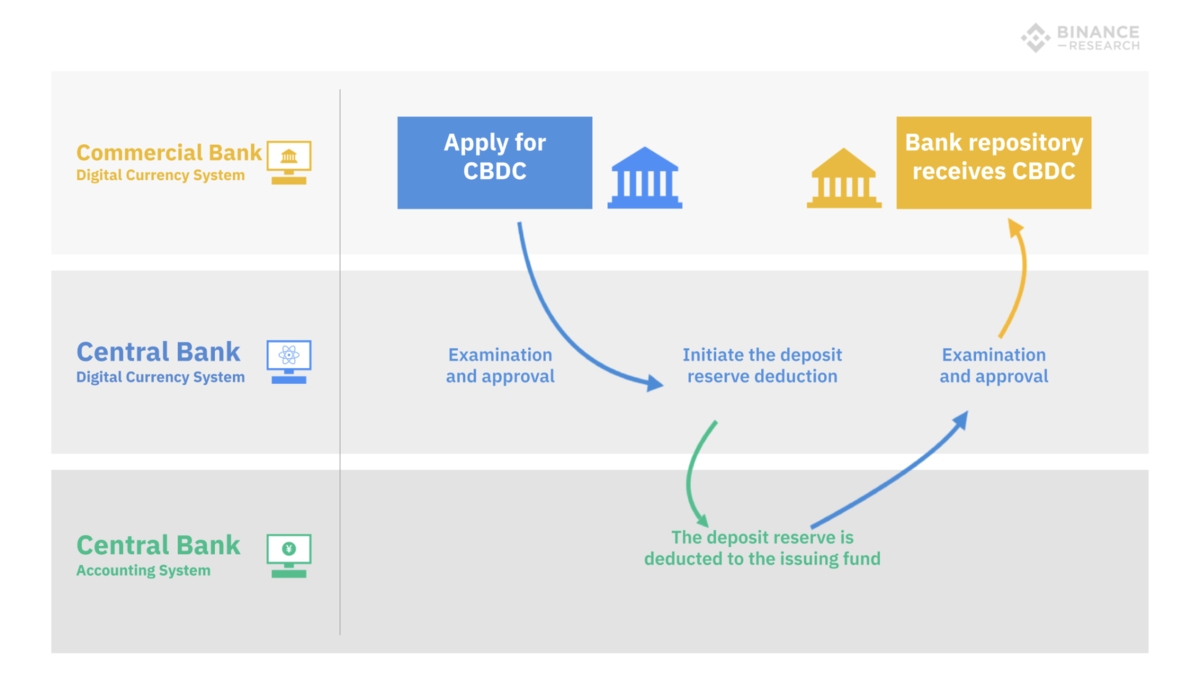 Issuance Process of PBoC's CBDC/DCEP. Source: Binance Research 

 
China's central bank mentioned that their digital currency would be issued to seven institutions in the coming months.
Paul Schulte, who worked as the global head of financial strategy for China Construction Bank up until 2012 says that the largest and second-largest banks of the world, Industrial and Commercial Bank of China and Bank of China as well as the Agricultural Bank of China, along with Alibaba, Tencent and Union Pay will be receiving the digital currency first.
Inspiration from Facebook's Libra
A senior central bank officer mentioned that China's proposed new digital currency would have similarities to Facebook's Libra coin. Mu also highlighted that the DCEP's organizational structure is to some extent, similar to Libra's. He clarified that the currency will be payment-focused and would not be a direct copy of Libra.

Libra has been hotly debated since the first announcements came out. Initiated by Facebook in 2019, the coin has been actively lobbied for in the US government without any results.
After Libra's announcement in June this year, discussions have been sparked among Chinese financial regulators, as Yang Dong, the director of the Research Center of Finance Technology and Cybersecurity at Renmin University of China told China Daily. He stated:
"Further testing is needed before officially launching the Chinese CBDC, gaining inspiration from Libra."
When Facebook first announced Libra to the public, their team included a large number of technical details, while China's announcement of their digital currency came without any information. This could be an indication that the announcement itself was more important than the technical details.
Although Libra inspired further development of DCEP, Wang Xin, the director of the PBoC's research bureau during an academic conference hosted by Peking University's Institute of Digital Finance questioned Libra:
"If [Libra] is widely used for payments, cross-border payments in particular, would it be able to function like money and accordingly have a large influence on monetary policy, financial stability, and the international monetary system?"
Mu, later on, explained that the CBDC would be able to allow anonymous payments while preventing money-laundering.
WeChat and Alipay already exist, what's the need for a digital currency?
The Renminbi has already been digitized as you might know, by WeChat Pay and Alipay. In 2018, China processed over 57 billion mobile transactions, more than 1800 per second.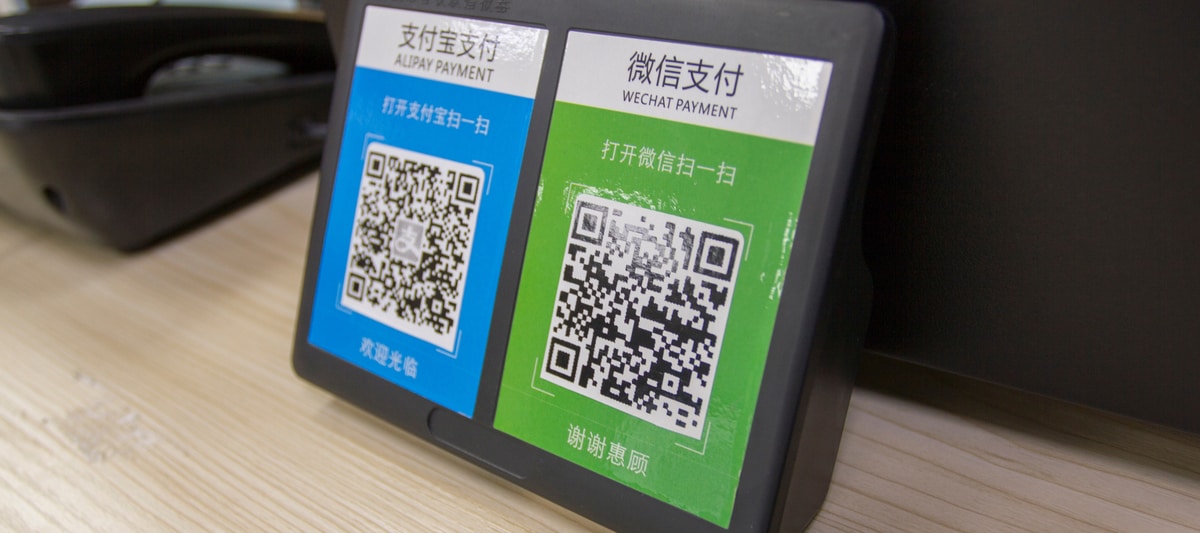 The PBoC claims that the system could allow for fund transfers without the need for a bank account and a mobile or internet network. If two users have mobile wallets, the digital currency can be transferred between one person to another by placing the phones in physical contact. The system could enable the PBoC process around 300,000 transactions per second, which is not yet available with blockchain technology.
"Even Libra can't do this," said Mu.
Through creating the digital currency, the PBoC claims to be aiming to improve the effectiveness of its monetary policy, at the same time being able to map out a more comprehensive picture of all individuals and businesses in China.
Anticipation for positive impacts
The CBDC will be controlled by the PBoC and will be 100% backed by the reserves commercial institutions pay to the institution. Citizens will be able to exchange currency in commercial institutions.
Shao Fujun, Chairman of China UnionPay and a former PBoC official, mentioned to China Daily that the CBDC "will have lots of positive impacts, including tracking the money flow in economic activities and supporting making monetary policy."
He also noted that the DCEP would be facing challenges such as global acceptance including monetary exchange rate policy.
Leonhard Weese, the president of the Bitcoin Association of Hong Kong, stated that "a government-backed digital currency may enhance the PBoC's control of China's monetary system, cutting the reliance on commercial banks to transmit changes in monetary policy."
"Planning ahead for a rainy day"
Mu said that the development of the DCEP would help protect China's foreign exchange sovereignty as commercial applications of currencies have been expanding. According to Mu's lecture transcript, he said:
"Why is the central bank still doing such a digital currency today when electronic payment methods are so developed? It is to protect our monetary sovereignty and legal currency status. We need to plan ahead for a rainy day."
Current crypto regulation in China
A great deal of confusion remains regarding the legal status of cryptocurrency in China. Bitcoin and other cryptocurrencies are not recognized as legal currency, although a ruling in July 2019 sets a new precedent that Bitcoin is protected as virtual property.
Images via Shutterstock
Read More