Bitcoin's Average Coin Dormancy Hits a 3-Month High
Bitcoin's consolidation is evidenced by the fact that the average coin dormancy has been going through the roof.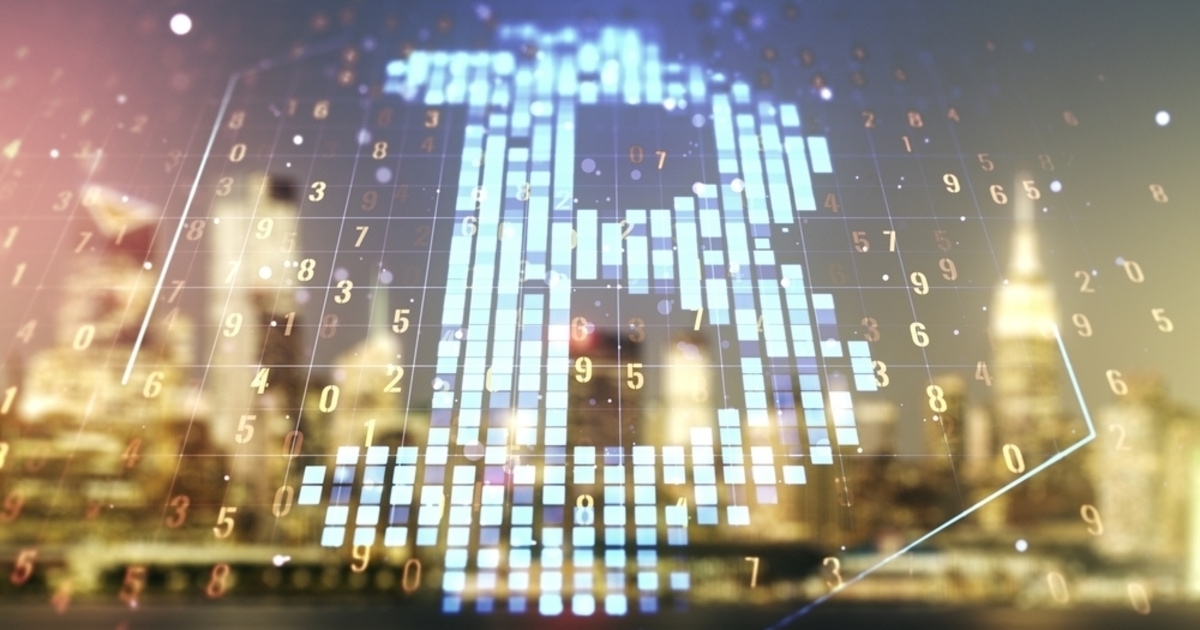 On-chain metrics provider Glassnode explained:
"Bitcoin average coin dormancy (7d MA) just reached a 3-month high of 21.285. Previous 3-month high of 21.272 was observed on 05 November 2021."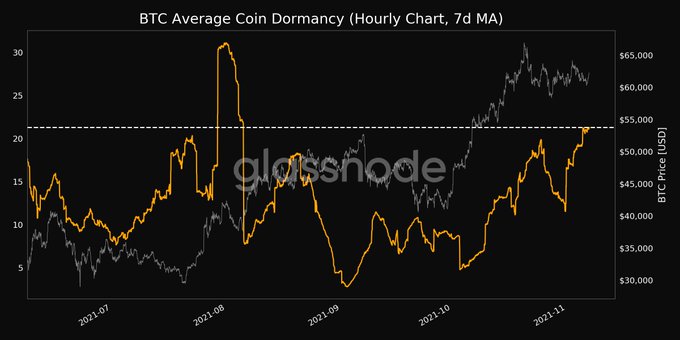 Ever since Bitcoin broke the record by hitting $66,900 on October 20, the leading cryptocurrency ranges between the $60K and $63K levels. As a result, the BTC funding rate recently hit a monthly low as investors are not yet drooling to buy the dip opportunity.
Nevertheless, on-chain analyst Matthew Hyland recently noted that the current consolidation might be the calm before the storm because the Bollinger Bands (BB) indicators had shrunk to levels last seen in October 2020 when the price was at $10,000.
Bitcoin balance on exchanges drop
According to Glassnode,
"Bitcoin balance on exchanges just reached a 3-year low of 2,445,250.717 BTC."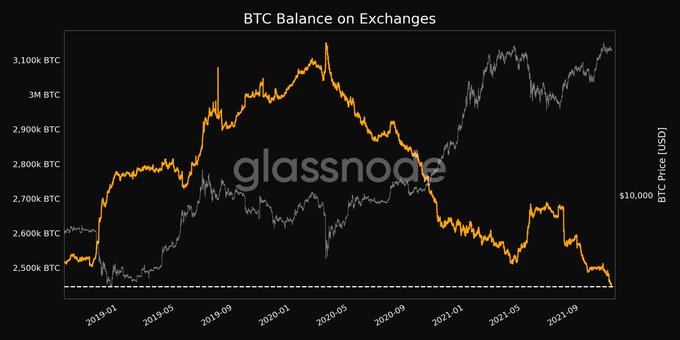 This is bullish because it illustrates a holding culture, given that coins exit crypto exchanges for digital wallets and cold storage to be used for future purposes other than speculation.
On the other hand, the number of non-zero BTC addresses surged to a 6-month high of 38,432,908. Therefore, indicating that more participants are joining the Bitcoin network.
Meanwhile, the realized capitalization continues to go through the roof because it recently reached an ATH of $442 billion.
Realized market capitalization is a metric calculated by valuing each supply unit at the exact price it last moved on-chain or at the last time it was transacted. As a result, it does not calculate coins that remain unmoved because cryptocurrencies can be lost, unreachable, or unclaimed. This contrasts with the standard market capitalization that values every supply unit evenly at the current market price.
Image source: Shutterstock
Bitcoin's Average Coin Dormancy Hits a 3-Month High#https://blockchain.news/news/Bitcoins-Average-Coin-Dormancy-Hits-a-3Month-High-8efa1275-cdc4-4981-8179-4720204189d6


Read More