April 27: Not Out of the Woods Yet
Crypto was quite resilient over the weekend with BTC holding onto its gain and even attempting to break above $7,800 with ETH in similar bullish fashion flirting the $200 mark. Even though twitter-sphere has increasingly been more bullish in the last few days, the recent price rally has been driven by short liquidation. You would notice this as open interest (i.e. outstanding positions) have collapsed from 24 April and hasn't recovered since. Further, with this uptick, miners may even liquidate some of their BTC ahead of halving.
How do we trade? Stick to the same plan as last Friday, buy BTC around $6,800 to $7,200 region and stay on the sidelines, as this is a massive week for traditional markets (see calendar below). White House Economic Adviser Kevin Hassett told reporters over the weekend that he thinks the next couple of months are going to look terrible with the unemployment rate hitting 16% or higher when April job reports is released. "You're going to see numbers as bad as anything we've ever seen before."
Second, not sure about the Western world so quickly re-opening is a great idea. For example, Wuhan waited for three consecutive weeks of nearly zero infection before re-opening. Dr Gottlieb also thinks the U.S. isn't out of the woods yet as the country is still recording more than 30k infections a day. This is why I think prolonged lockdown is going to hurt EPS growth, and puts a big question mark around fresh capital channeling into BTC. Goodluck and have a good week ahead.


We are at zone A right now, if BTC cant break above 7,800-7,900 region, we are likely to see it drift towards zone B....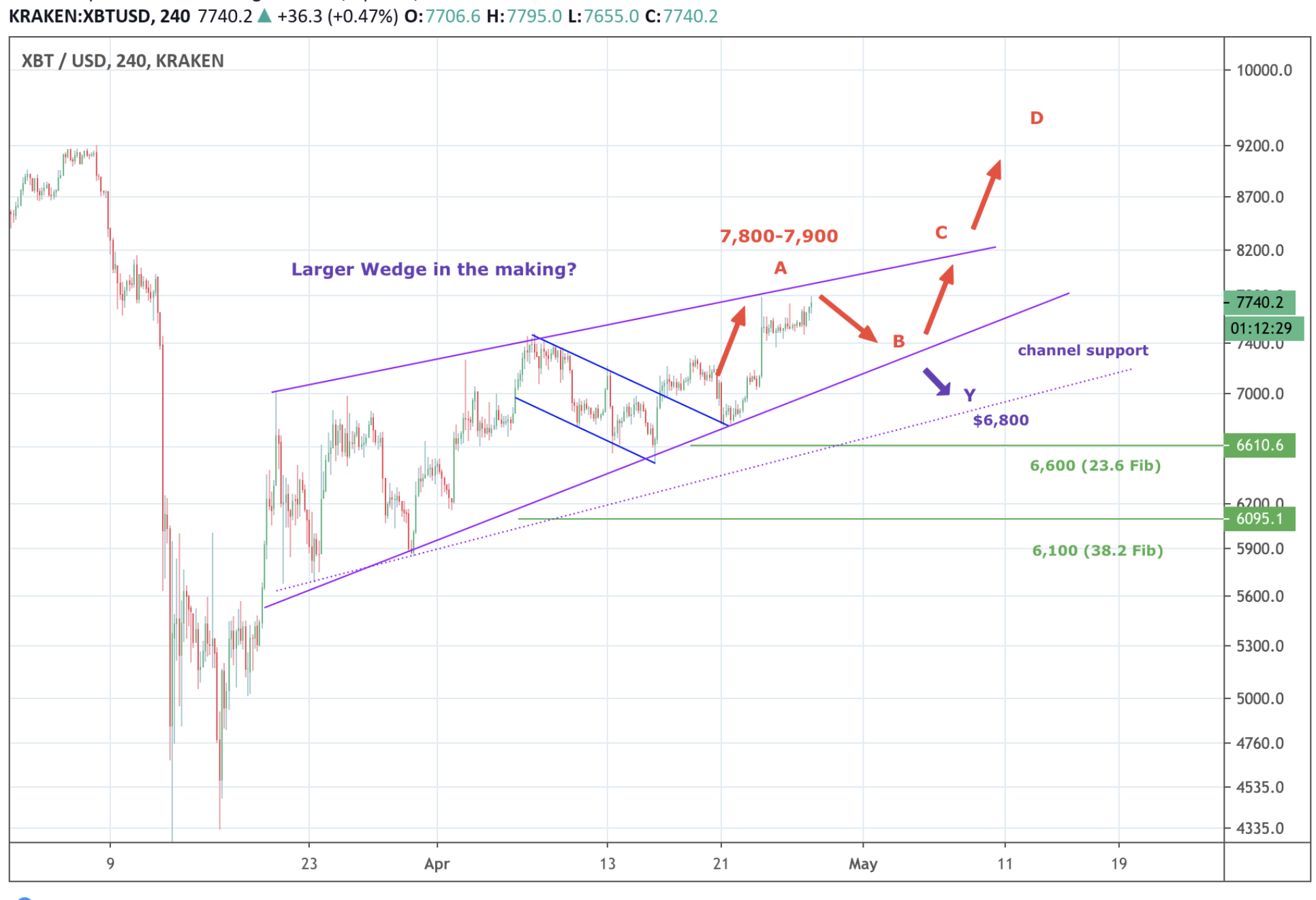 Ignore Twitter's bullish buzz, BTC's open interest continues to show decline from 24 April, indicating the recent rally has been driven by shorts getting squeezed out (than fresh capital inflows)...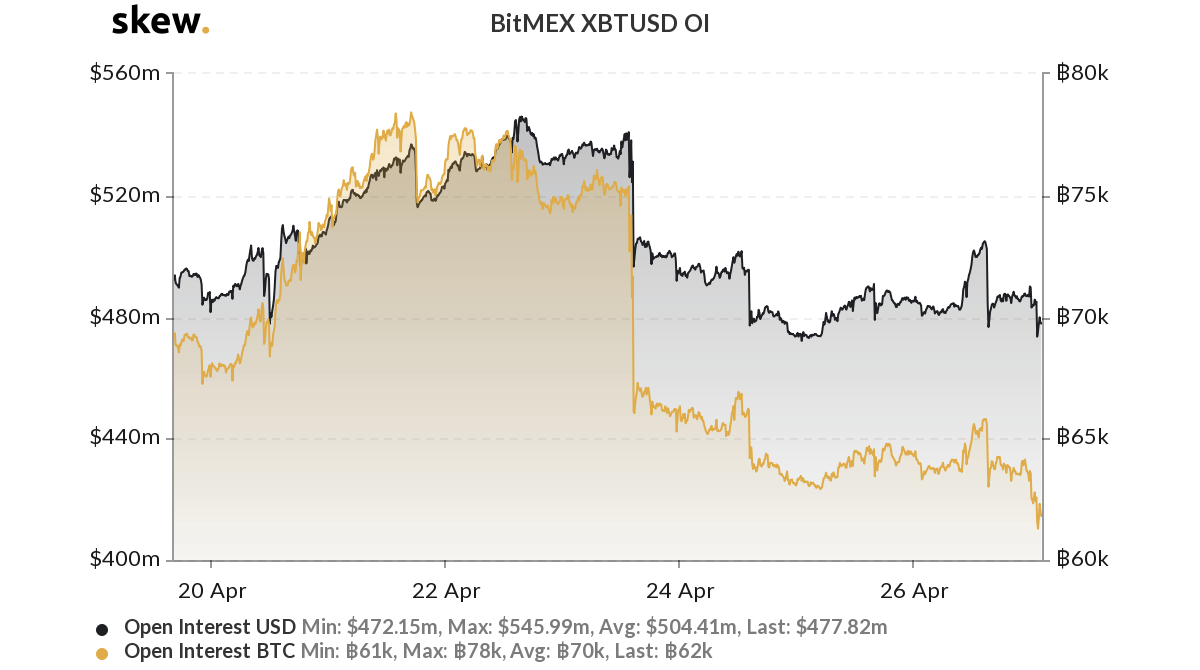 S&P 500 tends to make new lows with deteriorating EPS growth, and I think EPS will continue to decline over the next few quarters...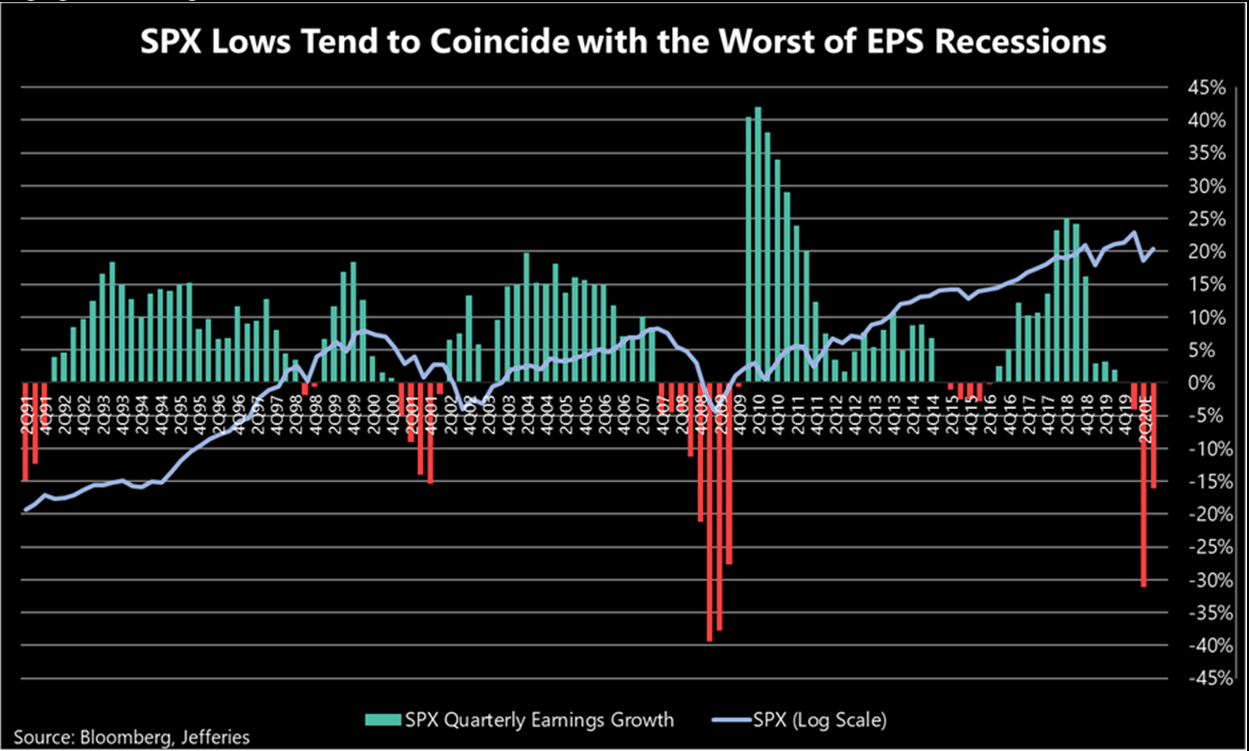 Exciting Economic Calendar this week
Apr 28 BOJ Rate Announcement
Apr 28 Riskbank Rate Announcement
Apr 29 FOMC Rate Announcement
Apr 29 US Real GDP (1Q)
Apr 30 ECB Rate Announcement
Bio of Eugene:
Eugene is currently a sales and business development director for Matrixport. He has 10 years of experience in institutional trading, financial derivatives and sales in Citibank, Barclays Capital and Deutsche bank. Eugene started investing in cryptocurrencies in 2017, and has since advised multiple projects worldwide, raising more than U.S. $50 million. Because of his active involvement in fundraising, Eugene is well-connected with the crypto ecosystem. Beyond advising projects, Eugene takes a keen interest in trading and managing his personal portfolio. He has been featured on Bloomberg, Forbes and Yahoo.
Disclaimer
Opinions expressed are solely the analyst's own and do not express the views of Matrixport the company.
The views and opinions expressed in this article are those of the contributor and do not necessarily reflect the view of Blockchain.News.
---

Read More