April 23: ETH Eating The Stablecoin World
Trading Crypto with Eugene is a series of daily commentary of market analysis and trading advice shared by Eugene Ng of Matrixport, a veteran trader with 10 years of experience in top-tier global investment banks. If you like the article, please follow us here on Blockchain.News so you won't miss our future publications.
BTC up almost 4% with ETH, XLM and XTZ registering 7-9% of gains in the past 24 hours. Crypto headlines relatively light with continued ETH buzz as a value-transfer platform for stablecoins (previous note I sent about how that has been one of the prevailing narratives in driving ETH's recent rally; estimated $6 billion in market cap on ETH network). Another observation that it is now evolving into a 24/7 digital eurodollar infrastructure. Technically speaking, ETH to close > $190 for a further bullish confirmation. Stocks rebounded after two days of consecutive losses with oil rebounding and another stimulus $484 billion to be passed later, but I think they've forgotten there are jobless claims tonight which is likely to show at least 4 million jobless people. That would basically mean 25 million or more unemployed in the U.S. Coincidentally, for the past few weeks, every Thursday, there has been some sort of "positive catalyst" being announced after the weekly disaster claims number comes out; from the Fed, Trump, Miracle Drug and the Treasury.
Will ETH-inspired rally continue to drive the market? Will oil stabilize despite a fundamental short-term storage environment with a popular flawed ETF product? Will halving next month start getting the market excited? Bottom line: mixed messaging; prices are higher across the board but the volume and open interest continue to dip. Need bulls to push through the interim triangle resistance at $7,250 and the monthly high of $7,474. With the higher low set-up from March-lows, we're in a constructive long term upwards trend. Having said that, there's still a bias for short-term weakness or "choppy" sideways trading till we break decisively higher with strong momentum.
Trade of the day? 50/50 today with a small bias for a move lower, and am likely to target and turn long from the region of $6,600-6,700 if it gets there. Good luck!
BTC can move in wave A,B,C pattern if we see constructive bullish momentum into halving, otherwise, we may move into Y, Z pattern i.e. bearish momentum before halving. Updated from last note, I've added a channel support that could potentially see BTC hold up....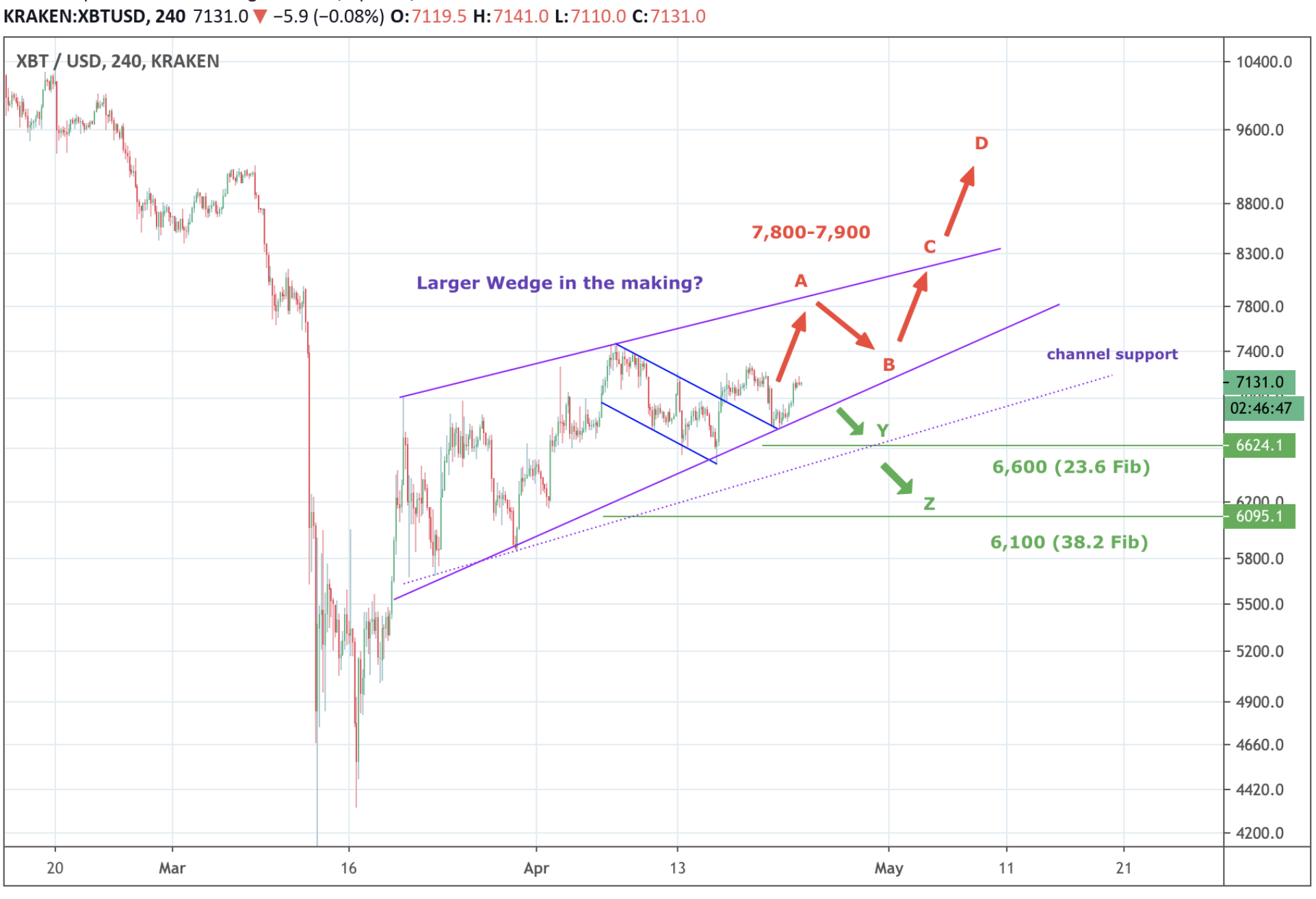 Will we continue to see BTC follow this "choppy" sideways trading for the next few days?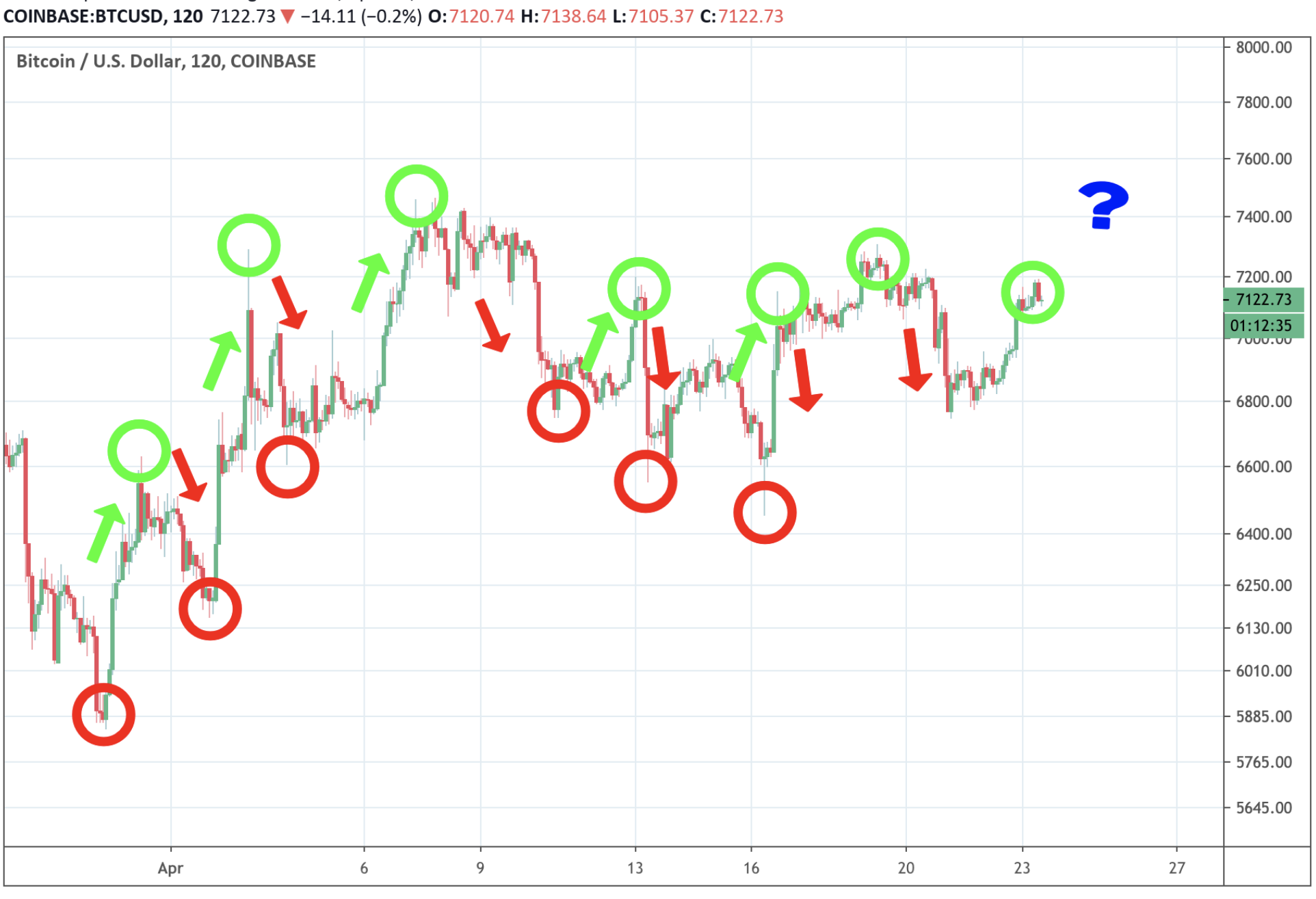 Triangle resistance and support levels... Key still $7,250 and $6,600 for the bull and bear camp....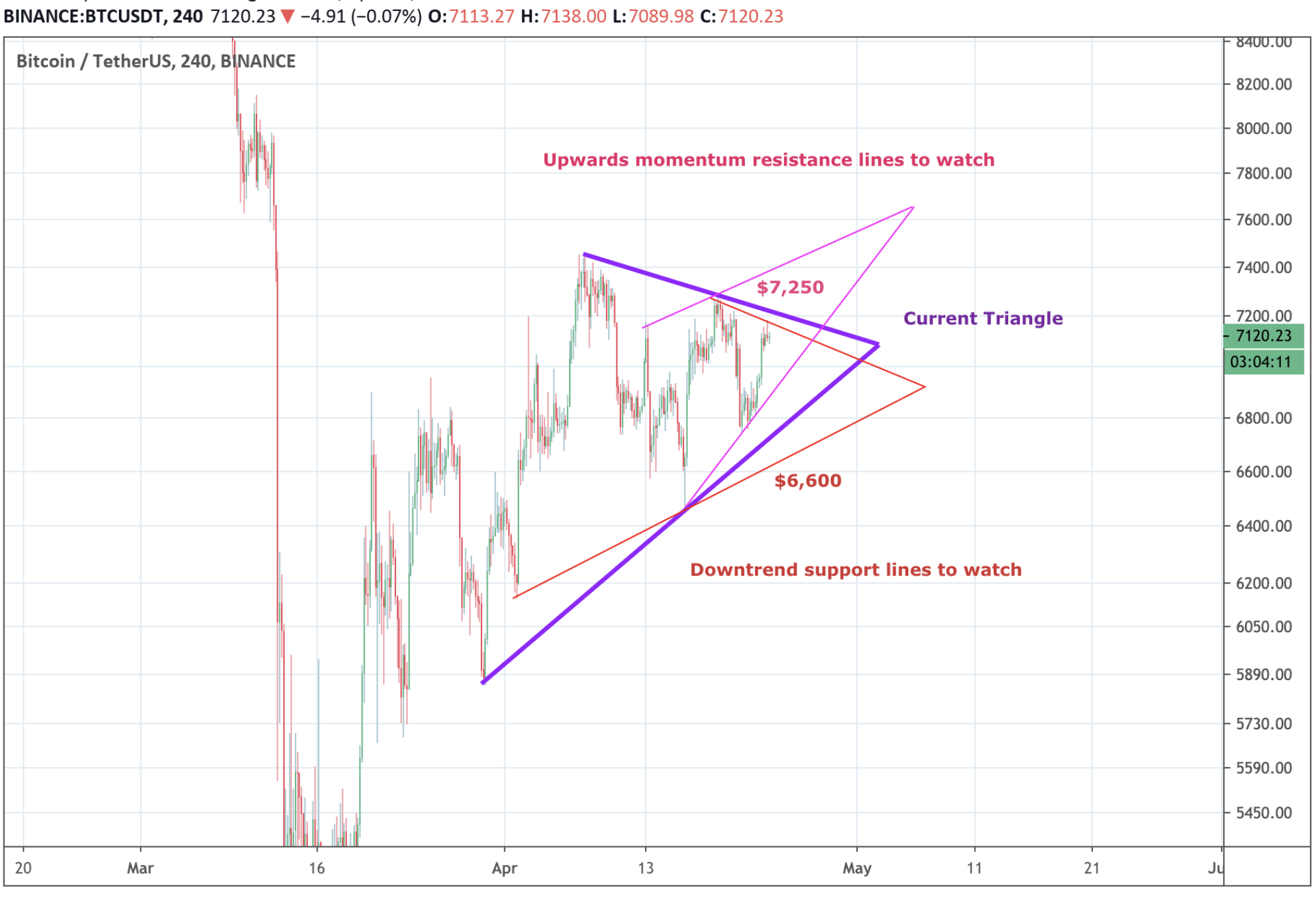 S&P 500 e-mini futures big trendline resistance... 2830, will we break and close above? Not too sure....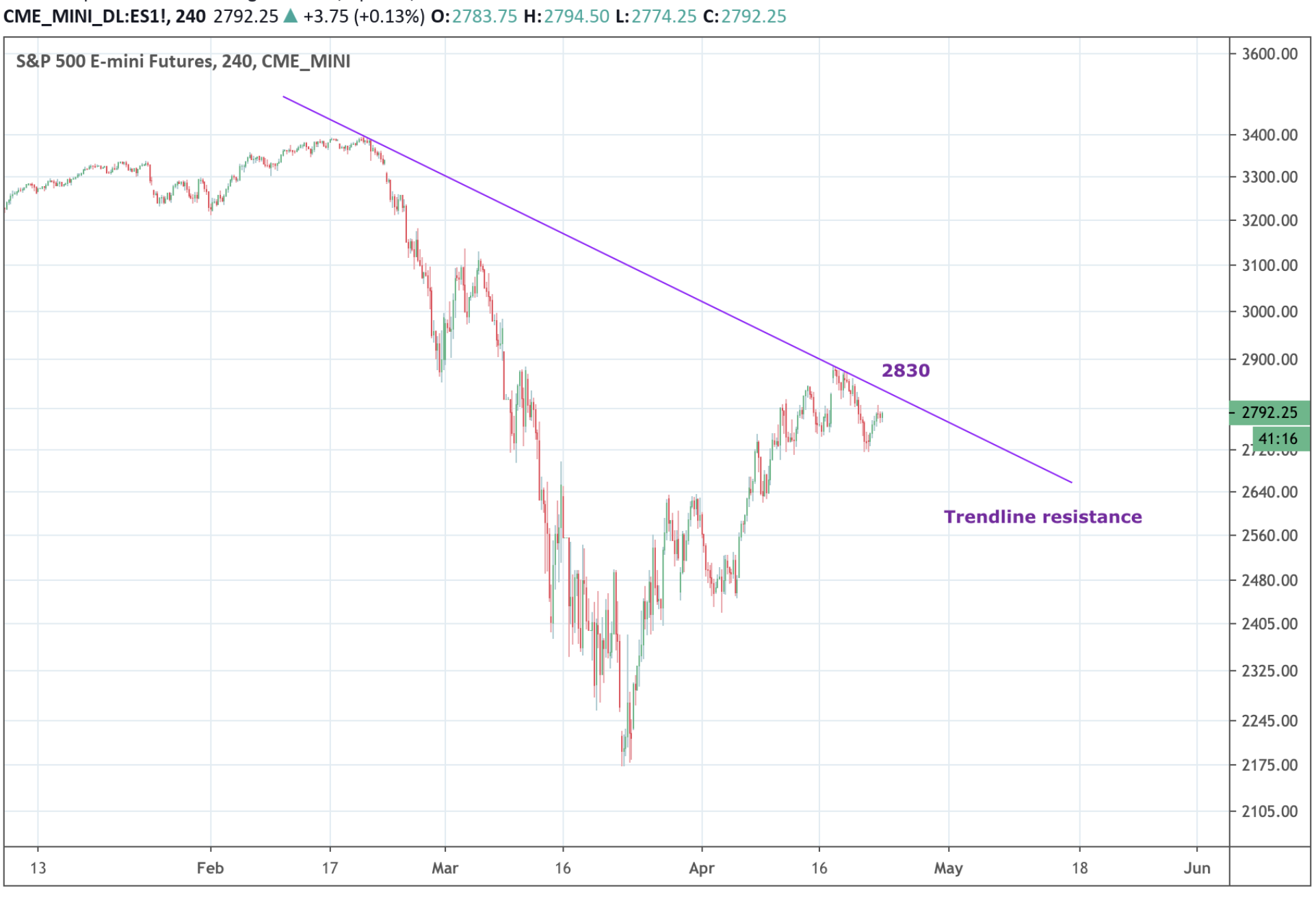 Tether's ERC20 transfer count has been growing faster than both BTC and ETH over the last 180 days.... Will this continue to be a trend?
Bio of Eugene:

Eugene is currently a sales and business development director for Matrixport. He has 10 years of experience in institutional trading, financial derivatives and sales in Citibank, Barclays Capital and Deutsche bank. Eugene started investing in cryptocurrencies in 2017, and has since advised multiple projects worldwide, raising more than U.S. $50 million. Because of his active involvement in fundraising, Eugene is well-connected with the crypto ecosystem. Beyond advising projects, Eugene takes a keen interest in trading and managing his personal portfolio. He has been featured on Bloomberg, Forbes and Yahoo.

Disclaimer
Opinions expressed are solely the analyst's own and do not express the views of Matrixport the company.
The views and opinions expressed in this article are those of the contributor and do not necessarily reflect the view of Blockchain.News.

Read More