Altcoin Price Analysis: XRP and AAVE
It is the beginning of a new week and the cryptocurrency market is in a raging swing as volatility continues to show heightened activity among buyers and sellers in the market. New milestones have been reached lately as the crypto industry's market capitalization has once again breached the $1 trillion milestone.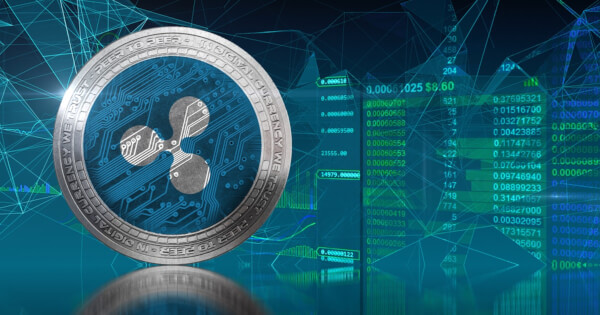 While cryptocurrencies each have their own peculiar price action in today's market, this piece highlights the short-term price momentum of Ripple's XRP and decentralized finance (DeFi) protocol AAVE.
XRP Price Analysis
XRP is still by far one of the most underperforming cryptocurrencies in the top 10 by market capitalization. The woes the coin is battling are due to the SEC lawsuit filed against Ripple Labs, and the latest development to the case is the halting of XRP trading on Kraken exchange, as reported by Blockchain.News.
The XRP cryptocurrency's downfall has led the coin to lose as much as 52.4% of its value in the past month and has made Polkadot (DOT) surpass XRP to rank the fourth-largest cryptocurrency by market cap today. Despite these bearish developments surrounding XRP, the token has managed to gain 1.9% in the past 24 hours to trade at $0.28. A major consideration is whether XRP can overcome its challenges to push above the $0.3 resistance level in the short-term.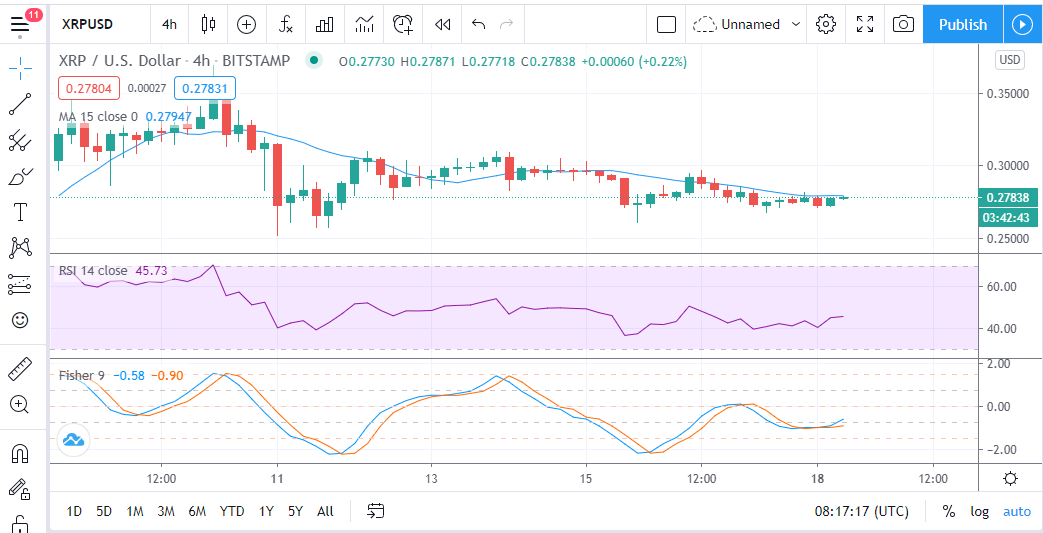 A look at the XRP/USD chart on TradingView shows that the coin has a below-average Relative Strength Index (RSI) of 45.73, which largely indicates that the bears may be in charge, having a more temporary overweight on the price momentum. The Fisher Transform curve is also below the Zero mark indicating a bear market. The possibility of XRP breaking through the $0.30 resistance mark is low as the short-term moving average is also not showing any promising signs.
AAVE Price Analysis
Aave is a promising DeFi protocol whose loan offering has gained enough traction to earn it the second spot, trailing behind Maker (MKR) in terms of total value locked (TVL) in the DeFi sector. The growing strides of the protocol have also resulted in an increase in its token price, boosted by the entire bullish market.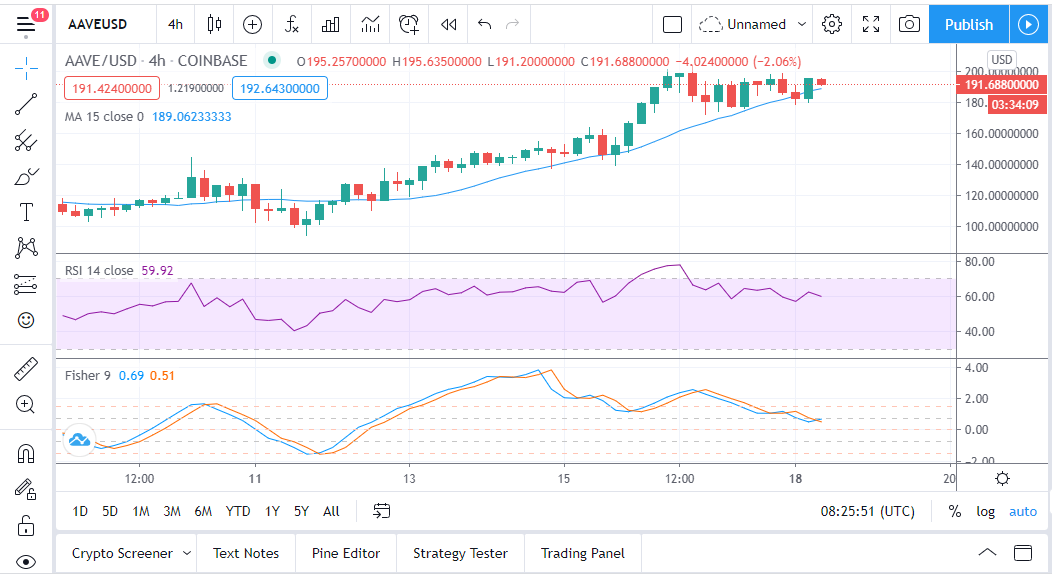 Aave has surged by more than 113% in the past 30 days, 50.6% in the past week, and 6.4% in the past 24 hours. Aave fundamentals support this current bullish price and the technical indicators also backs this growth.
In direct contrast to XRP, Aave has a more bullish RSI pegged at 59.92%. Even though this is not incredibly stellar, the positively trending Fisher Transform consolidates this bullish growth and the short-term moving average further confirms this short-term growth trend.
Should the technicals be correct, Aave's price is bound to form strong support at $200 while aiming to burst through the $220 resistance in the upcoming days.
Image source: Shutterstock
---

Read More