Freewallet.Org Features for Crypto Newbies and Skilled Users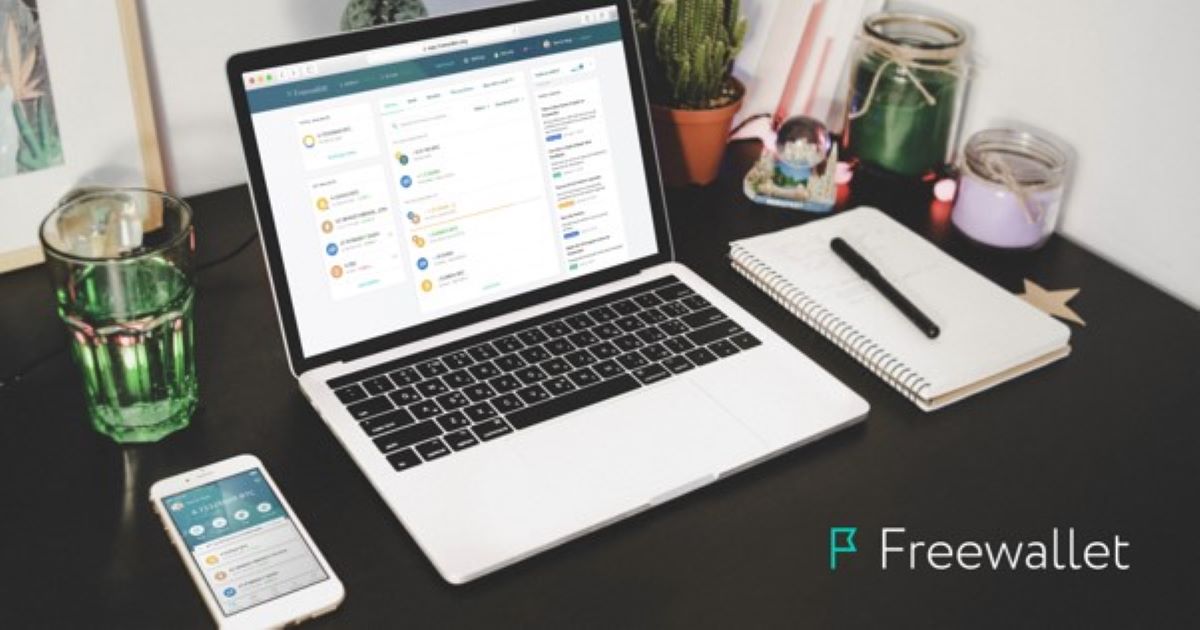 This is an article contributed by Solomon Brown of Freewallet.
About Freewallet
Freewallet is a fintech company that has been a part of the crypto scene since 2016. It provides 3M users with apps for mobile devices and a web version of a wallet for 100+ cryptocurrencies. There are also standalone wallets for 30+ coins, such as BTC, ETH, XMR and more. The company produces simple and cost-effective payment tools with the aim of making crypto more available to everyone. The Freewallet platform acts as a custodian for user funds, thereby ensuring transaction safety and efficiency.
Here is a sneak peek of how Freewallet apps work.
Overview
Freewallet apps are suitable for Android and iOS devices. Users can choose from 30+ single-currency wallets as well as the multi-coin Crypto Wallet which is also available on desktop. Freewallet currently supports 43 coins and 104 tokens. Users can sign in via email, Gmail, Facebook, and phone number. Recently the company rolled out 2.0 updates for 16 standalone wallets.
Functionality
Freewallet comes with a range of various possible crypto transactions and operations. Here's more on the app's functionality.
How to buy cryptocurrency
In the multi-coin, Crypto Wallet users can buy popular cryptocurrencies like Bitcoin and Ethereum. Along with the classics, Freewallet also supports altcoins like Bitcoin Cash, Bitcoin Gold, Litecoin, Ripple, Binance coin, Stellar and TRON. Purchases can be made via bank card for USD or EUR.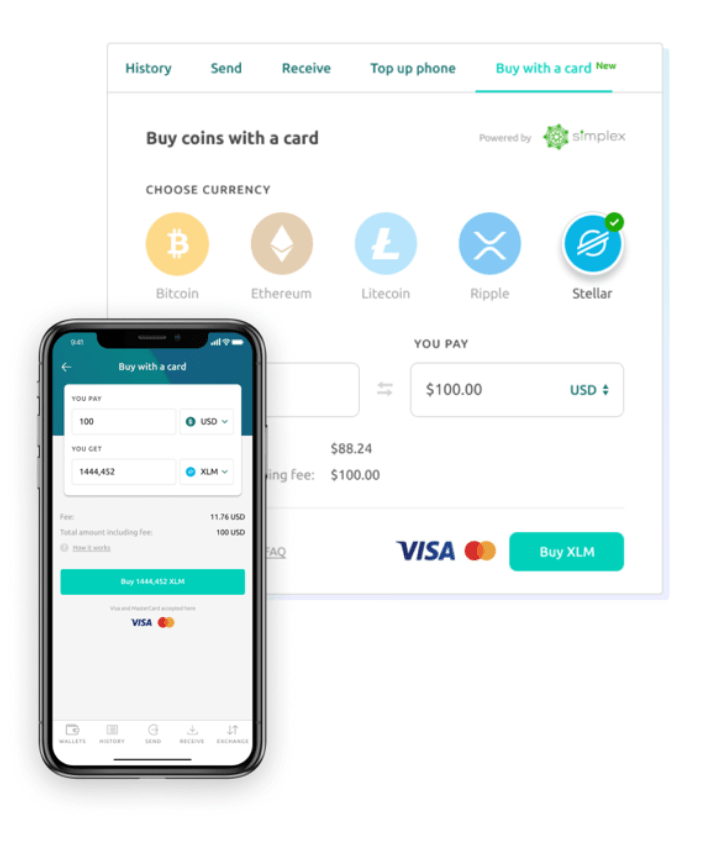 How to make a transaction
Sending crypto via the app is an easy and smooth experience. Just tap '+' — 'Receive' on the main page to get a receiving address. In order to send assets to any address outside the Freewallet ecosystem, tap 'Send', enter the payment data along with the amount and then confirm the transfer. Before your coins will be sent you will see the network commission applicable to your particular transaction.
Once the crypto is sent, you can track your transaction status in the app or on the website. Otherwise, verify your on-chain payment using the support ticket system. By posting their web addresses on social media accounts Freewallet users have an easy way of accepting donations.
As mentioned above, users can make hassle-free off-chain transactions with no extra fees inside the ecosystem. The procedure is very easy. Make sure that the sender and recipient are registered with Freewallet and the coins belong to the same blockchain. Type in an email address or user ID as 'destination' and hit 'Send'.
Built-in crypto exchange
The Freewallet system enables smart exchanges. That means other wallet currencies can be automatically exchanged into another crypto of your choice at a low price. This function can help you save your coins in a volatile market.
How to top-up a mobile phone
The Freewallet multi-coin app lets users replenish their mobile phone balance with Bitcoin. To top up your mobile instantly, choose 1 of our 400 supported providers across 100 countries.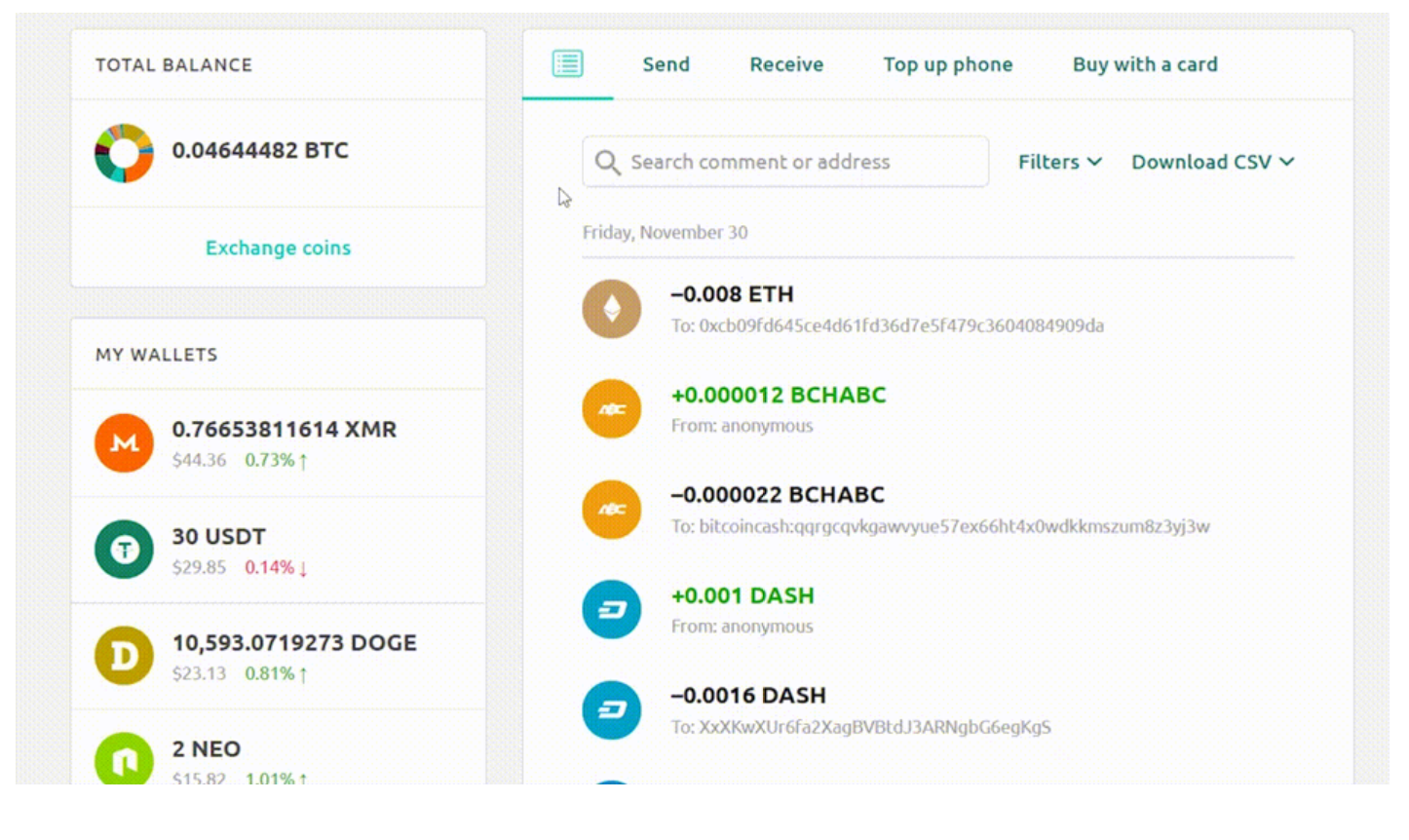 How to import and export BTC balances
This function is recommended for skilled crypto users only. To automatically import all your Bitcoins, go to 'Settings', choose the relevant menu option and take the steps prompted by your multi-coin app or BTC single-currency app.
Wallet security
Freewallet's security system is time-tested and well thought out. First, a user signs into the app, then they create a mandatory PIN code. Other safety precautions include confirming transactions using multiple email addresses, sessions control, 2FA and notifications about suspicious login attempts.
As Freewallet's Head of PR, Solomon Brown said:
"The team behind the wallet takes security very seriously. Customers' funds are safely stored in an offline vault with a bank-level security grade."
Market information
Freewallet apps have reliable, up-to-date data on market prices. Users can keep an eye on daily, weekly or monthly fluctuations in the cryptocurrency market. On top of that, High, Average and Low price milestones are displayed for each of these time frames.
Customer support
The customer support team is in touch with users 24/7 helping them to buy crypto with credit cards, make free transfers inside the ecosystem and recover access to their accounts. The company cares for its customers by handling their requests within minutes. Users who contact Freewallet on social media can be sure that they will be reached out to swiftly.
Image via Freewallet


************
Disclaimer
The views and opinions expressed in this article are those of Freewallet and do not necessarily reflect the view of Blockchain.News
Read More