Will The Outcome of Biden-Trump US Presidential Race Affect Crypto?
As today marks a crucial date in US history with 2020 presidential elections ongoing, crypto experts have pondered on whether the outcome of today's political race between Joe Biden and Donald Trump will change anything for Bitcoin and the cryptocurrency industry.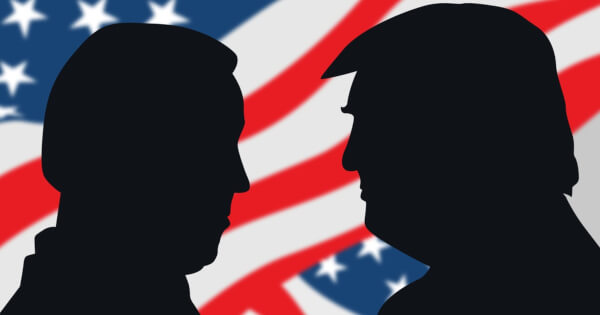 Market sentiments seem to be divided on whether the US presidential elections will affect the crypto realm. Historically, US presidential elections have been known to have a direct impact on traditional stock markets, according to Forbes analysts. In fact, it appears as though stock markets have a history of performing better when current presidents are re-elected, as compared to new administrations.
Bitcoin and other cryptocurrencies have typically been reported to surge in tandem with traditional stocks. However, with Bitcoin's recent bull run, market experts have concluded that the mainstream cryptocurrency has finally been decoupling from traditional markets, as BTC has managed to perform bullishly while US stocks have plummeted.
Bitcoin unaffected by US elections
Bitcoin recently surpassed the 14K mark today for the second time this week and seems to be gaining momentum as of late. Currently, it has fallen back slightly to record $13,885.59 on CoinGecko.
Many institutions have turned towards Bitcoin and cryptocurrencies as hedges, with the depreciation of the US dollar. Aside from US elections, institutional mass adoption of BTC from corporate giants such as MicroStrategy, Grayscale, and Square has served to bolster the positive sentiment investors have towards cryptocurrencies, potentially converting more retail traders to onboard the digital asset.
In an email to Blockchain.News, Head of Research at Blockchain.com and top UK economist Dr. Garrick Hileman disclosed:
"Regardless of who wins the election, high fiscal spending will continue to exacerbate the debt sustainability crisis and inevitably drive rising interest in bitcoin and cryptocurrencies."
One thing is for sure: regardless of the outcome of the presidential elections, Bitcoin may likely undergo a surge when the second round of stimulus packages roll out. As the US dollar continues to depreciate with the mass printing of fiat for stimulus COVID-19 relief, this may direct investors' attention towards hedges such as Bitcoin to secure their funds in the midst of global economic uncertainty. Hileman said:
"The US dollar is the world's reserve currency because there's trust in the US government's reliability and stability. For the first time, we are seeing that perception challenged in a significant way, at a time when a promising new class of (digital) assets are gaining momentum."
He added:
"Anything that negatively impacts the perception of a safe and stable dollar will likely boost interest in bitcoin and other cryptocurrencies."
What about US crypto regulations?
However, in terms of cryptocurrency regulations in the US, it appears that it has been criticized for its lack of a clear regulatory framework. For example, the cryptocurrency enforcement framework released by the US Department of Justice drove Ripple founders to contemplate moving their company headquarters to a more crypto-friendly space such as Japan.
Current president Donald Trump has also stated time and again that he was no fan of cryptocurrencies, as they are too volatile in his opinion. He previously said, "Unregulated crypto-assets can facilitate unlawful behavior, including drug trade and other illegal activity…"
As for Joe Biden, the presidential hopeful has not broached the topic of cryptocurrencies in his political campaign, although his political campaign has jokingly said it would not adopt Bitcoin following the Twitter hack that saw Biden's account frozen.
At the time of writing, Biden is leading in ballot votes, but the race is tight as it is 224-213 in favor of Biden.
An update of the US presidential race is expected for 23:00 EST (4:00 GMT).
Image source: Shutterstock
Read More