TomoChain Prepares for Zorro Network Upgrade
Smart contract platform TomoChain today released details of an upgrade to its network. The Zorro Network upgrade will take place on January 22nd and will improve the functionality of the Ethereum Virtual Machine (EVM) — a collection of nodes that ensure security for the Ethereum network.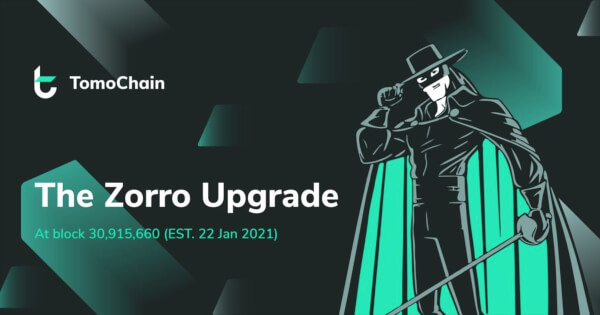 TomoChain is a decentralized blockchain network working to improve scalability on the Ethereum network. In simple terms, it wants to help the Ethereum blockchain process more transactions.
Its latest upgrade will allow developers to deploy code from other EVM chains with ease. The idea is that it will be easier for developers to build on TomoChain, in turn making transactions process quicker on Ethereum.
Kyn Chaturvedi, CBDO of TomoChain, said:
"This upgrade will elevate TomoChain's capabilities, making the network suited to hosting enterprise applications that can operate at scale. Making it easier for developers to build on TomoChain, through upgrading its EVM, is a vital step in realizing this goal."
The Issue Tomochain is Trying To Solve
Ethereum has long struggled with scalability issues: the network has become too congested as the more people want to use it — especially with the explosion of decentralized finance apps.
An upgrade to the system, ETH 2.0, is hoping to change this and allow thousands more transactions to take place every second. But it hasn't been released yet.
Singapore-based TomoChain is one project working to improve scalability on Ethereum in the meantime. It uses an innovative consensus method called PoSV (Proof of Stake Voting) which gives an incentive to all TomoChain token-holders to play an active part in staking across a network of 150 high-quality Masternodes.
Before its update, masternodes and full node operators have been told to update their software as soon as possible, since older TomoChain versions will not work with the rest of the network when the upgrade activates later this month.
TomoChain's DeFi plan
TomoChain has come a long way since it launched in 2017.
It acquired Ethereum-based sidechain Lition late last year, and recently partnered with Vietnam's Ministry of Education, who will utilize the blockchain to secure millions of diplomas.
The project claims that its network upgrade will be a "major DeFi enabler." This is because anyone will be able to wrap any ERC20 token on the blockchain without permission. Gas tokens — which have soared recently — will be paid within the token itself.
TomoChain claims that it will be the "one of the most frictionless DeFi systems in the space."
TOMO, the token for the Tomochain project, was today trading for $0.98, as per CoinMarketCap data.
Disclaimer:The views and opinions expressed in this article are those of the contributor and Blockchain.News does not endorse and is not responsible or liable for any content, accuracy, quality, advertising, products or other materials on this page. Readers should conduct their own research before taking any actions related to this company. Blockchain.News is not responsible, directly, or indirectly, for any damage or loss caused or alleged to be caused by or in connection with the use of or reliance on any content, goods or services mentioned in this article.


Read More