Three Wallets Sell $1 million Worth of PePe Coin for Pond Coin
In a notable transactional shift within the cryptocurrency market, three distinct wallets have reportedly altered their positions from $PEPE to $PNDC (Pond Coin). According to data sourced from Lookonchain, a total of 1.38 trillion $PEPE was sold in exchange for 600 Ethereum ($965K). Subsequently, the same amount of Ethereum was utilized to purchase 487 billion $PNDC.
The specific wallet addresses involved in this transaction are as follows:
0xbe2bf6bf8ef02990dcd93e1f304173934de68142
0xfd0fbb1e323fe706a9b0e7d2293b5782d3b370d9
0x69beca7765616e037b004c6c27605ff988a754a3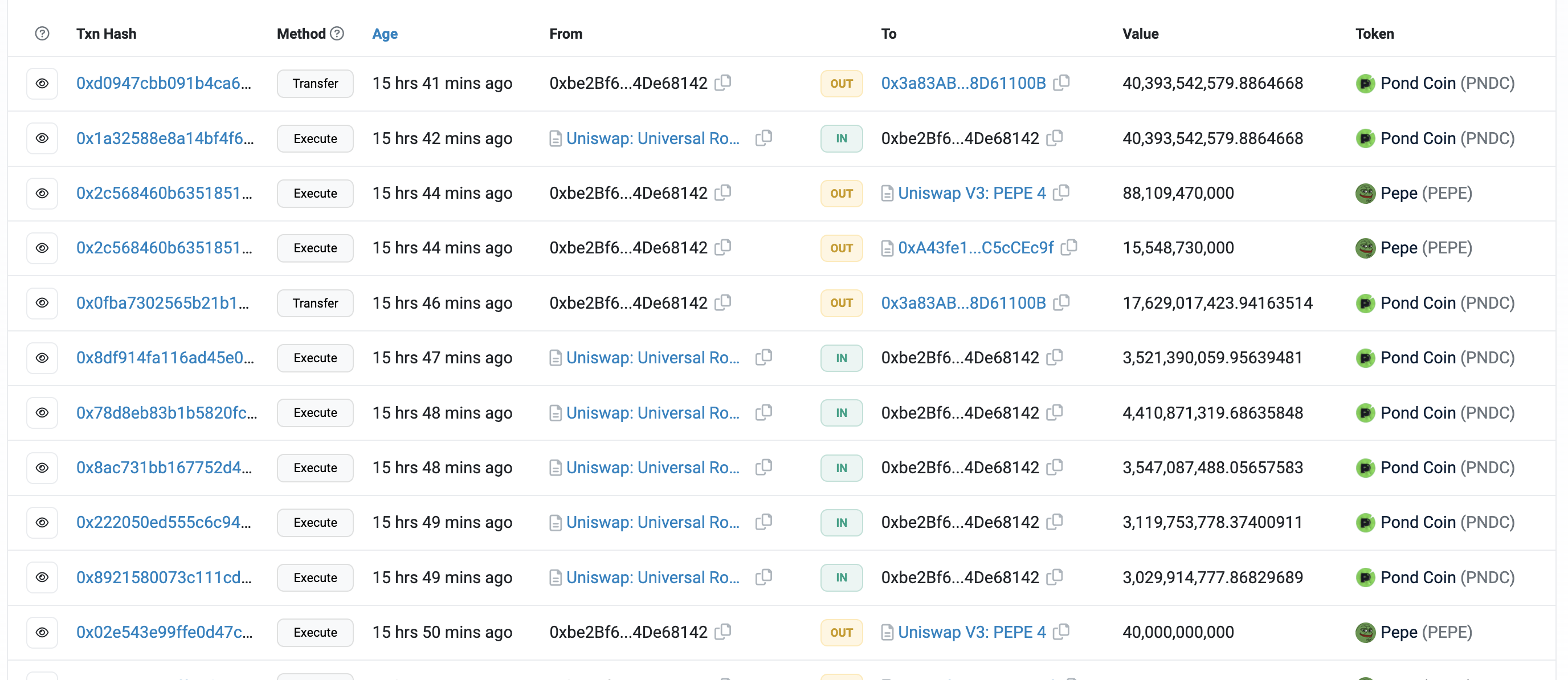 Source: Etherscan
The reasons behind this significant shift remain undisclosed. However, such substantial movements often indicate a change in investor sentiment or strategic positioning within the crypto landscape.
The news, shared at 9:31 am today, has already garnered significant attention online, with 8,850 views, 12 reposts, 14 quotes, 61 likes, and 2 bookmarks.
It's essential for investors and market watchers to remain informed and conduct their own research before making any investment decisions.
Pepe Coin Faces Market Turbulence Amid Whale Activities and Declining Prices
Yesterday, the cryptocurrency market witnessed significant activities around Pepe Coin ($PEPE) as well. A crypto whale, known as 0x9da, as reported by Blockchain.News, liquidated 452.911B $PEPE tokens for 194.31 Ethereum ($ETH), realizing a 216% profit from their initial purchase in April 2023.
Almost concurrently, another whale, 0x3ae, initiated a liquidity pool involving a staggering 5.71T $PEPE tokens and 508 Ethereum. These major transactions occurred as Pepe Coin experienced a sharp decline in value, hitting its lowest since its Binance listing in May 2023.
The Pepe coin landscape is further destabilized by security breaches, including the compromise of Ethereum Founder, Vitalik Buterin's Twitter. Allegations of scams and insider trading related to Pepe Coin, coupled with the revelation of its founder's controversial past, have intensified market uncertainties. As the crypto community remains on high alert, the future trajectory of $PEPE in this volatile environment remains uncertain.

About Pepe Coin
Pepe Coin ($PEPE) is a cryptocurrency inspired by the iconic "Pepe the Frog" meme. Since its introduction on Binance in May 2023, the coin has experienced significant volatility. While it once soared to impressive highs, recent market activities have seen its value plummet, mirroring broader crypto market trends. Allegations of scams, insider trading, and revelations about its previously anonymous founder's controversial past have added to the coin's unpredictability. Amidst these challenges, major transactions by crypto whales and the coin's ties to the Ethereum blockchain make its future trajectory a focal point of interest in the crypto community.
Disclaimer & Copyright Notice: The content of this article is for informational purposes only and is not intended as financial advice. Always consult with a professional before making any financial decisions. This material is the exclusive property of Blockchain.News. Unauthorized use, duplication, or distribution without express permission is prohibited. Proper credit and direction to the original content are required for any permitted use.
Image source: Shutterstock
Read More