Perianne Boring: Fostering Blockchain Through Regulatory Uncertainty
Perianne Boring is the Founder and President of the Chamber of Digital Commerce—the world's first and largest blockchain trade association. The mission of the Chamber is to promote the acceptance and use of digital assets and blockchain technology. The Chamber represents more than 200 companies that are investing in and innovating with blockchain-based technologies, including global financial institutions, emerging technology companies, software developers, consultancies, investment firms, and law firms.
Boring began her career as a legislative analyst in the U.S. House of Representatives, advising on finance, economics, tax and healthcare policy. Prior to forming the Chamber, Boring was a television host and anchor of an international finance program that aired in more than 100 countries to over 650 million viewers.

Blockchain.News caught up with Boring at the SFFXSWITCH festival to discuss her association's call for a U.S. National Action Plan on blockchain, China's recent entry into the blockchain race and the future roadmap of the Chamber.
Blockchain Beginnings
Boring first encountered Bitcoin during her time on Capitol Hill, where she worked for a Member of Congress who served on the House Financial Services Committee (FSC), which has become incredibly relevant to the cryptocurrency and blockchain sector. While Boring was advising on monetary policy, finances and economics, she learned about the concept of a decentralized digital currency – one that was not issued or controlled by governments, corporations or banks, and became intrigued. Not only was the concept provocative, it aligned with her economic theory of what money could be and how it could operate.
"I felt this new technology could really accomplish a lot of the things I was fighting for, especially from a policy perspective—a more transparent, ethical, safe, secure and efficient financial system," said Boring. "So I shifted my career to focus 100 percent on the crypto space and that's when the Chamber of Digital Commerce was born."
The Chamber is designed to support the blockchain ecosystem in partnership with its members who agree that misinformed or misguided government policy or regulations are often a hurdle blocking the adoption of digital assets and blockchain. Boring explained, "We launched just over five years ago. And it turns out we were right. Government and policy have been a big challenge for this space. My previous experience in government, especially the legislative process, is incredibly helpful when we're working with a nascent technology that faces significant policy hurdles. I believe it's incredibly important that we have professional and dedicated resources to foster successful policy outcomes, by working with the policy community, to help educate and guide in the appropriate oversight of this technology ecosystem. Ultimately, we need a coordinated framework that supports innovation for this space to be successful in the long term."
The Chamber Calls for a National Action Plan
In February 2019, the Chamber of Digital Commerce released its proposed National Action Plan for Blockchain. The plan is part of the Chamber's ongoing mission to advocate for the future of blockchain technology by encouraging the United States to recognize and incentivize the development of blockchain solutions for government and industry.
Boring commented, "In the United States, we have a very fragmented regulatory environment which has been an obstacle toward a framework that supports innovation—you have the SEC, that's looking at digital tokens and classifying them as securities; the CFTC that's also looking at digital tokens and classifying them as commodities; the IRS is taxing them as property; and FinCEN is regulating them as currency. There are just a lot of different regimes. And so, for the companies operating token platforms, there's a lot of regulatory uncertainty."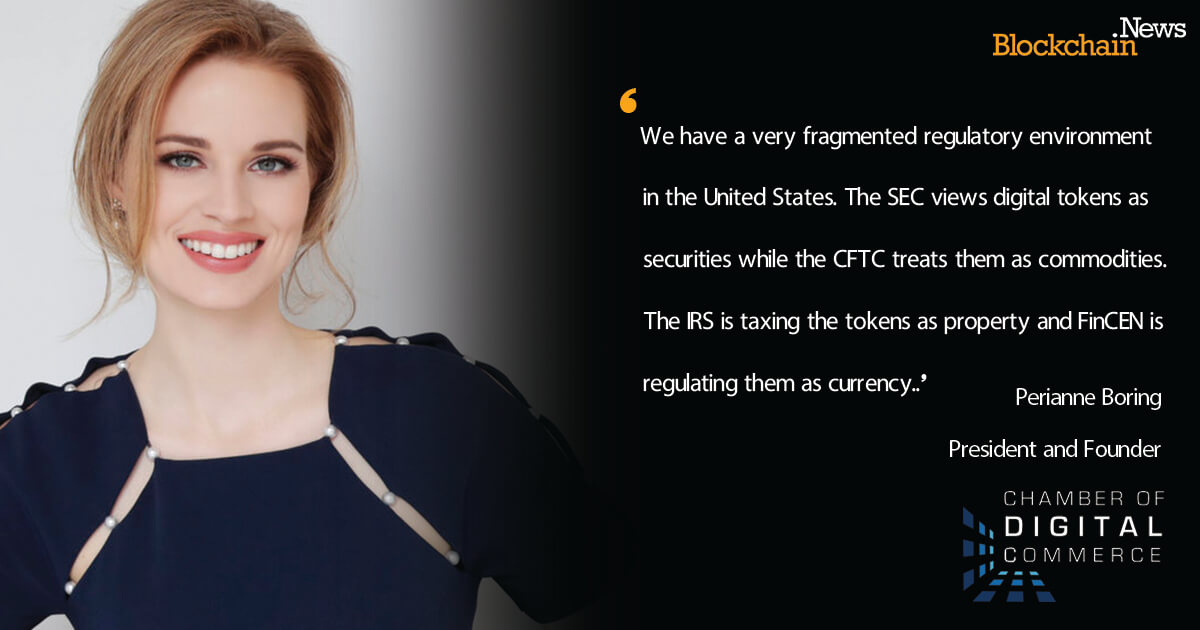 Boring highlighted the stark contrast between the importance being placed on blockchain and cryptocurrency by commenting on the busy atmosphere of innovation and discovery occurring around us at we spoke at SFFXSWITCH.
"We're here in Singapore today at one of the biggest events for the FinTech and the crypto space. This conference is hosted by the government of Singapore. This is an event of magnitude. You have other governments around the world, and they see how important digital assets and blockchain is going to be for the future of their economy, for the future of e-commerce, and for their national security. They're creating inviting environments for businesses to come into their jurisdictions to build and develop blockchain technologies in their countries."
Boring continued that "the United States is the complete opposite. We don't understand it. We're scared of it. There's a lot of anxiety and skepticism. We're enforcing the laws to mitigate against bad actors. We're not rewarding the good actors and there is profound lack of education and knowledge, and that is leading to brain drain, companies are leaving the United States. It's also leading to many companies overseas blocking U.S. access to their products or services, as well as their investment opportunities, Americans are missing out. That is incredibly worrisome for us at the Chamber. That is what keeps me up at night. The National Action Plan for Blockchain is an urgent call to the highest levels of government in the United States to make clear statements of support for blockchain and to validate its importance for the future of our country."
The call for national action has been met with some success, Boring said, "we issued this plan last February, and since then we've had members of the Blockchain Caucus write a letter to the National Economic Council at the White House supporting the plan. The U.S. Department of Commerce has hosted their own meetings, events, and roundtables to start bringing some of these actors together to coordinate on the mission. We've had many different representatives within the State Department, SEC, CFTC and other agencies make similar public statements of support for blockchain technology. We have made great progress towards accomplishing that goal, but there's still more work to do to overcome the fragmented U.S. approach to regulation."
The Chamber Welcomes Crypto Dad
While some regulatory bodies have been a little slow to respond to the call, many of the highest-ranking members within these communities have made it clear that they are blockchain advocates. In September 2019, the Chamber of Digital Commerce announced that the Honorable J. Christopher Giancarlo had joined its Board of Advisors.
Giancarlo served as the 13th Chairman of the United States CFTC and is a renowned blockchain technology advocate and key contributor to the global discussion on cryptocurrencies and digital assets. Prior to joining the Chamber, Giancarlo has advocated for a "Do No Harm" regulatory approach towards blockchain technology.
Boring commented, "We are honored to have Chairman Giancarlo join our advisory board. He has been a huge champion for blockchain technology. As a former federal regulator, he has a ton of knowledge regarding the limitations of our regulatory system, why there is a lack of action and ideas on how to make the U.S. a global leader." She continued, "he is advising us on how we can be better advocates for this ecosystem as well as how we can become the best resource for policymakers and government at all levels."
The Chamber's Next Step
Wondering what the next decade will bring for blockchain? The Chamber of Digital Commerce will present its fifth annual DC Blockchain Summit, March 11-12, 2020. This gathering of the Chamber's membership will bring together the world's leading blockchain executives and technologists, public policymakers, and academics — all with a common passion for blockchain technology. Join the Chamber for this important and intimate dialogue on blockchain policy development.

Visit DCblockchainsummit.com to learn more.


Read More