NFT On-Chain Volume on Ethereum Hit $10bn Per Month
Non-fungible tokens (NFTs) have been making headlines based on the notable growth witnessed in this sector despite being the new kid on the crypto block.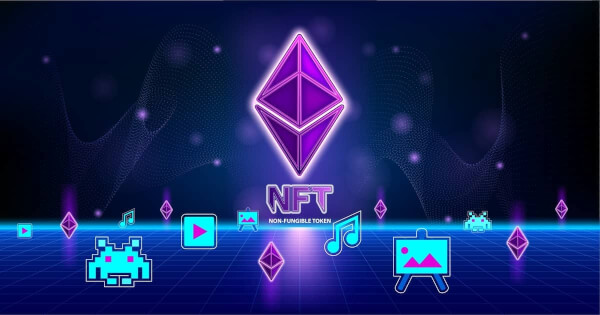 NFTs have been hitting a monthly volume of $10 billion on the Ethereum (ETH) network. Data analytic firm IntoTheBlock explained:
"$10B/Month - On-chain volume for NFTs on Ethereum have averaged 11 figures per month throughout the year. Growth spiked particularly in January, processing as much volume in a month ($17B) as the total historical volume up to that point."
NFT interest among Ethereum users has been growing, given that addresses holding at least one non-fungible token recently topped 3.47 million.
IntoTheBlock added:
"The addresses holding at least 1 NFT, which sums to more than 3.47 million. It's quite intriguing to see the increasing interest and growth in the number of ETH users that are trading NFTs, and that only represents 4.56% of the total addresses."
This phenomenon explains why NFT volumes have been going through the roof. For instance, OpenSea, a leading NFT marketplace, witnessed record-breaking volumes in the first quarter of 2022, a scenario not seen in 2021.
Market insight provider CryptoCompare noted:
"In Q1 of 2022, NFT marketplace, OpenSea, saw its volumes surpass their record-breaking months of 2021. A staggering $4.49bn worth of NFTs were trading on OpenSea in January 2022 alone."
Source: CryptoCompare
Therefore, the NFT trading volume has been growing exponentially since the start of the year, given that it recently surged by 220% and surpassed $54 billion, Blockchain.News reported.
NFTs have been ticking because they are different from a typical crypto token because of fungibility. A fungible token can be exchanged for another, whereas a non-fungible token (NFT) cannot be based on its finite nature.
Caroline Alexander, a finance expert at the University of Sussex, believed that non-fungible tokens would be everywhere in the future because anything that requires proof of ownership would be an NFT.
Image source: Shutterstock
XVI Citizens to Introduce 16 Personalities as NFTs
Read More