McAfee Admits 2020 Bitcoin Million Dollar Price Prediction Was a Ruse


John McAfee, creator of the McAfee cybersecurity company has finally admitted that his famous 2017 million dollar Bitcoin price prediction was just a ruse to attract new users.
Following Bitcoin's surging bull run in 2017, which brought most of the cryptomarket along for the ride, Mcafee famously tweeted that he would stake his 'manhood' on a bet that Bitcoin would reach $1 million by the end of 2020.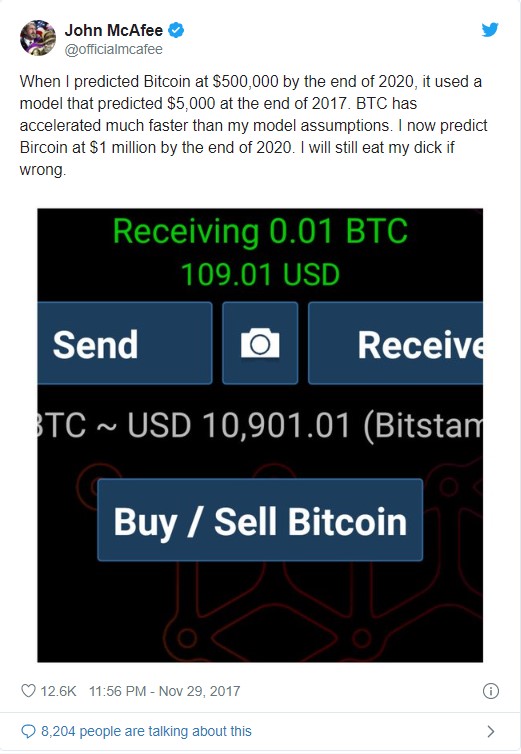 Mixed Messages
During the 2017 period following the crypto rush, it was not uncommon for outlandish predictions and many believed McAfee was joking, but over the years he has continued to reiterate his prediction.

At the end of September 2019 in an interview with Forbes, he even explained his main rationale for the incredibly high value prediction citing Bitcoin's scarcity. McAfee argued that as demand increases for Bitcoin, there won't be enough to satisfy the market at lower price points and will consequently cause the asset to surge in price. He said, "There are only 21 million bitcoins. Seven million of which have been lost forever, and then, if Satoshi is dead, add a few more million."
A few weeks later, McAfee would double down on this prediction. In an interview with AIBCSummit, he passionately expressed that if Bitcoin has not reached $2 million by the end of 2020 it would mean that mathematics itself is a "flawed disappointment"

The Admission
On Jan. 5, McAfee posted the tweet below admitting that his bet was all just a ruse to attract new users, and his "dickline" and extreme price prediction was simply to encite the mass media coverage that his tweets have ultimately attracted in the space.
Not only did he admit the deception but he went on to called Bitcoin an "ancient technology" and compared Bitcoin to early model cars explaining that while they worked better vehicles now exist. He cited newer features of Ethereum and Monero such as privacy, smart contracts and Dapps, which the Bitcoin blockchain simply doesn't feature.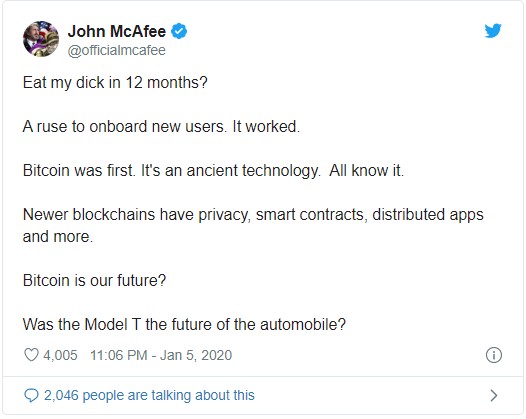 Image via Shutterstock
---

Read More