Jasmy Coin Price Analysis 2023: Breakout, Challenges, and Predictions for a Bull Run
Breaking Above the Downside Trending Line
Jasmy Coin, the cryptocurrency of Tokyo-based IoT provider Jasmy Corporation, has recently broken above its daily downside trending line, now serving as a support line, for the first time since May 5, 2023. This significant technical development has piqued the interest of market participants.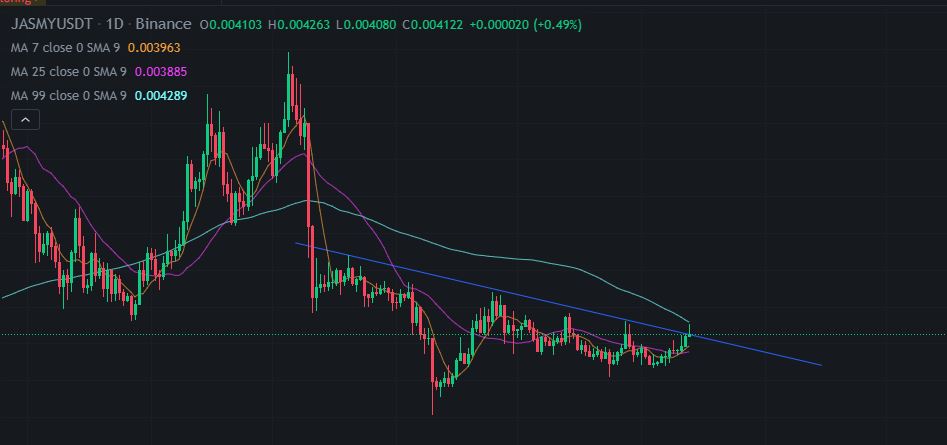 Source: TradingView
Challenges Before a Bull Run
Before embarking on a potential bull run for the remainder of 2023, Jasmy Coin is anticipated to correct to test and confirm the breakout. The 99-day Moving Average, currently situated at $0.00429, stands as a formidable resistance line to overcome.
Jasmy Coin Price Prediction for 2023 and 2024
The double top, marked by price peaks of $0.008364 on February 8, 2023, and $0.007967 on May 5, 2023, will present the first major challenge. Should the price of Jasmy Coin approach these levels, it could yield a near 100% profit. However, it must be noted that the cryptocurrency market, including Jasmy Coin, is highly correlated with Bitcoin's price. A downturn in Bitcoin could hinder Jasmy Coin's upward momentum.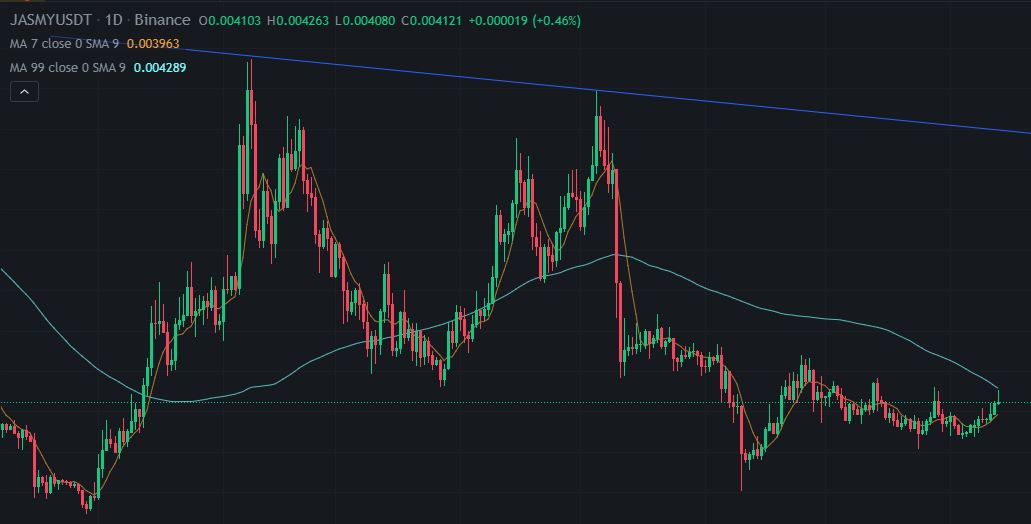 Source: TradingView
Current market dynamics and technical indicators suggest cautious optimism for Jasmy Coin's price trajectory in the coming months. The recent break above the downside trending line and the potential to tackle the 99-day Moving Average resistance may pave the way for further gains.
Open Interest in Binance Futures
Open Interest in Jasmy Coin on Binance Futures stands at approximately $10.35M, a +7.57% increase over the last 24 hours, as of the latest data. This figure has been on a steady incline since August 8, 2023. The long/short ratio of 2.33 indicates a predominance of long traders, a situation that may trigger a temporary pullback to liquidate overextended positions.
About Jasmy Coin
Jasmy Coin focuses on facilitating data exchange between service providers and users by integrating IoT with blockchain technology. Utilizing edge computing and IPFS for data storage, Jasmy emphasizes the democratization of data, ensuring secure protection, ownership, and enabling service providers to leverage user-owned data.
Conclusion
Jasmy Coin's recent price movements and underlying market dynamics present a nuanced picture. While there are promising signs of growth, several obstacles must be navigated for a sustained bull run. Investors and traders should closely monitor Bitcoin's price and other market indicators to understand Jasmy Coin's future direction. The current landscape suggests a measured approach, with the potential for substantial gains if key resistance levels are breached and broader market conditions remain favorable.
Image source: Shutterstock
Read More