Jack Grealish and Oliver Heldens Debut Musical Collaboration with Exclusive DJ Set in OKX Collective Metaverse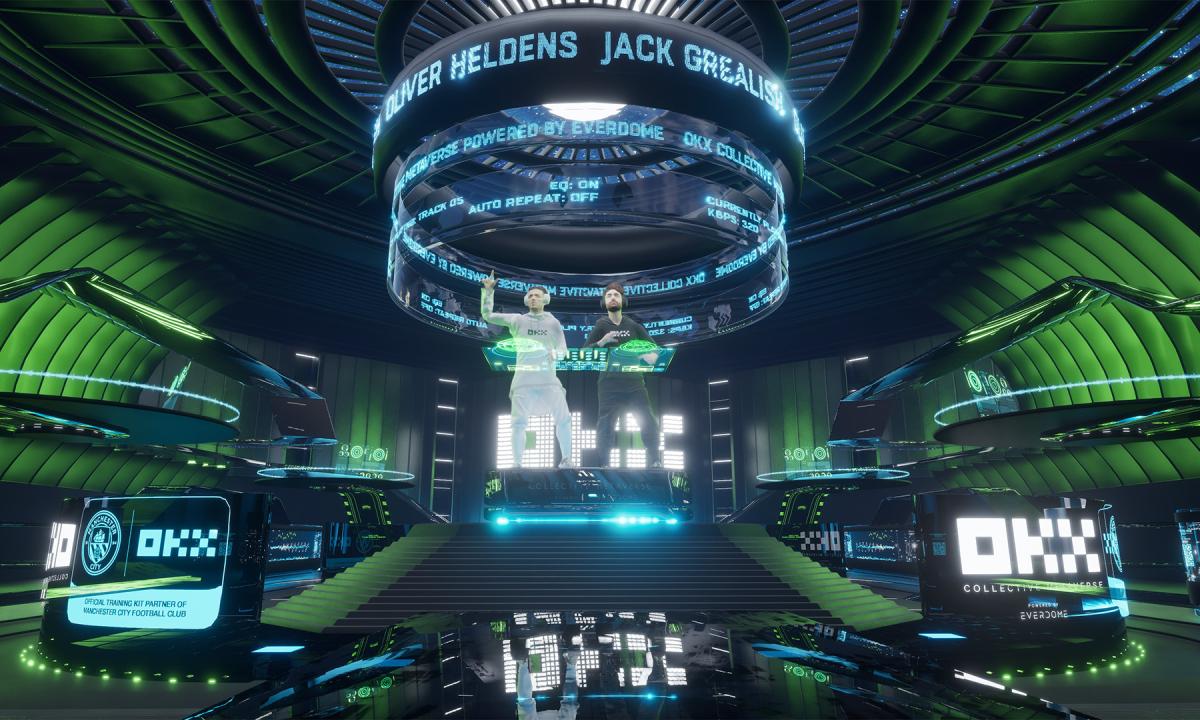 MANCHESTER, UK, May 4th, 2023, Chainwire
Future house pioneer Oliver Heldens performs alongside Manchester City player Jack Grealish in first-of-its-kind 'Mixing in the Metaverse' DJ set

Exclusive musical performance includes new track created by Grealish and Heldens
OKX, one of the world's leading Web3 technology companies, today hosted an exclusive DJ set performed by Manchester City star Jack Grealish and legendary DJ Oliver Heldens in its OKX Collective metaverse.
The 'Mixing in the Metaverse' experience includes a 15-minute set performed by metahuman avatars of Grealish and Heldens, who has been coaching Grealish on the turntables. The concert-like experience sees Grealish and Heldens debut a new, exclusive collaboration track and takes place in a futuristic stadium built in the Everdome metaverse.
Jack Grealish said: "I love music and I've wanted to try my hand at DJing for a long time. What I couldn't have expected was that my DJing debut would come in the metaverse! The OKX Collective metaverse is unique and I'm honoured to share this special collab alongside a DJing legend like Oliver with fans from all over the world."
Haider Rafique, Global Chief Marketing Officer at OKX, said:

"For our third metaverse experience with Manchester City, we step into the virtual world to watch Jack try his hand on the decks alongside a legend of the future house genre. This fan experience is a great example of the one-of-a-kind immersive experiences we are building for fans. These opportunities are special in that they bring people intimately close to the players they love and their passions."
Fans visiting the OKX Collective metaverse will be able to revisit the metaverse training experience OKX has launched with defender Ruben Dias and the tactical masterclass given by Manchester City Captain Ilkay Gundogan. Within the metaverse, fans can also enter competitions to win prizes, including passes to team trainings, match tickets and much more.
To enter the OKX Collective metaverse, fans simply need to click this link.
OKX is the official training kit partner of Manchester City for the 2022/23 season.
About OKX
OKX is the second-largest global crypto exchange by trading volume and a leading web3 technology company. Trusted by more than 50 million global users, OKX is known for being the fastest and most reliable crypto trading app for investors and professional traders everywhere.
As a top partner of English Premier League champions Manchester City FC, McLaren Formula 1, golfer Ian Poulter, Olympian Scotty James, and F1 driver Daniel Ricciardo, OKX aims to supercharge the fan experience with new financial and engagement opportunities. OKX is also the top partner of the Tribeca Festival as part of an initiative to bring more creators into web3.
Beyond OKX's exchange, the OKX Wallet is the platform's latest offering for people looking to explore the world of NFTs and the metaverse while trading GameFi and DeFi tokens.
To learn more about OKX, download our app or visit: okx.com
Disclaimer
THIS ANNOUNCEMENT IS PROVIDED FOR INFORMATIONAL PURPOSES ONLY. IT IS NOT INTENDED TO PROVIDE ANY INVESTMENT, TAX, OR LEGAL ADVICE, NOR SHOULD IT BE CONSIDERED AN OFFER TO PURCHASE, SELL, OR HOLD DIGITAL ASSETS. DIGITAL ASSETS, INCLUDING STABLECOINS, INVOLVE A HIGH DEGREE OF RISK, CAN FLUCTUATE GREATLY, AND CAN EVEN BECOME WORTHLESS. OKX IS NOT REGULATED BY THE FCA, THUS, PROTECTIONS SUCH AS THE FINANCIAL OMBUDSMAN SERVICE OR FINANCIAL SERVICES COMPENSATION SCHEME WILL NOT BE AVAILABLE. YOU SHOULD CONSIDER WHETHER YOU UNDERSTAND HOW CRYPTO WORKS AND WHETHER TRADING OR HOLDING DIGITAL ASSETS IS SUITABLE FOR YOU IN LIGHT OF YOUR FINANCIAL CONDITION. THE VALUE OF YOUR DIGITAL ASSETS, INCLUDING STABLECOINS, CAN INCREASE OR DECREASE AND PROFITS MAY BE SUBJECT TO CAPITAL GAINS TAX. PAST PERFORMANCE DOES NOT INDICATE FUTURE RESULTS. PLEASE CONSULT YOUR LEGAL/TAX/INVESTMENT PROFESSIONAL FOR QUESTIONS ABOUT YOUR SPECIFIC CIRCUMSTANCES.
Contact
OKX
media@okx.com
Read More