IBM Food Trust: Cutting Through the Complexity of the World's Food Supply with Blockchain
By
Dec 31, 2019 3 Min Read
Alan Lim, one of the initial members of the IBM Worldwide Blockchain team, heads IBM Blockchain Labs in the Asia Pacific. Blockchain.News sat down with Lim to learn more about IBM's blockchain initiatives, including its Trust Your Supplier and Food Trust platforms.
IBM Food Trust was first launched in August 2017, with 10 Foundation members aiming to use blockchain in food traceability to solve issues in the food supply chain. Prior to the launch, IBM, Walmart, and Tsinghua University announced a collaboration to improve the way food is tracked, transported, and sold to customers in China. Juniper Research recently announced that IBM Food Trust is one of the leading blockchain players in the food provenance space.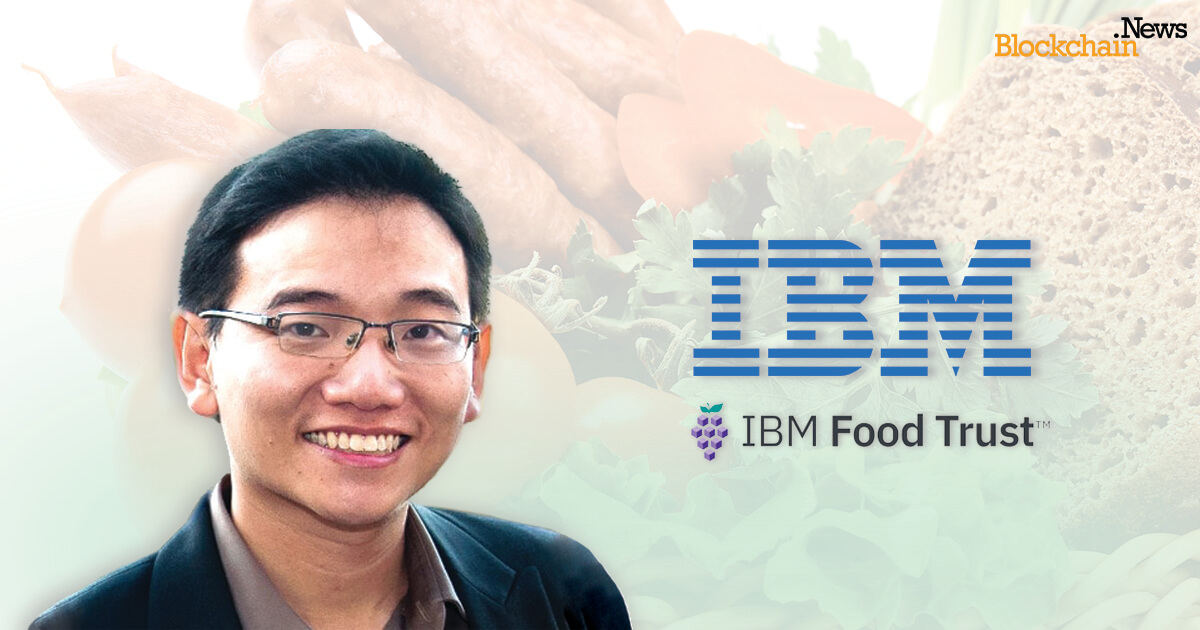 Since the launch of the IBM Food Trust, millions of transactions have been entered onto the blockchain, as the technology provides transparency and efficiency in supply chain record-keeping to help ensure food safety for consumers. "I think the problem we're trying to solve is the issues around the current food supply chain. Whether it's related to issues around food safety, issues around the freshness of food, there's an opportunity for being more efficient," Lim added.
The dire need for trust and transparency
Lim explained that the food supply chain is quite complex, as the ecosystem consists of an extensive range of farmers, growers, packing houses, distribution centers, retailers to the consumer. "There is a dire need for a common view across the value chain to establish trust, but not just the ability to track and trace but true transparency across the different parts of the ecosystem."
"One thing that we realized very early on is the need for standards. We've been partnering with various industries, parties, and associations," said Lim. He also mentioned that the IBM Food Trust has also investigated standards from GS1, a non-profit organization headquartered in Belgium that develops and maintains global standards for business communication. Lim believes that standards are very important, and the group is looking to onboard different parties from different parts of the ecosystem across the globe. "This becomes even more important, so we're looking at how we can better partner and adopt some of these standards, whether it's uniquely identified produce, whether it's looking at better ways of tracking, including the life cycle of the product," explained Lim. "With the adoption of standards, we think that would be a key enabler for us to be successful in this area."
One of the design principles that the IBM Food Trust decided on was that the data provided by the different parts of the ecosystem remains in the different parts of the ecosystem, different players in the ecosystem will need to grant permission to another party in the supply chain to have the visibility of the data. Lim emphasized that IBM is just the solution provider and operator for the network and stressed the importance of the ecosystem.
Interoperability of IBM Food Trust
From a data model perspective, Lim explained, "If we're able to conform on the same data standards, it makes it easier for information to be shared by different networks and systems, platforms that are on blockchain and those that are not."
Lim mentioned that the design of the interoperability of the solution is a more advanced kind of adoption; however, integration is more complex. "With the integration, we have to put in place interfaces, which are standard-based through APIs and companies that are looking to integrate with the IBM Food Trust solution can do so using those established APIs to be able to connect in, publish information, and retrieve information about the food supply chain."
The IBM Food Trust has convened an advisory council made up of different parts of the ecosystem. As described by Lim, some parties are even competitors with each other. "The idea is to ensure that the principles are being followed very closely."
Read More
Related | Latest