eToro—The Globally Utilized and Bespokely Localized Trading Platform
Jasper Lee is the Managing Director of Asia, eToro and is a veteran in the trading and Fintech field with over 10 years of experience. Lee was brought in to manage the company as it expanded into Asia in 2016, and has led the company to become the largest and most reputable social trading platform in Asia. Before joining eToro, Lee served as the General Manager at FXCM in China.

Founded in 2007, eToro has been a leader in the global Fintech revolution, empowering people to invest by giving them access to global markets. From cryptos to stocks and commodities, eToro has made trading easy and social, creating a strong community of over 12 million traders worldwide.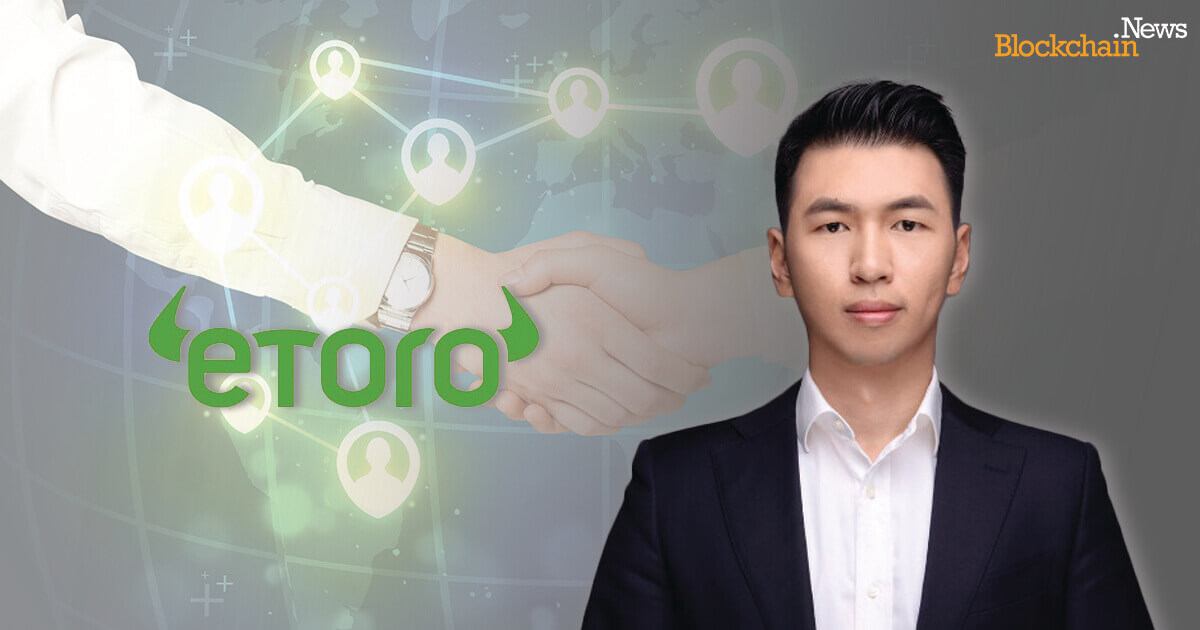 Localized Market Penetration

eToro has been operating for over 10 years in most major western markets but has only existed in Southeast Asia and Greater China in the last three to four years. To effectively penetrate the Asian market, Lee knows that a tailored and localized modification of the eToro product is important for adoption.

Obvious modifications are the inclusion of the plethora of languages spoken throughout the region into the application. But for Lee, cultural tailoring is just as important. He explained, "Obviously there are significant differences between the cultures, people see things differently. A simple but important example is—in western culture, the color green represents profit and red indicates a loss, but for Chinese people, it's the exact opposite."

Along with traditional culture, Lee and the eToro team have also been keeping a finger on the pulse of contemporary culture. He said, "We have also observed an increasing usage of Facebook and Instagram in Southeast Asia, so we use this type of data to refine our marketing strategies into more friendly online social campaigns."

The final aspect of localizing eToro for Asia is in the product offering. Lee said, "We definitely see some products do better in different markets. For example, gold is one of the most popular products in Southeast Asia and China, but not necessarily in Northern European countries."


Copy Trading
eToro is an online "social trading" platform that acts as a social network for traders to share and learn about trading strategies. An even simpler way is to utilize the key feature of the eToro platform which is 'Copy-Trading'— a user can search through the top investors and simply copy their trades to hopefully share in their profits.
eToro's "Trade like a Steve" advertisement, which showcases its copy trading capabilities, has gained over 5.5 million views on YouTube. Lee said, "Copytrading is one of eToro's unique features. We don't see a lot of competitors offering it. On our platform, you can see our most profitable trader's portfolios as well as their returns and risk-rating. Once you have decided to copy someone, you basically copy the whole portfolio—importing the risk as well."

Traders who wish to be copied are analyzed by eToro and assigned a risk rating from one to ten—the higher the score, the higher the risk. Lee said, "If the rating exceeds a seven, the trader will be delisted until the score reduces." Another risk management feature is copy stop-loss. Once an investable instrument drops below a set level, the position will be closed before you incur further losses.

After 10 years of operation, eToro has many popular investors to copy. The goal, and part of the localization strategy, is to grow the copy-trader base of popular investors in Southeast Asia. Lee stated that there is a fast-growing list of good traders coming from the Philippines, Thailand, Vietnam. He further noted that having good local traders for specific regions adds a little insider perspective for the user base. He said, "We also see increasing numbers of copiers coming from overseas to copy the traders in our area and are having success, so a local Hong Kong trader may know more about investments in Hong Kong for example. We are trying to globalize the products and the traders to let people all around the world can start to trade, in a very easy and transparent way."
Read More