ECB President Lagarde: Digital Euro CBDC Will Complement Not Substitute Cash
Christine Lagarde, President of the European Central Bank (ECB), said that a CBDC or digital euro would most likely work in tandem with fiat currency, not replace it.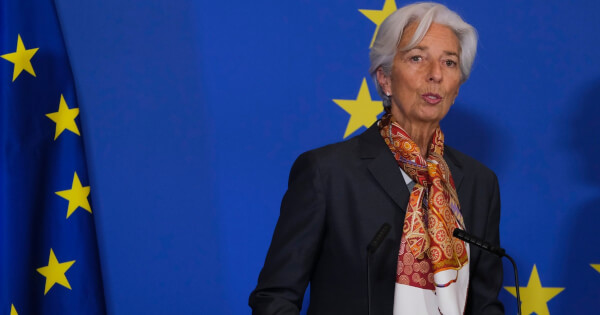 The central bank digital currency (CBDC) being developed by the European Union will most likely not fully replace the euro according to ECB President Christine Lagarde.
"A digital euro could be a complement to, not a substitute for cash," said Lagarde speaking at a virtual meeting of the Franco-German Parliamentary Assembly on Sept. 21. Lagarde said that while the ECB was exploring and assessing the risks of a CBDC, it was unlikely it would ever fully replace fiat currency.
Lagarde said:
"It could provide an alternative to private digital currencies and ensure that sovereign money remains at the core of European payment systems."
On Sept.10, during an online conference with the Deutsche Bundesbank, President Lagarde said that consumer preferences have seen an increase in digital contactless payments, with Europeans taking to online platforms for their retail needs during the pandemic. With the digital revolution at our footsteps, "more than four in five Europeans regularly use the internet, up from one in five two decades ago," said Lagarde. Global payments have been increasingly on the surge, as the pandemic has driven the digitization trend forward.
The ECB President also said that a taskforce to study the risks and potential effects of a CBDC would be announced this month, but that the European Union had not reached consensus on the introduction of a digital euro.
Euro Money Printer Goes Brrr
On Sept 10, the European Central Bank also announced it would not alter its interest rates and COVID-19 stimulus programs despite a strong euro—which Bitcoin billionaire Tyler Winklevoss called a "powerful advertisement for Bitcoin."
The ECB stimulus money printing and interest-free lending to businesses appears set to continue as it announced it would not be making any immediate changes to raise inflation or to alter its Pandemic relief program which remains at a total of 1.35 trillion euros.
Bitcoin billionaire Tyler Winklevoss was extremely critical of the ECB's announcement—to continue to keep refinancing operations, marginal lending facility and deposit facility unchanged at 0.00%, 0.25% and -0.50%, respectively.
Winklevoss said:
"The European Central Bank's refinancing rate is 0% and its deposit rate is -.5%. This means it is free to borrow money, but actually costs you money to save. Thinking face This is both a potent recipe for inflation and powerful advertisement for #Bitcoin."
Image source: Shutterstock
Read More