DeFi Projects Continue to Generate Huge Returns as a Decoupling from Bitcoin is Observed
The decentralized finance (DeFi) sector is proving to be a force to be reckoned in the crypto space as it exploded and grew exponentially in 2020. DeFi's value continues to skyrocket and is showing no signs of stopping, according to data from Santiment.
The on-chain data provider explained:
"DeFi projects continue to be lucrative, as the market cap for all DeFi-related projects tracked on santimentfeed has ballooned to $19.7B (+135% in the past month). UNI, AAVE, SNX, MKR, & COMP have all enjoyed their time decoupling from Bitcoin."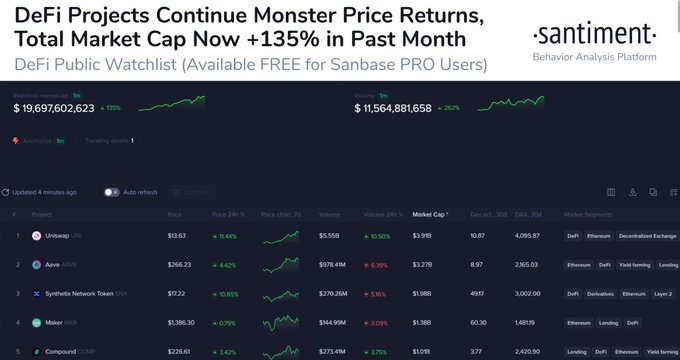 DeFi is ideally a bridge between traditional currency like paper money and decentralized cryptocurrencies like Ethereum (ETH) and Bitcoin (BTC). Developers create conventional financial applications using blockchain technology and a decentralized network.
DeFi projects have been experiencing incredible growth because of the boom in this sector in 2020. For instance, Yearn.finance, a DeFi optimization protocol aimed at aggregating liquidity and automating marketing by moving investments between platforms like Compound, Aave, and dYdx, skyrocketed in 2020.
Precisely, despite it being launched in July 2020, its popularity rose to the extent where its token YFI hit $38,000 last year in late August, and this run beat Bitcoin's record price rally in 2017. Later on, in early September 2020, it smashed its own record by rising to $39,600.
DeFi's momentous growth of 2000% in 2020
DeFi experienced a massive rise in 2020 because its total value locked (TVL) rose from $0.67 billion in early January and closed the year at $14.74 billion.
CryptoRank Platform noted:
"Total value locked across the spectrum of smart contracts, protocols and DApps built on Ethereum increased by 32% in November: $11.16B —> 14.74B. Since the beginning of 2020, TVL in DeFi has surged by over 2000%."
DeFi's TVL has since increased to $26 billion.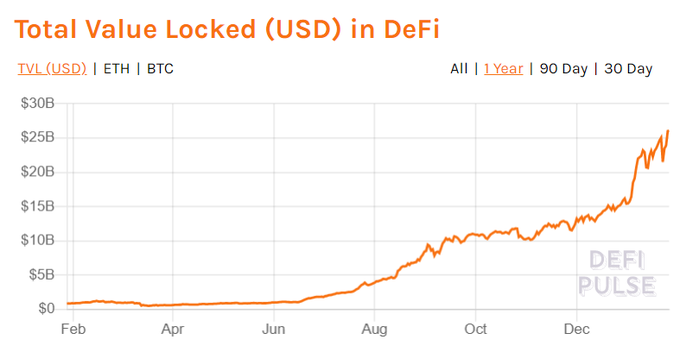 It seems the sky is the limit for DeFi as it has been one of the driving forces behind Ethereum's current bull run, which set a record-high of $1,460 over the weekend.
Image source: Shutterstock
100,000 Bitcoin Options Scheduled to Expire in Two-Days Time, Indicating a Potential Price Plummet to $28,000
---

Read More