Dash NEXT: Fostering Crypto Adoption in Asian Tourism
Felix Mago is the CEO of Dash Thailand, and has been working in the blockchain space since 2014 and one of the driving forces of cryptocurrency adoption in Thailand. He is the author of the "Bitcoin Handbook" and the co-founder of the Dash Embassy Thailand as well as the co-founder of Futerio, a southeast Asia based gateway to blockchain, ICOs, and OTC brokerage.
We first met Felix Mago in Block Live Asia in April. After an interesting conversation. we realized that Dash's adoption was far beyond from what we've seen in Venezuela. Mago also revealed the 4 key strategies of Dash Thailand in government collaboration, millennials engagement, remittance market and upcoming scalability milestone.
We were delighted to meet Mago again at Next Block Asia in Bangkok, where he shared with us the recipe for Dash's global expansion: the Dash NEXT and more updates from Dash Thailand.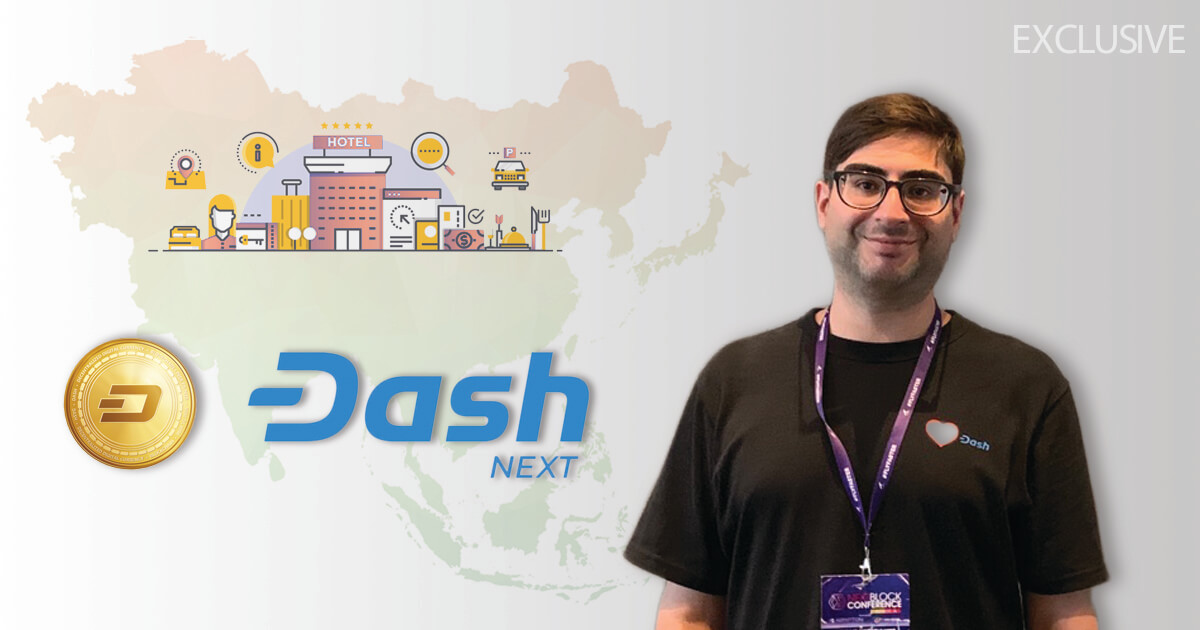 On and off-ramp for Dash/Thai Baht
One of the topics we discussed with Mago in our previous interview was the rapid changes in financial regulations being established in the Thai market which has now led to more options, such as the ability to trade Dash versus Thai Baht. Mago said, "Prior to these new regulations, one of the limitations we had been consistently coming up against was that many of our onboard merchants didn't really want to hold cryptocurrency because of the risks in volatility, indicating to us that Thai merchants needed easier on-ramping and off-ramping to leverage Dash." He explained, "With the changes in regulation, we are able to bring a new group of customers to local services whether they be laundry, hospitality or financial, really anything. The money paid by customers could be in crypto but it will be converted and appear in the merchant's bank accounts as Thai Baht, which has eased most merchants' concerns."
Mago and his team have been primarily working on implementing Dash cryptocurrency in Thailand from two angles—the user activation side and the merchant adoption side. Mago illustrated, "We have had a mixed strategy from the beginning. The first step was actually establishing the ecosystem from the ground up as no crypto-payment system existed in Thailand. We ultimately want people to be able to come to Bangkok and be able to rely solely on crypto for purchases and secondly, we would like every merchant to have the capacity to exchange in cryptocurrency as well."

Converting every merchant to cryptocurrency was never a really scalable solution and Mago expressed that they would need to partner with the big industry players. Being in Thailand, it was obvious to Mago which industry should be tapped into first, he said, "Our first focus was to partner with a major player from the tourism industry and POS (Point-of-Sale) systems. Once a crypto been adopted by a POS systems you have access to over 10,000 merchants at once which will foster further adoption."

Dash NEXT: Fostering crypto adoption in Asia and beyond
After successfully establishing a Dash merchant network in Thailand the team created Dash NEXT with multiple global integrations and exchange listings.

While Mago is very proud of his work with Dash Thailand, he and his team quickly became aware of the limitations that the name inspired when speaking with potential business partners. He explained, "The reality is that many of these partners are not just local to Thailand and do business throughout Asia and indeed globally. When creating partnerships, you must offer a value proposition and the value we were bringing often got lost in our name."
To combat the perception, Dash NEXT is being established as the brand name for the company's global business partnerships arm. Mago commented, "The fact is that our team is the only company for Dash cryptocurrency business development in Asia, we are the people on the ground, attending the events and establishing the network. We are doing business in Asia for Asia and in the global ecosystem." He added, "For example, if we onboard a travel platform who is based or registered as a company in Singapore, we are more than happy to partner with them. And through the partnership, we can provide the whole world with a service for booking hotels in USA, in Australia, in Japan or in Singapore. It really won't matter where, all that matters is that the hotels have a business connection with us." Dash NEXT has onboarded two hotel platforms XcelTrip and Hotelier Mart in September 2019, gaining access to over 1.5 million hotels and 400+ airlines worldwide.
The sky appears to be the limit for the expansion of Dash throughout Asia, however, each country presents its own unique standards of fiscal compliance. Once again, Mago believes the solutions is having the right partners. Mago said, "You need to make partnerships, such as the example of POS systems which gives us access to 10,000 merchants across the region. We have just signed a partnership with a company called WisePass which is a multi-merchant service that offers you rewards in the form of points when you spend using the Wise Pass Card. These points can be used for discounts or special offers with Wise Pass merchants. They are based in Singapore but they also provide services to Vietnam and Thailand. We have also partnered with Blucon.io to launch 2 million Dash branded debit cards and public transport cards in Korea, which are linkable with Digifinex and other crypto exchanges in the future. So to summarize, our strategy is to find partners who are localized but who also have an international network in their business model."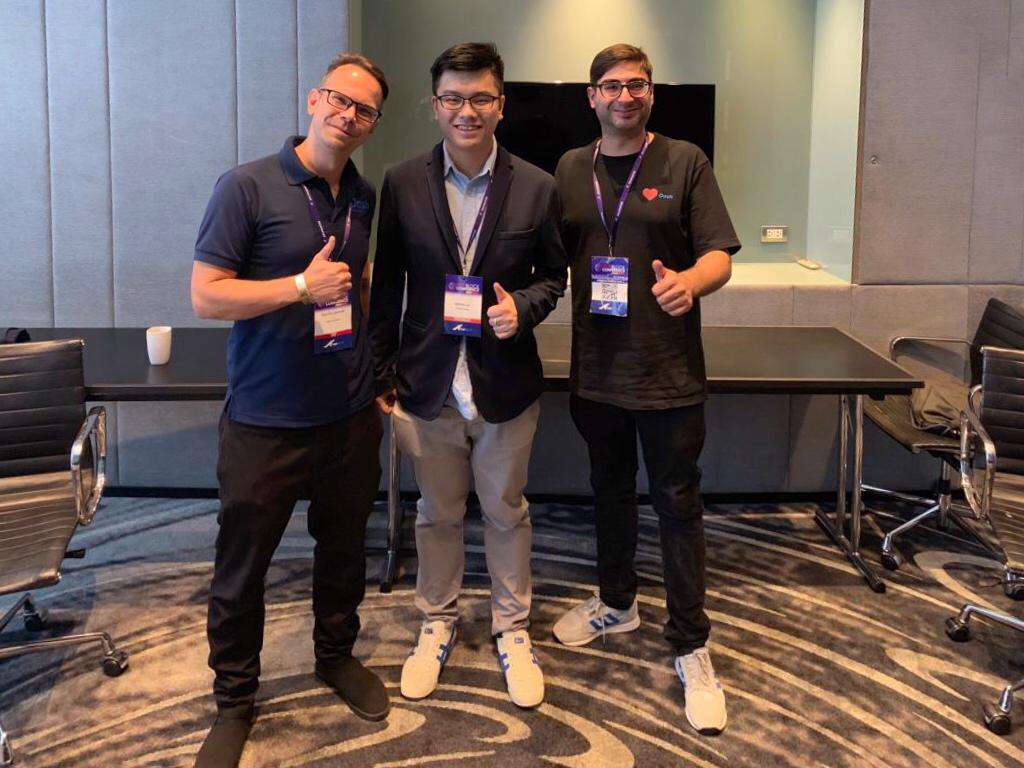 (From left to right) Sascha Jochum of Dash NEXT, Matthew Lam of Blockchain.News and Felix Mago of Dash NEXT
Dash Investment Foundation
The Dash Investment Foundation is a very new initiative at Dash and at the time of this interview, they had only recently voted to establish their board of governors.
Speaking to the initiative, Mago said, "Basically 10% of all our generated revenue is invested back into the Dash core and this is done by all teams around the world. Besides this, there has always been a discussion about investing in companies to enhance the speed of crypto adoption, or to fund companies that are doing new and interesting things that we would like to be a part of." He continued, "We wanted to avoid just giving money which they would use to eventually do their own thing away from Dash. We wanted to build in a type of equity, where the companies would promote Dash through some type of leveraging of our technology and perhaps bring us in as shareholders. In return we would essentially loan them capital for investment or for scaling and to launch their business."
Credits to Sascha Jochum for his support of this interview.
Read More