DappRadar—Redefining Accuracy and Transparency in the State of Dapps
Skirmantas Januskas is the CEO and founder of DappRadar.He joined the crypto and decentralized applications (Dapps) space in late 2017 and found his interest peaked by the enthusiasm and kindness of those he interacted with in the community. He founded DappRadar in February 2018, a website that lists the best Ethereum Dapps and ranks them by DAU (Daily Active Users) showing the authentic acceptance and usability of Dapps.
Although Bitcoin kicked off the entire ecosystem of blockchain, it was Ethereum that first unlocked aspects of its true potential by allowing developers all over the world to create decentralized applications (Dapps) on their blockchain platform. Through Ethereum, developers could code smart contracts that serve as the blueprint for Dapps. Other blockchain protocols joined in, the two most major Dapp enabler alternatives to Ethereum are TRON and EOS and there are currently over 3000 Dapps running on blockchain protocols.
So which Dapps are the most used, which protocols work best? Which networks are able to scale and support your business' decentralized application? To answer these questions is a slew of Dapp Data sites, but one site seems to rise above the others and is indeed redefining the metrics for the space—DappRadar.
Redefining the Metrics
According to Januskas, the vision for DappRadar is to be a trusted starting point for Dapp discovery and act as a distribution channel for Dapp developers that are looking to reach new consumers. DappRadar has already built a leadership position as the most trusted Dapp platform. He said, "Recent product upgrades have seen us present the most accurate data on EOS with our unique token tracking, this will be rolled out to Ethereum in November and will potentially reveal billions of dollars of undiscovered volume and completely change the way Dapp industry data is evaluated and reported. We will play a leading role in growing the market for Dapps through our commitment to working closely with Dapp developers and providing reliable data."
DappRadar has tracked the daily metrics of over 2,700 Dapps and 12,000 smart contracts across the Ethereum, EOS and TRON blockchains since February 2018. Januskas added, "Unlike our competitors, we have a public, robust attitude in terms of filtering out what we consider 'fake' or 'manipulated' traffic, notably traffic generated by bots and we are working hard this year to provide even more product features to allow us to present the most accurate data. So how do we set ourselves apart - We focus on our product and delivering the most accurate data."
Identifying and Combating Manipulated Data
As in any traditional industry, there will always be incentives for companies to inflate their Dapps' performance. Trying to game the system is inherent in all sectors, and despite the relative openness of blockchain data, it continues to happen in the decentralized space.
Currently, Januskas and his team see Dapp data being actively and passively manipulated in three main ways:
Activity is actively manipulated by a Dapp boosting service to ensure Dapps remain high in rankings. This is typically driven by the developer themselves.


Dapps contain incentives that encourage players to create multiple wallets and accumulate rewards and tokens. This may be active manipulation by the developer or a byproduct of design.


The trading of Dapp tokens on exchanges is included in overall traffic data.

He said, "DappRadar has started filtering its results to remove such activity and will continue to monitor future developments, and take swift action when required to ensure our data is as accurate as possible. This may include marking Dapps we believe are engaging in manipulative and deceptive activities, potentially even blocking or delisting Dapps from our site that continue to do so."
On spotting fake volume in Dapps, Januskas said, "We look at the anti-money laundering regulators and take note of what CoinMarketCap is doing—we are all detecting these patterns but unfortunately I cannot disclose the actual fake cases and the algorithm pattern that we have identified. We do analyze each account and each wallet to monitor the flow of money." He reiterated, "We want our industry to be as transparent and truthful as possible so the rewards of what we are sure will be a vibrant and profitable ecosystem go to the best products, not those that are best at gaming the system."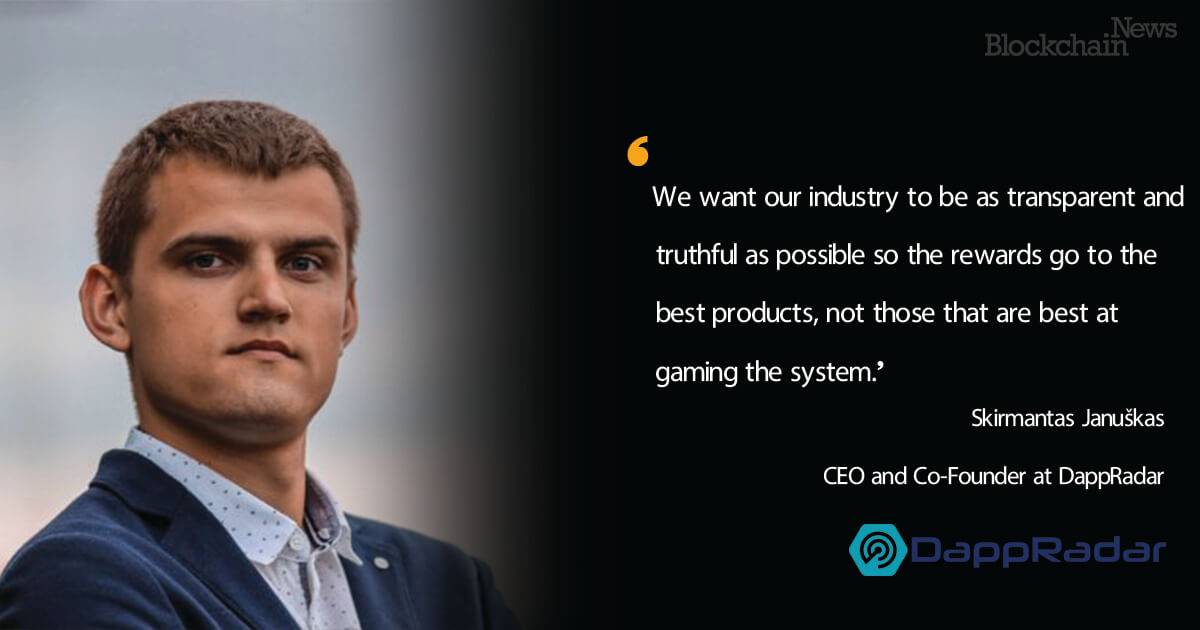 Ethereum vs EOS vs Tron
DappRadar recently added full token tracking for EOS Dapps which has reportedly uncovered that the EOS Dapp ecosystem may be undervalued by 1 billion dollars—as other sites typically do not track the full token.
When asked how important this new tracking revelation was for the Dapp market, Januskas said, "It's not only important, it's completely necessary if you want to claim to be providing the most reliable and accurate data. Our competitors do not track this way simply because they cannot until they do the background work to make it possible. More comprehensive token tracking is key to increasing the transparency of value creation in the Dapp ecosystem, especially for decentralized exchanges. For instance, Newdex (DEX) based on the EOS blockchain has seen the addition of around $5 million value in non-native tokens within the first 7 days of launch on top of their $21 million value in native EOS tokens."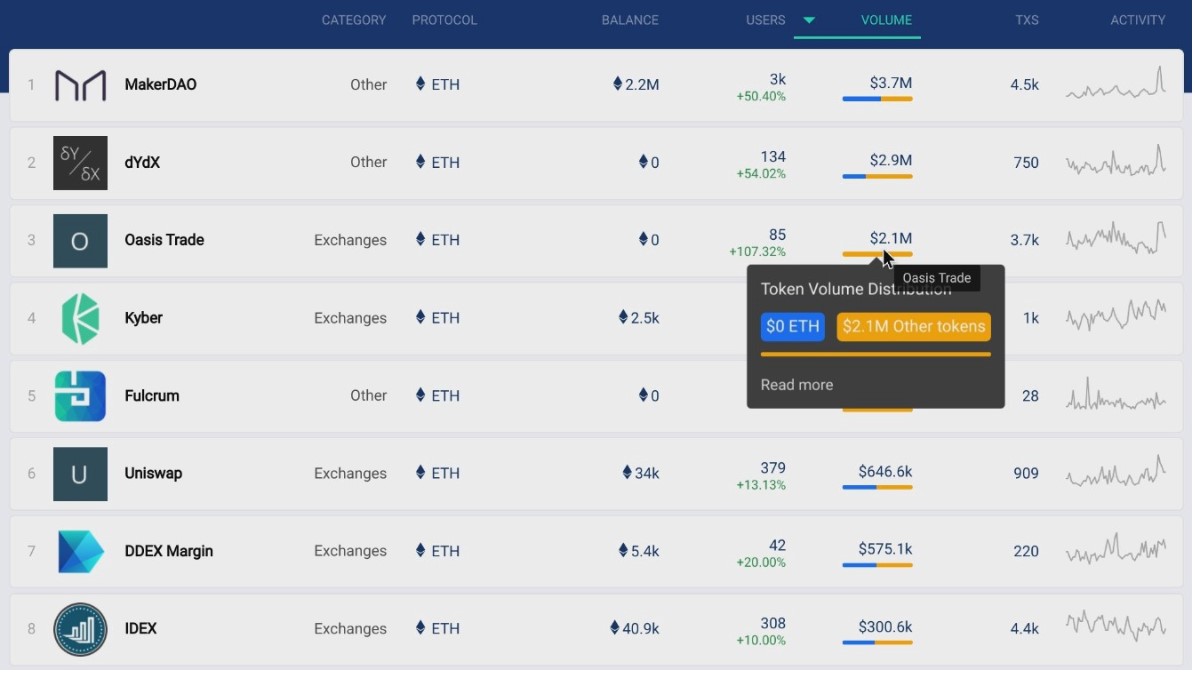 Source: DappRadar - Full Token Tracking
Specifically, with Ethereum token tracking, Januskas said, "The most challenging aspect is getting the pricing right. If you visited a number of exchanges you see ERC-20 tokens being priced differently, so this is problematic and also presents kind of an ideological challenge—which exchanges can be trusted and where can users get the price?"
Read More