Bloomberg Report: COVID Stock Market Shake-Out Accelerating Bitcoin Maturation Into Digital Gold
A new report from international news agency Bloomberg indicates that the COVID pandemic's shake-out of the stock market may be accelerating Bitcoin's maturation into a new kind of digital gold.
According to the April 2020 Bloomberg Crypto Outlook entitled Bitcoin Maturation Leap, the stock market's volatility instigated by the coronavirus disruption has shaken up the entire crypto market and may have greatly accelerated Bitcoin's transformation into a safe haven asset like Gold.
Per the report, "This year marks a key test for Bitcoin's transition toward a quasi-currency like gold, and we expect it to pass."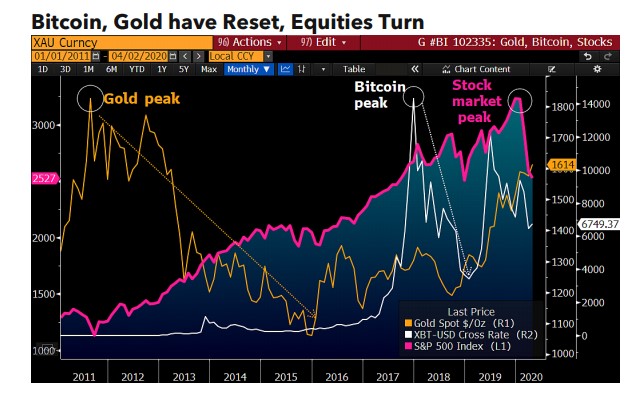 Source: Bloomberg Crypto Outlook:Bitcoin Accelerating Maturation
Although Bitcoin did lose almost 30% during the intense economic downturn in March, according to the researchers it only lost 6% in terms of its annualized basis. Analysing the increase of interest in option futures contracts and a remarkable decrease in volatility the report read, "Bitcoin is maturing from a speculative asset toward a digital version of gold."
Bitcoin Accelerating into a Safe Haven
The research states that Bitcoin is becoming less of a risk-on asset and the researcher's believe that Bitcoin's price plunge will prove temporary.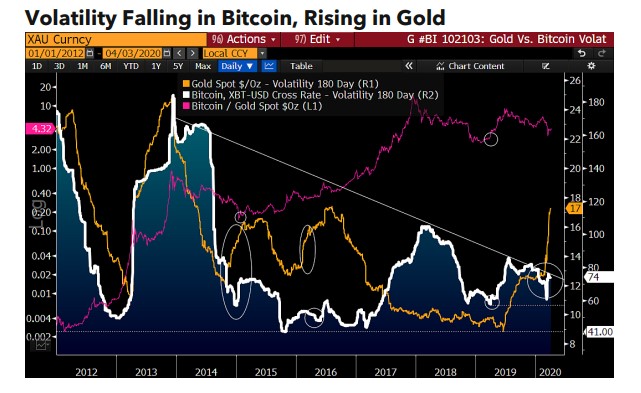 Source: Bloomberg Crypto Outlook:Bitcoin Accelerating Maturation
The researcher's explained, "When the S&P 500 declined almost 14% in 4Q18, Bitcoin declined about 45%, and both bottomed about the same time. Indicating the first-born crypto is still susceptible to the receding stock-market tide, but in more of a bullish divergent condition, Bitcoin remains up about 9% in 2020 and is hovering near its $8,000 support level, despite about a 20% S&P 500 correction. Our graphic depicts the spiking nature of the correlation between Bitcoin and the S&P 500, notably when equities decline swiftly."
Noting Bitcoin's on-chain indicators are remaining price supportive, the report reveals that the coronavirus appears to be accelerating Bitcoin's performance much more than the broader cryptocurrency market.
With the upcoming Bitcoin halving the researchers believe good news is on the way, stating, "Cutting the supply in half in May will provide another price tailwind in our view."
Read More