Bitwise and ETF Trends : 64% of US Financial Advisors expect Bitcoin Price to Appreciate Over Next 5 years


Around half of all wealth in America is managed by financial advisors, but how much of that wealth are they comfortable allocating to cryptoassets?
In 2019, we saw cryptocurrencies bounce back from the bear market of 2018 and major institutions like Facebook, Fidelity and the Intercontinental Exchange made entries into the crypto space. Crypto prices rose sharply and Bitcoin's price increased by 90%.
As the overall ecosystem appears to be entering a new stage of maturity, Bitwise and ETF Trends have shared insights into how U.S. financial advisors are feeling about crypto in 2020. The survey elicited 415 eligible, complete responses from financial advisors. That number is up from the 151 responses received by last year's survey.
Public Interest and Allocation
According to the Bitwise / ETF Trends 2020 Benchmark Survey of Financial Advisor Attitudes Toward Cryptoassets, more than three-quarters of financial advisors reported receiving questions from clients about crypto in 2019 which is on par with the previous year. However, around 64% of the advisors who did receive questions, noted it was from a small percentage of around 10% of their client base.
The survey reports that only around 6% of financial advisors currently have an allocation to crypto in client portfolios. Despite this low allocation, an interesting finding is that 72% of advisors think that clients may be investing in crypto on their own with 35% strongly believing it to be the case.
According to the survey, the main motivation for financial advisors to include crypto in a client's portfolio is its low/uncorrelated returns with other assets making them ideal for portfolio diversification. Other major attractions include the high potential returns and the desire to win new business.
Bitcoin Price Expected To Rise
Advisors were asked to predict the price of bitcoin on Dec. 31, 2024, five years from now. In total, 395 advisors responded with qualifying answers ranging between $0 and $1 million.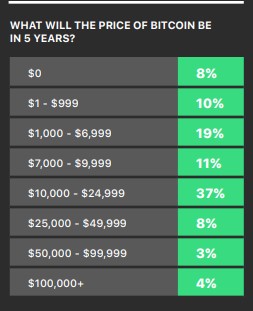 Source: 

Bitwise / ETF Trends 2020 Benchmark Survey of Financial Advisor Attitudes Toward Cryptoassets
U.S. financial advisor attitudes towards bitcoin have shown a significant increase, with 64% of advisors expecting the bitcoin price to appreciate over the next five years which is up from 55% of advisors in last year's survey.
The more polarized entries show that only around 5% expect the price to rise by a moonish 10X, meanwhile the fraction expecting bitcoin's price to fall to zero decreased sharply this year, from 14% to 8%.
Image via Shutterstock
Read More