World's Largest Electronics Marketplace Hong Kong Electronics Fair (Autumn Edition) and electronicAsia Open in October
30 August 2019 – The 39th HKTDC Hong Kong Electronics Fair (Autumn Edition) and 23rd electronicAsia will be held concurrently at the Hong Kong Convention and Exhibition Centre from 13-16 October 2019. The two fairs will gather around 4,300 exhibitors from across the globe, showcasing a wide variety of intelligent products, innovative start-up ideas and electronic components.
Hong Kong Electronics Fair (Autumn Edition) is organised by the Hong Kong Trade Development Council (HKTDC), while electronicAsia is jointly organised by the HKTDC and MMI Asia Pte Ltd.
Benjamin Chau, Deputy Executive Director, HKTDC, said "Hong Kong's electronics industry is the largest merchandise export earner of the territory, accounting for 68% of Hong Kong's total exports in 2018. As the world's largest electronics marketplace, the Autumn Electronics Fair and electronicAsia attracted close to 87,000 buyers from 139 countries and regions 2018. Held concurrently under one roof, the two fairs will gather electronics products, start-ups, components and technologies to create more business opportunities between exhibitors and buyers."
Hong Kong Electronics Fair (Autumn Edition)
The highlighted Tech Hall will return to showcase tech-savvy products in thematic zones: 3D Printing, Robotics & Unmanned Tech, Smart Tech, Virtual Reality and Startup. As Artificial Intelligence (AI) has become more than a buzzword in recent years, a new zone AI & Voice Recognition zone will be launched, demonstrating automation and intelligent products.
The Startup zone will feature around 120 international start-ups to present their innovations ranging from Apps, smart home products, wearable electronics, Internet of Things (IoT), heath electronics and more. A series of events will be arranged to provide an ideal platform for startups to present ideas, which include pitching, "Startup, Smart Launch", sharing, mentoring and investment matchmaking sessions.
3D Printing zone will feature the latest 3D printers, filament and other materials. Another returning zone is Robotics and Unmanned Tech, presenting the latest models of aerial cameras, industrial and home-used robots, electric scooters and more. Smart Tech zone will showcase electronic devices featuring IoT applications for modern living. Virtual Reality zone will return to feature a range of VR, Augmented Reality (AR) and Mixed Reality (MR) products and related technology.
A Hong Kong exhibitor will present Facial Recognition Wi-Fi Doorbell. It is a personal gatekeeper to a connected home. It can recognise faces of family members and friends, play custom greetings and record voice memos for your guests.
Another Hong Kong exhibitor will showcase Live Streaming Camera Glasses, which supports long time recording with full HD quality, and live streaming function through its mobile application.The in-built camera is tiltable to support different scenario, to allow users free to try different video shooting and live angles.
The popular Hall of Fame will continue to be a spotlight of the fair, featuring stylish products from over 560 international renowned brand names including SKROSS, Laica and ODOYO. Other themed zones include i-World, Wearable Electronics, Healthcare Electronics, Audio Visual Products, Personal Electronics, the newly launched Wireless Technologies and many more.
electronicAsia
Held concurrently with the Autumn Electronics Fair, electronicAsia creates an unrivalled platform for suppliers of electronic components and production technologies to showcase their products to international buyers.
Featured zones include Power Supplies which will present various types of batteries, accessories, solar photovoltaic components and technologies. Printed Circuit Board & EMS zone will display printed circuit board and related services including design, manufacture, test and more. World of Display Technology zone will continue to house exhibitors of visualisation technologies. Others include Electronic Components and Keyboards & Switches. To cater to the latest sourcing trend, the fair will also showcase the essential elements of "automation" including a range of sensors, wireless modules and its technologies behind.
The fair gathers all types of electronic components which include Molded High Current Power Inductor presented by a Taiwanese exhibitor. It offers extremely low DCR and ultra-low AC losses for the highest efficiency across a range of frequencies, making them ideal for IoT and portable device applications.
Symposium on Innovation & Technology explores 5G technology
During the twin fairs, there will be a series of seminars and forum for exhibitors, buyers and visitors to share the latest trends and development of the electronics industry. Symposium on Innovation & Technology will be staged on the second day of the fairs (14 October) under the theme of "Intelligent Connectivity: 5G and Beyond". International speakers from worldwide tech giants will share their forward-looking insights on the latest 5G network development and how this will extend to other area of technology advancement.
Other events include a key forum on "Blockchain in Industrial IoT – The next big thing?" on 13 October and Hong Kong Electronic Forum to discuss advanced robotics, MicoLED trend and application for electronics products on 15 October.
Fair Websites:
HKTDC Hong Kong Electronics Fair (Autumn Edition) hkelectronicsfairae.hktdc.com
electronicAsia www.electronicasia.com
Some of the Highlighted Products: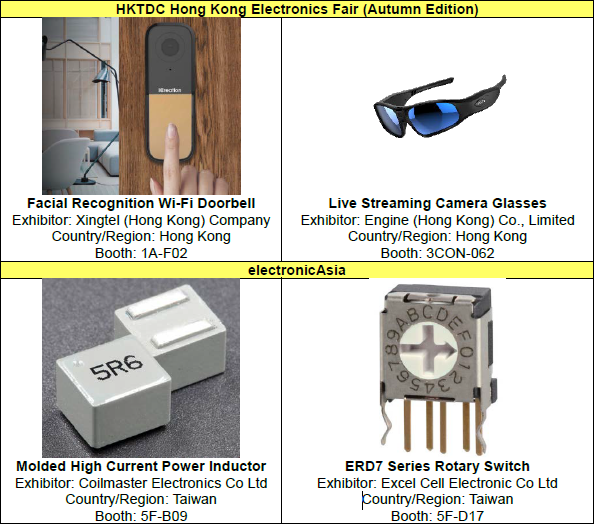 Media Enquiries:
HKTDC Hong Kong Electronics Fair (Autumn Edition):
Hong Kong Trade Development Council
Doris Cheng
Email: doris.py.cheng@hktdc.org Tel: (852) 2240 4606
electronicAsia:
Hong Kong Trade Development Council
Doris Cheng
Email: doris.py.cheng@hktdc.org Tel: (852) 2240 4606
MMI Asia Pte Ltd
Ms Joanna Wong Tel: (852)2511 5199
Email: joanna@mmiasia.com.sg
About the HKTDC
Established in 1966, the Hong Kong Trade Development Council (HKTDC) is a statutory body dedicated to creating opportunities for Hong Kong's businesses. With more than 40 offices globally, including 13 on the Chinese mainland, the HKTDC promotes Hong Kong as a platform for doing business with China, Asia and the world. With 50 years of experience, the HKTDC organises international exhibitions, conferences and business missions to provide companies, particularly SMEs, with business opportunities on the mainland and in international markets, while providing information via trade publications, research reports and digital channels including the media room. For more information, please visit: www.hktdc.com/aboutus. Follow us on Google+ Twitter @hktdc LinkedIn
About Messe München (MMI Asia Pte Ltd)
Messe München is one of the world´s leading trade show companies. In Munich alone it organizes around 50 trade shows for capital and consumer goods, and key high tech industries. Each year more than 44,000 exhibitors and around 2.4 million visitors take part in the events held at Munich. In addition, Messe München organizes trade shows in Asia, Russia, South America and the Middle East. With a network of affiliates abroad – in Europe and in Asia – and over 70 foreign representatives, Messe München is actively serving over 100 countries. Messe München has a worldwide business network and serves Hong Kong through MMI Asia Pte Ltd (MMI Asia) in Singapore and its strategic base in Hong Kong. For further information, please visit: www.messe-muenchen.de.
Read More