Exclusive: Why Fractional Property Ownership is a Double-Edged Sword?
By
May 14, 2019 5 Min Read
Exclusive interview with Natalia Karayaneva: Part 1
The emergence of blockchain has revolutionized the real estate market by enabling fractional property ownership, which retail investors can access to real estate investments without huge capital restrictions. However, Natalia Karayaneva, CEO of Propy, revealed to us why fractional property ownership is a double-edged sword! She also indicated the 4 key pain points of property market which can be addressed by blockchain!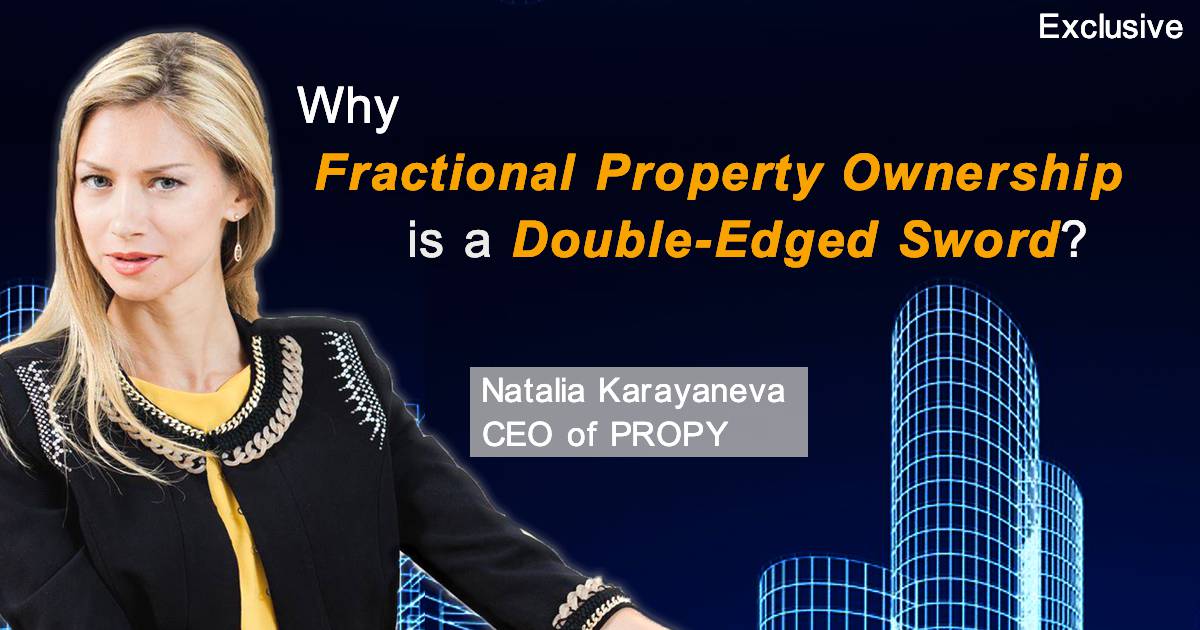 What are the pain points in the real estate industry? How blockchain can effectively tackle these problems?
The real estate industry has been quite slow in terms of implementing new technologies. Here are the main pain points where blockchain can help:
$1billion wire fraud problem and complex purchasing process
○ The real estate purchasing process is long, time-consuming and very risky. More and more fraud cases are happening in the US, especially when funds are wired by the buyer - $1bn is lost annually, solely in the US alone. And, on average, you need 30 days to close a deal, multiple in-person meetings and tons of phone calls. Furthermore, agents are still using a couple of tools to process a transaction. The solution would be an all-in-one platform to automate the whole purchase process. The property related databases as the mortgage one, brokerage, title company one, do not communicate to each other. There is no transparency in the industry.
○ Blockchain is needed where there is a lack of trust and transparency. DLT can create the needed integrity between all those databases or disrupt them.
○ Propy's Transaction Platform, for example, utilizes smart contracts where integrated settlement layers secure the transaction, and enables automation of the whole purchase process - from sending an offer to processing the payment. We have also incorporated DocuSign to facilitate the closing process. The tool is fully integrated with our transaction platform and replaces printing, signing, and scanning documents.
■ Propy's blockchain transaction platform makes possible for all parties to finalize real estate deals online, thus no need for each participant to be physically present to close the sale.
$9 trillion unrecorded land problem and inefficiency in county recording offices
○ One significant impediment that obstructs property purchases is the way traditional governments administer and store ownership records - they work with a centralized document registry. Therefore, data is susceptible to corruption, loss and fraud. Not to mention the fact that 1 out of 3 people have difficulties in proving that they are the legitimate owners.
○ Blockchain technology eliminates the risk of records being altered, corrupted or lost - the information is protected, as redundant copies of the title deed are created online on a distributed registry. It facilitates international transactions even more because the buyer and seller can close using a cryptocurrency.
Mortgage origination and tracking. 2008 crisis is the result of lack of data integrity which could be solved by blockchain and/or transparent rules.

$10bn Title Company industry, which doesn't exist in the majority of countries, the industry issues $10bn insurances annually to cover the lack of data integrity between title registries and banks.
Which pain points in the real estate industry cannot be solved using blockchain?
As of today, paper logs of title deeds are still required by many recorders' offices. However, we believe that traditional authorities will embrace blockchain in order to create a customer one paper based registry, which will transition to digitization via utilizing Propy interface and blockchain backend, thus skipping one step that other counties did (skipping utilizing old school registries).
Also we believe that agents will not be eliminated by blockchain. People will need human interactions as well as someone needs to see the home for evaluation as there are many subjective characteristics in the built environment.
Blockchain is a relatively new technology. It is the future and so its importance and application will continue to expand.
The use of blockchain leads to a surge of fractional property ownership transactions. What are the implications for investors?
Fractional property ownership is a double-edged sword. You can choose your level of involvement, you don't have to buy the whole property, and that opens the possibility to a lot more investors to become partial owners. What we lack so far is liquidity and security exchanges with a reasonable volume. Supply will come. Institutional investors will be the first one to adopt this new vehicle for investments in real estate by learning how to use crypto custody solutions and liquidity providers. There are a number of startups writing smart contracts for security token offerings backed by real estate, so the technical level of the industry is quite advanced. The business level is still behind to start the adoption, but I am a true believer that tokenized real estate will become a mainstream investment tool in 5 to 10 years.
Typically, a property purchase transaction often leads to conflict of interest as it involves various stakeholders like buyers, sellers, property agents, banks and lawyers. How blockchain can serve the best interests of each stakeholder?
It is very hard to validate property information. Usually, you need an army of different stakeholders (~80 in the US) such as lawyers, two agents, a broker, escrow/title company, transaction coordinator, notary and the buyer and the seller. The more the parties involved in a sale, the higher the odds to miscommunication are. Blockchain technology provides a safe and transparent environment where there is a balance of power. No party can misuse sensitive data to prevail over another participant in а transaction. Data is simultaneously recorded and with immutable logs. Communication is easy and streamlined because everyone has the needed access to the relevant information and there is a trust that none of the parties can cheat the system. If they try - everyone will notice and take measures.
About the author
---
Like this post:
Read More
Relevant | Latest