1INCH Hits a New All-Time High
1inch, a decentralized exchange (DEX) aggregator, announced today that 1inch Network will aggregate liquidity of MDEX on Binance Smart Chain (BSC).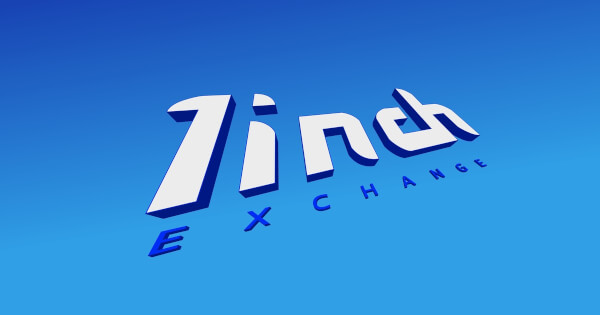 1inch is a type of liquidity protocol specialized in providing customers with the most favourable and most convenient transaction route by automatically aggregating offers from various decentralized exchanges.
MDEX is committed to building a Decentralized Finance (DeFi) platform integrating DEX, IMO, and DAO, providing one-stop liquidity services for more high-quality assets for users with safer, more reliable, diverse, and cost-effective trading experience.
1inch and its aggregation service Pathfinder provide users who need to exchange tokens with the best prices and finds the best trading path across multiple DEXs in less than a second.
1inch, which reached another milestone by surpassing $35 billion in total trading volume on the Ethereum network, released an official blog stating that the core of the 1inch aggregation protocol is the 1inch v3 smart contract, which is aimed at guaranteeing the security of transaction funds.
Version 3 of this aggregation agreement provides users with additional swap savings. Before the version update, the Uniswap v2 exchange was cheaper than 1inch, but now the situation has reversed. For example, swapping ETH to 1-inch DAI reduces gas fees by 10.3% compared to the same transaction on Uniswap and 4.9% less than 0x.
1inch (1INCH) Price Analysis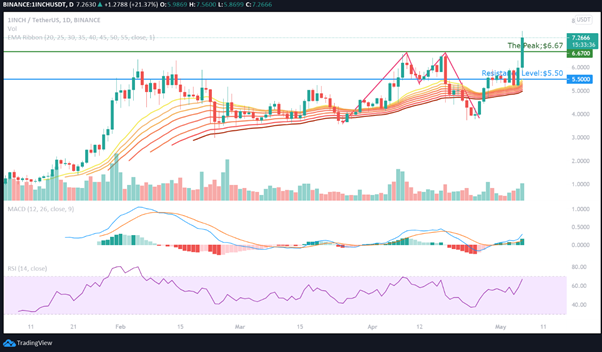 Source:1INCH/USDT Daily via TradingView
1inch soared by 33.12% within 24 hours. Today, it broke through the pressure line of the previous double top at $6.67, setting a record high of $7.48.
At the time of writing, 1inch is trading at $7.43.
In the previous analysis, we pointed out that 1INCH has formed a double top pattern and will encounter strong resistance from the neckline of $5.50, consolidating at this level. Retraction confirmation means that after the crypto price develops in a certain direction and breaks through the neckline, the crypto price will return to the neckline within a few days to test whether the breakthrough is successful.
Yesterday, the bulls pushed the price much higher than the neckline of $5.50, starting a strong upward surge. Today, the bulls continued the bullish momentum, breaking through the previous high of $6.67, and setting a new all-time high of $7.48.
The RSI index has bent upwards to the oversold zone, meaning a bullish momentum may potentially lead to 1inch's price trending upward in the near term. The opening range of the MACD indicator is gradually increasing, which means that 1inch may continue to set new highs in the short term as it is undergoing price discovery.
If the bulls manage to flip the $6.67 to a support level, then the 1INCH/USDT currency pair may start the next upward trend, targeting $9.00.Conversely, if the bears pull the price back below $6.67 today, this will lead to the possibility of horizontal movements for a while.
Image source: Shutterstock
New Depositors of Ethereum 2.0 Hits All-Time High of 1,368
Read More