Frankfurt Main Finance: Establishing Trust Between Continental Networks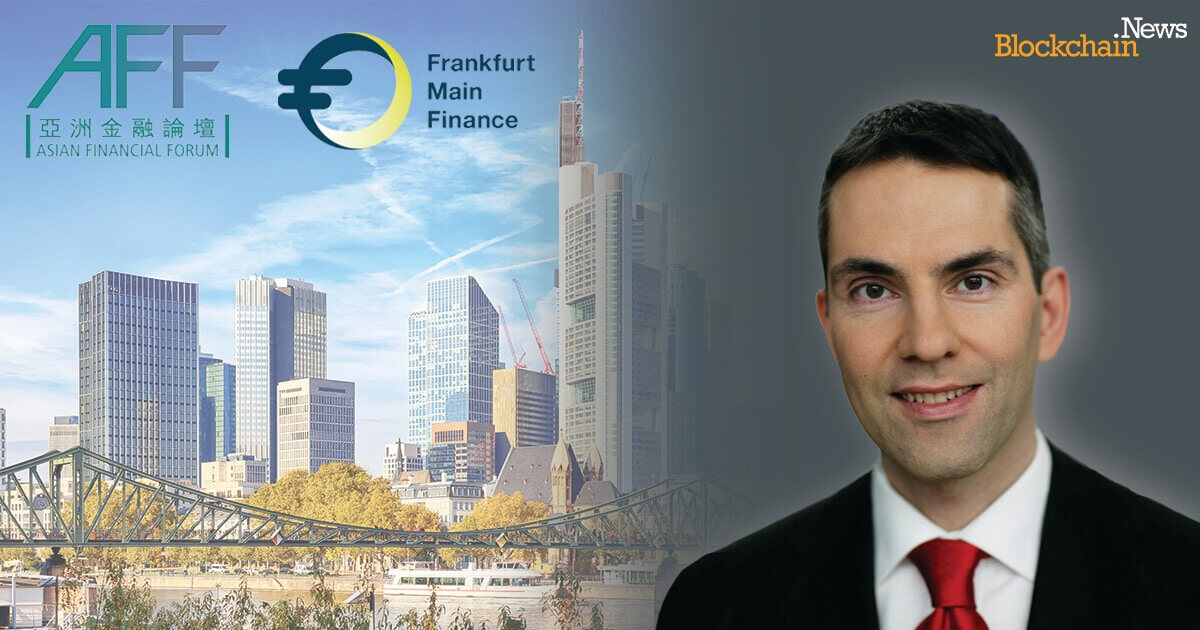 Frankfurt Main Finance is one of the founding members of the World Alliance of International Financial Centres (WAIFC). The mission of the Alliance is to establish transparent networks that facilitate cooperation and sharing of best practices for financial centres globally in the face of breakthrough technologies and rapid social change.
Frankfurt Main Finance is the financial centre initiative for Frankfurt am Main, the leading financial centre in Germany and the Euro zone. The initiative has about 60 members including the State of Hesse, the cities of Frankfurt and Eschborn, and dozens of prominent actors in the finance sector.
Through their membership and engagement, the mission of Frankfurt Main Finance is to position Frankfurt amongst the top national and international Financial Centres.
Jochen Biedermann is a Senior Advisor with Frankfurt Main Finance and the Managing Director of WAIFC as well as the Founder and CEO Blockchain (Asia) Ltd. At the recent Asian Financial Forum (AFF), Blockchain.News managed to catch up with Biedermann to discuss what makes Frankfurt so appealing for financial investment, the future of FinTech in the region and China's blockchain charge.
Fostering Blockchain and FinTech in Europe's Regulatory Hub
According to a recent BCG report, Frankfurt is ranked as one of the best places for investment following Brexit. On the appeal of Frankfurt, Biedermann said, "Frankfurt is at the centre of Germany which is the largest economic power in the European Union. It is a hub for major regulatory authorities and unique to Frankfurt is that it is the only city where two Central Banks are headquartered - the European Central Bank and Bundesbank, the central bank of Germany. Frankfurt is a cluster of finance for all of Europe."
Frankfurt began actively developing its Fintech ecosystem in 2014, starting much later than other major German cities like Berlin and much later than London. Today Frankfurt is a thriving and leading hub of innovation in the FinTech and blockchain space. According to Biedermann, Frankfurt is home to several traditional and well-respected financial universities and institutions, but within the region are also specialist information and technology schools and a thriving entrepreneurial sector. The key to fostering FinTech innovation in Frankfurt was getting these separately moving universities and institutions to connect.
Biedermann recalls, "We have a variety of world-class schools, universities and financial and IT institutions but there was a lack of connectivity between the universities to act as one pool of talents for the FinTech companies. Even the term FinTech, at the time, wasn't known to the students. So this is what we addressed first, connecting the universities; connecting the talent and now it works pretty well—connecting members within these finance and technology sectors and fostering innovative collaboration. We also help provide these talents with corporate partners, incubators, accelerators, and so on."
Frankfurt at the AFF
At January's Asian Financial Forum in Hong Kong, the Frankfurt delegation made their sixth appearance bringing with them FinTech entrepreneurs, as well as financial agents and legal experts dealing in the FinTech space. Biedermann explained, "This year, we are here with colleagues from Schalast & Partners, a major law firm in Frankfurt, which has helped hundreds of FinTech companies get their regulatory and legal elements correct, which is a very important step in setting up. We are helping them to connect to the Hong Kong FinTech ecosystem."
Frankfurt Main Finance has very close ties to Cyberport through previous collaborations and Biedermann also highlighted Hong Kong's approach to regulation. He said, "Here in Hong Kong we also have good relationships with compliance authorities, as well as monetary authorities like the SFC." He concluded, "For the FinTechs, which are more in the capital market space, we also encourage them to use Hong Kong as a hub to penetrate the mainland China market. We have seen some German FinTech companies, also from the Frankfurt region, become very active in mainland China. So we recommend the Asian Financial forum as maybe a first step for our FinTech companies to get a feel for the Asian ecosystem, see what's going on, have some meetings, have some discussions using the matchmaking facilities before they take the more serious steps such as setting up a Hong Kong limited company or subsidiary."
Read More