World Economic Forum Launches New Blockchain Toolkit for Supply Chains to Support the World Through Post-COVID Economic Recovery
The World Economic Forum (WEF) has just released its Blockchain Deployment Toolkit, aiming to enable companies of any size to be able to maximize the benefits of integrating blockchain technology in the supply chain sector. The toolkit allows companies to be able to get a better idea of how to handle deploying blockchain technology in regards to supply chain uses.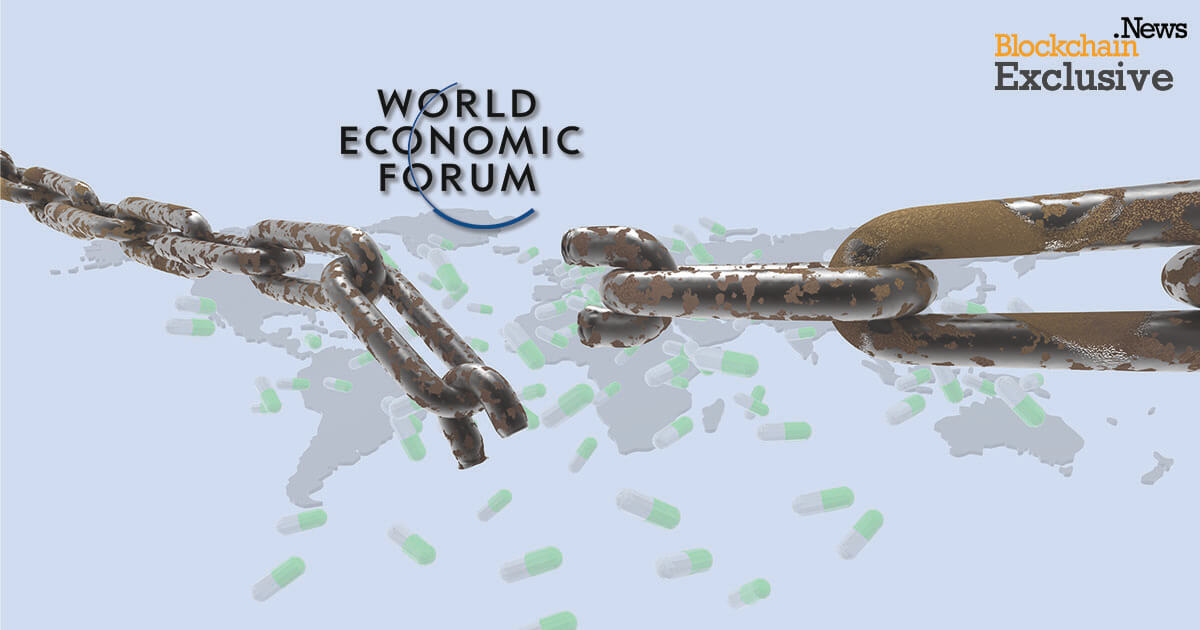 The coronavirus pandemic highlighted the need for more reliable and visible supply chains, as well as creating resilience as COVID-19 has greatly disrupted the movement of medical equipment across the world. As many lockdowns have been put in place to flatten the rate of infections, supply chains have been disrupted. The current pandemic also emphasizes the need for the improvement of integrity and provenance of medical equipment and products, livestock, food, and other goods.
Blockchain in supply chain
The WEF published a report suggesting that although blockchain may not be able to support the damage caused by the emergence of COVID-19, it may help with supply chain visibility in the future. A Chinese government-backed blockchain firm, Tus Data Asset, has been blacklisted in the nation due to its business of selling poor-quality medical products, which has "tainted the nation's image."
"Supply chain was chosen by the WEF as an area of focus due to the fact that it was one of the largest areas of exploration," Nadia Hewett, Blockchain and Digital Currency Project Lead at the World Economic Forum USA, exclusively told Blockchain.News. She also suggested that with the use of blockchain technology, purchasers in the supply chains could mitigate the risks of receiving faulty medical equipment from suppliers, which has seen an uptick during the lack of equipment stock globally.
What is the WEF blockchain deployment toolkit?
The release of the Blockchain Deployment Toolkit was accelerated due to the coronavirus pandemic. "We believe that it has a number of features that have a lot of potential to help with supply chain transparency, and supply chain resiliency," said Hewett. "In the short term, there are blockchain solutions today being used in the short term for COVID-19 mitigation, but it's really the long term part that relates to supply chains."
The toolkit has been launched today, after more than a year of testing and exploring through use cases across industries. "The blockchain deployment toolkit is essential for designing solutions that work for a multitude of actors, including smaller players who may not have access to the resources required to unlock the value of blockchain technology," said Hewett, in a press release shared with Blockchain.News.
Working with over 100 organizations including governments, companies, startups, international organizations, and other partners, the WEF has been focusing on piloting the toolkit and drawing global expertise.
Economic recovery: Comply, Connect, Create – Corona?
The toolkit is based on 14 modules, based on the themes of comply, connect, and create. "The 14 modules covers some of the most important topics for well thought out blockchain deployment. If you want to design and deploy a blockchain solution, these modules are critical to getting it right," Hewett added. "The toolkit was sort of seen as a way to shape the deployment of blockchain in a more responsible, inclusive, and interoperable way."
"We want to make sure we accelerated the toolkit so that it is available as companies now are planning out, you know, sort of that those COVID-19 systems, you know, and especially with economic recovery, many countries, we believe that they will also rely on digitization, right to help with economic recovery," explained Hewett. "You could think that as great as reducing because of all the geopolitical issues, that companies will look at digitization of trade as a way to reduce trade barriers. So all of those things, show that blockchain has an opportunity to improve long term global pandemic preparedness and economic recovery."
The blockchain toolkit developed by the WEF is currently only focusing on supply chain, however, Hewett told Blockchain.News that other sectors including finance and insurance could also be a possible area of focus in the future.
IBM's take on blockchain and supply chain amid the pandemic
IBM's Rapid Supplier Connect leverages the existing IBM's blockchain platform, Trust Your Supplier, which is a blockchain-based trusted digital identity and supplier information that simplifies the supplier onboarding and supplier management processes while reducing risks. IBM is allowing qualifying suppliers to use Rapid Supplier Connect free of charge until August 31.
New York's largest nonprofit healthcare group, Northwell Health recently joined IBM's Rapid Supplier Connect Network, a blockchain project that aims to tackle the disrupted healthcare supply chains caused by the coronavirus pandemic.
The World Health Organization (WHO) has also chosen to use IBM's Hyperledger Fabric blockchain for its MiPasa platform to share data to tackle the coronavirus pandemic.
Read More