May 8: Are you betting on the fastest horse?
Trading Crypto with Eugene is a series of daily commentary of market analysis and trading advice shared by Eugene Ng of Matrixport, a veteran trader with 10 years of experience in top-tier global investment banks. If you like the article, please follow us here on Blockchain.News so you won't miss our future publications.
What a day to usher into the weekend. BTC traded past $10k for a bit and now over 7% higher in the past 24 hours. The clear catalyst was Paul Tudor Jones announcing that his $22 billion fund will be investing in BTC a low single digit % of assets because it's a great hedge against a "great monetary inflation". It also reminded him of gold in the 70s, and I thought this was the highlight "At the end of the day, the best profit-maximizing strategy is to own the fastest horse. Just own the best performer and not get wed to an intellectual side that might leave you weeping in the performance dust because you thought you were smarter than the market. If I am forced to forecast, my bet is it will be Bitcoin." It is also important to note this will largely remove much career risk of any hedge fund manager who wants to allocate into BTC today. Next wave of institutional buyers coming soon? Is that why CME listed futures open interest hit a record high yesterday?
Forget how S&P 500 or gold trades for the next few sessions and the fact that we closed above key $9,500 with decent volumes going through, I think the market is now in a mini-FOMO mode heading into halving where it's likely going to see dips being bought quickly. Levels to watch will be $10,500, $11,000 and $12,000. Leveraged traders from the crypto sphere hasn't been back in yet, so there is a chance that we can get there if we start seeing momentum.

How do we trade? If you need to buy today, buy ETH and some other larger-cap alts. These larger cap tokens havent really moved as much as BTC on this move, and BTC dominance (of the entire market) is now facing a key resistance level at 69% (see chart below). For BTC support levels, see $9,500, $8900 and $8,100. If you want to discuss further, feel free to reach me directly. Goodluck and have a happy Friday!


Some other great lines on BTC from PTJ's memo

On scarcity premium:
"It is literally the only large tradeable asset in the world that has a known fixed maximum supply."

On liquidity
"Interestingly, Bitcoin is the only store of value that actually trades 24/7 in the entire world."

On COVID-19 accelerating BTC and crypto:
"The most compelling argument for owning Bitcoin is the coming digitization of currency everywhere, accelerated by COVID-19"

On BTC as a macro hedge:
"Owning Bitcoin is a great way to defend oneself against the [Great Monetary Inflation], given the current fact set."

On BTC as a form of payment:
"A great store of value can be seamlessly moved from one jurisdiction to another with little or no transaction costs. Cash is obviously good for that; gold is ok but clunky; but, of course, nothing beats Bitcoin, which can be stored on a smartphone among other options."

BTC next levels are $10,500, $11,000 and $12,000.... My only hope is that we don't go up in a straight-line, let's consolidate back into the range that can bring us to a "higher trading range" for BTC to stay...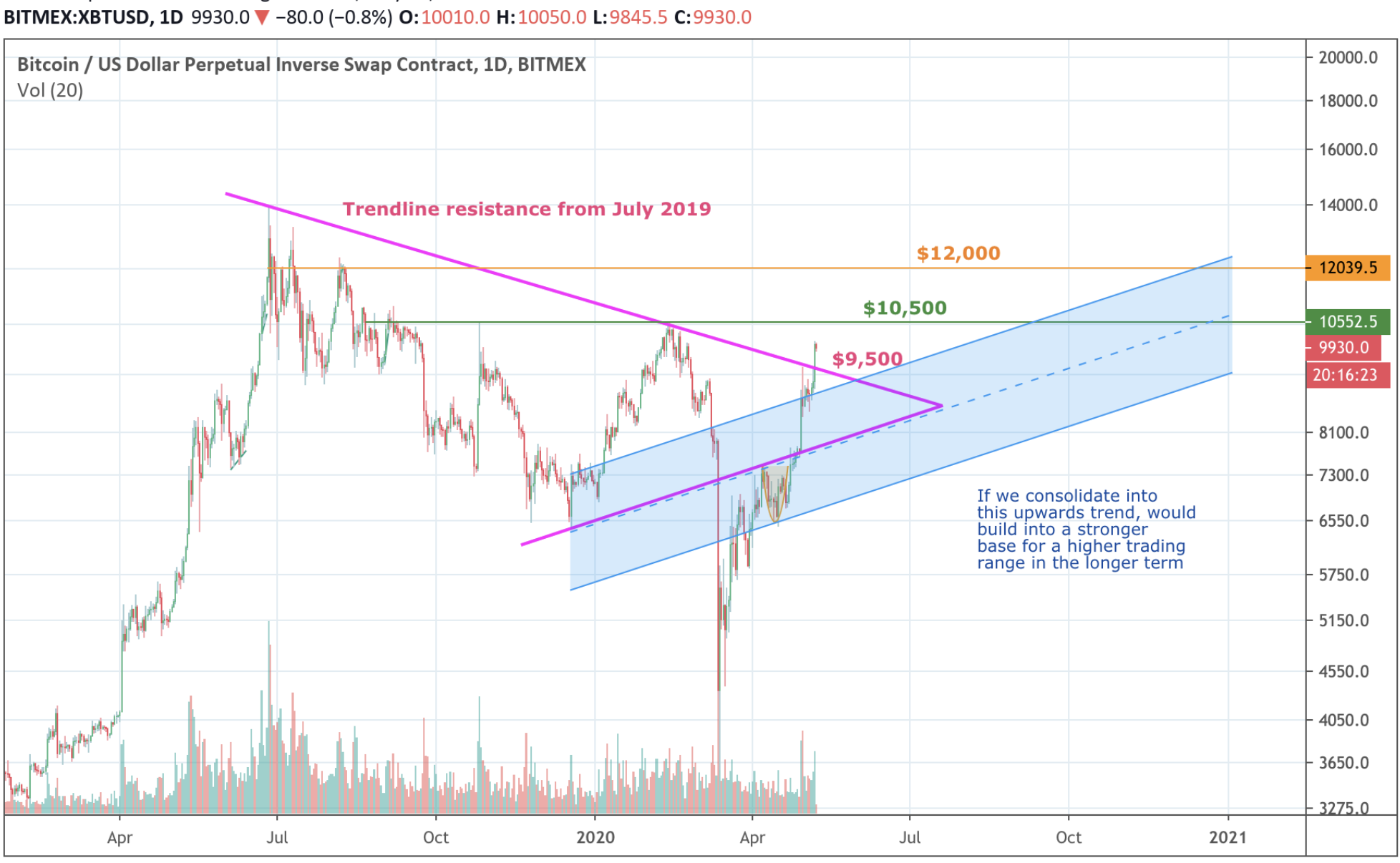 BTC dominance level at trendline resistance... If it doesnt close above, we are going to see ALTs rally...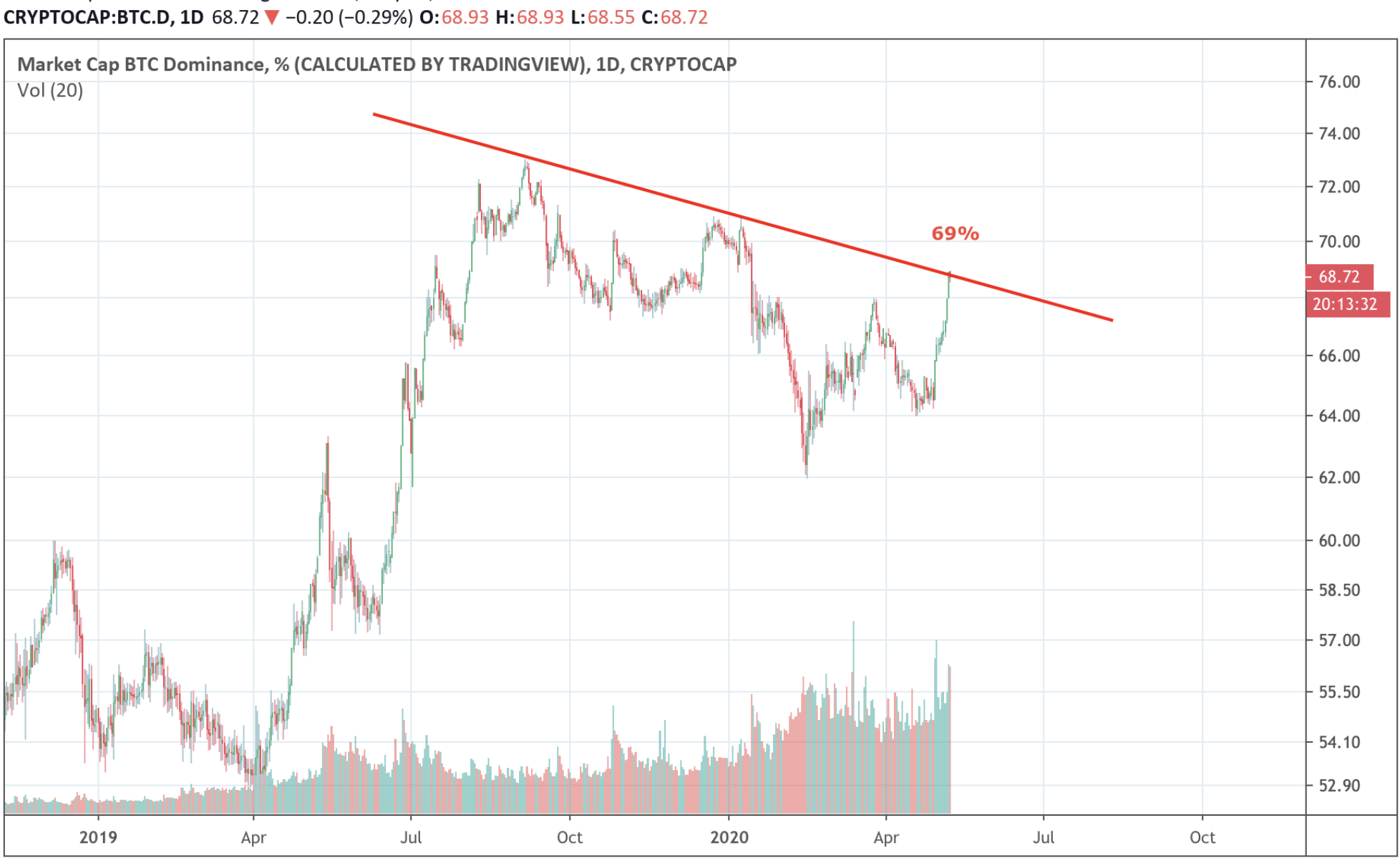 Disclaimer





Opinions expressed are solely the analyst's own and do not express the views of Matrixport the company.





The views and opinions expressed in this article are those of the contributor and do not necessarily reflect the view of Blockchain.News.
---

Read More